In previous versions of HERE Drive, traffic information was only displayed and used in the My Commute section (aimed at optimising journey times for pre-defined daily routes). In the new version, traffic information is displayed in all map views, including navigation mode. Traffic conditions are also taken into account when estimating arrival times.
As with HERE Maps, traffic information is displayed as an overlay on the map, with lines colour coded according to the severity of the traffic (green = clear, yellow = moderate congestion, and red = heavy congestion). This allows you to see, at a glance, traffic conditions on both the road ahead and surrounding roads.
Traffic information is updated in real time automatically, without any need for user intervention. In navigation mode, estimated arrival times are adjusted accordingly, with information about the impact of traffic (e.g. arrival time include 4 mins traffic delay).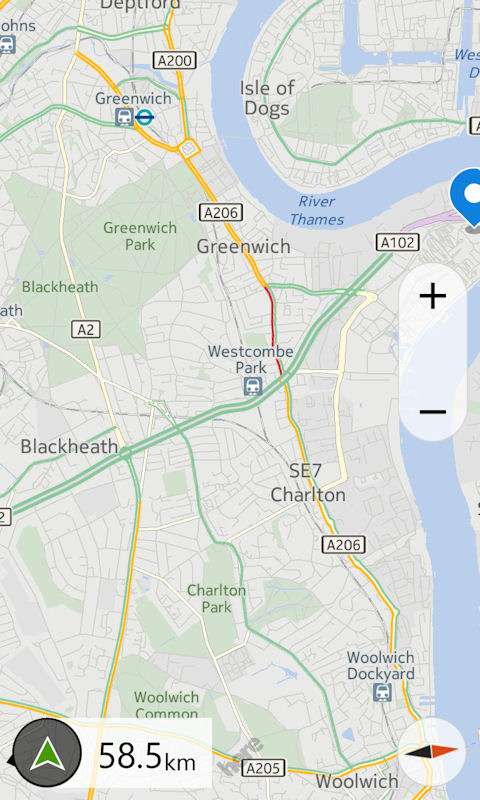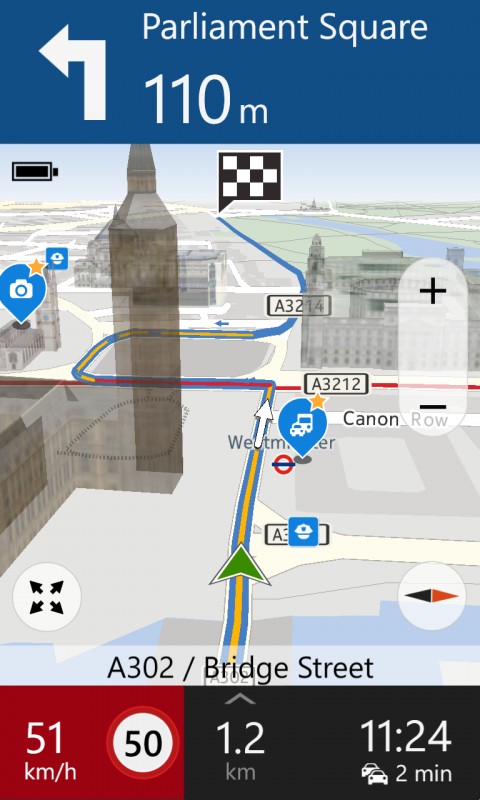 In addition to the new traffic features, there is now an option to view a text-based overview of a planned route (list of turn-by-turn instructions), complementing the existing map-based overview. This overview, intended as a way to check a route before commencing driving, is available from the initial navigation screen (i.e. after specifying a destination) by tapping on the left hand on-screen button (list icon).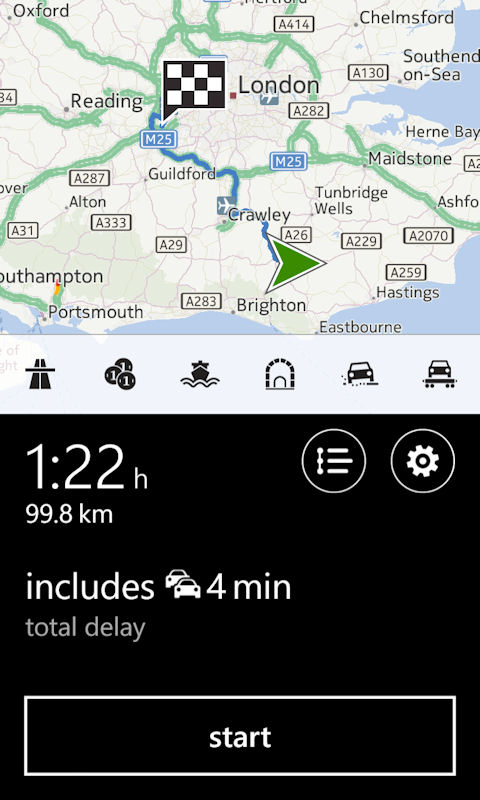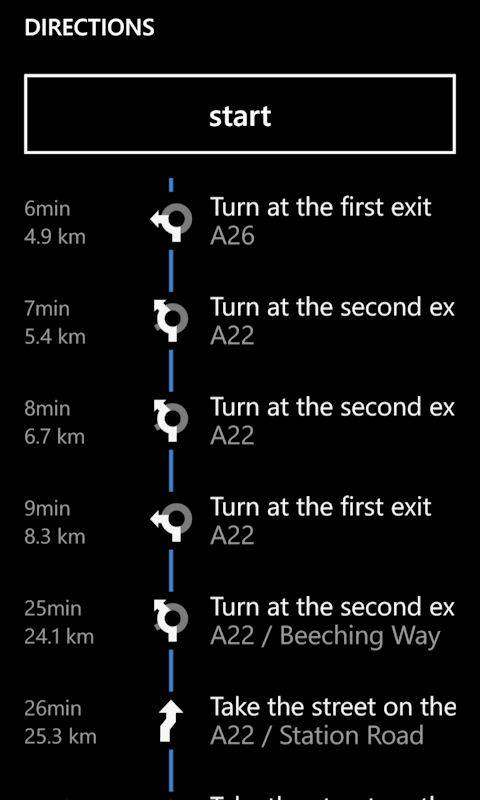 A brand new feature for this version of HERE Drive is the ability to keep track of where you park your car. Assuming HERE Drive is active, the "find my car" feature will automatically save the location of your parked car (based on when you stop moving) and makes it easy to find your way back to it at a later time.
Accessible from HERE Drive's main menu the "find my car" feature provides a way to record information (note and a photograph) about a parking location, share the parking location (by email or messaging), and pin the location to the Start screen for easy access. When returning to your car there's a "point me there" option, which uses HERE's augmented reality technology (LiveSight) to guide you to the location of your car (live camera view with overlaid arrow and icon pointing to your car's location). Alternatively, a "walk there" option provides a shortcut to the HERE Maps app, which will then provide walking directions from your current location back to your car.
What stands out here is the automatic saving of the location where you parked your car. Similar apps are available from the Windows Phone Store, but in all cases they require you to manually save your parking location.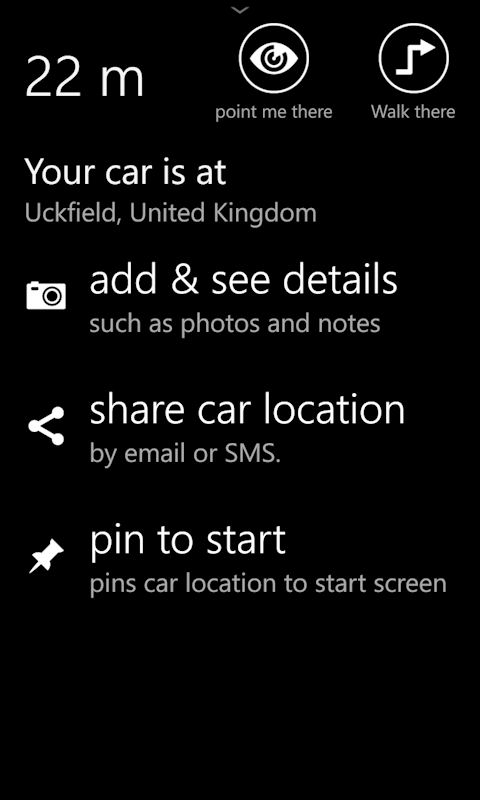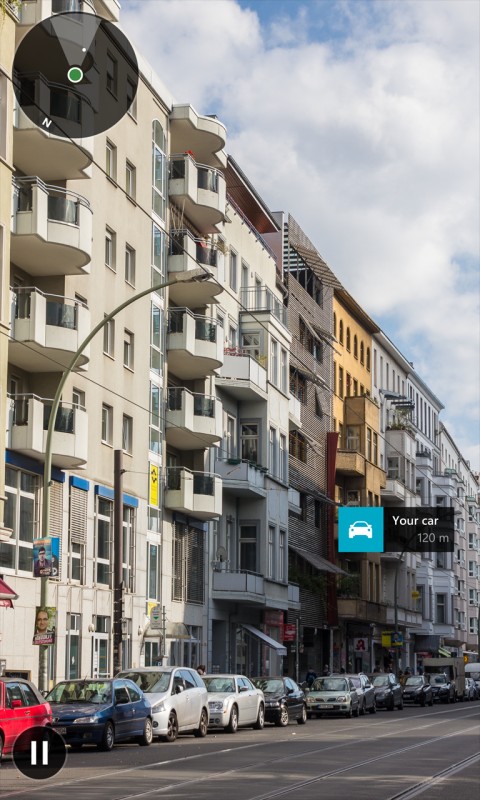 The new version of HERE Drive represents a major update to one of the crown jewels of the Lumia software family. The improved use of traffic information means that the Windows Phone version of HERE Drive is now, in feature terms, close to parity with the Symbian version of the product, an occurrence that feels overdue (though, to be fair, the Windows Phone version of HERE Drive has arguably had superior performance and user interface for some time now).
However, there is still room for improvement. For example, while traffic information is now universally available, it is not used to enable dynamic re-routing, or even to prompt for manual re-routing, which feels like a missed opportunity. Furthermore, there's still no support for categories (collections) in favourites, or any way to sync pre-planned routes from here.com (or other devices).
from the Windows Phone Store description:
Nokia Drive+ is now HERE Drive+, your car navigation app with turn-by-turn voice guidance in 94 countries and true offline support. Offline means no more roaming charges and you won't lose your way even if you lose your signal. What's more, HERE Drive+ is optimised for behind the wheel, with features like Day/Night modes and voice guidance, to help you get where you're going safely.

What's New
-Real-time traffic feature tells you about traffic conditions on your route*
-Turn-by-turn directions list provides route overview
-Traffic-aware ETA gives you precise arrival times
-Traffic feature in all map views gives at-a-glance traffic overview for your area
-Find your parked car easily using maps or LiveSight

HERE Drive+ can be downloaded from the Windows Phone Store for Nokia devices here and for non-Nokia devices here (note different download links). HERE Drive is available for Nokia devices here and for non-Nokia devices here. The new version of HERE Drive+/HERE Drive are for Windows Phone 8 devices only.