Nokia's Networks business (NSN) performed better than expected with an operating profit of €216 million (non-IFRS), but the HERE and Advanced Technologies divisions also showed underlying profitability (€10 million and €86 million non-IFRS operating profit respectively).
As we noted in the last quarter, the split between the two parts of Nokia is clear, with the continuing operations, dominated by the NSN business, being profitable, while the discontinued operations, which has now been sold to Microsoft, continues to be loss making.
Looking ahead, Nokia's own estimates suggest a positive outlook for the rest of the year, with net sales growth year-on-year for networks and increased revenue for advanced technologies. The second of these is especially notable, a result of Microsoft becoming a more significant intellectual property licensee, potentially an early example of Nokia more fully exploiting its broad patent portfolio.
Now that the Microsoft transaction has been completed, Nokia's future results will no longer include a discontinued operations/devices category. For tracking the sale of Lumia smartphones and Nokia branded mobile phone devices, it will be necessary to examine Microsoft's financial results. As in the last quarter, Nokia did not disclose Smart Devices (Lumia) or Mobile Phone (feature phone) sales volumes or ASPs (average selling prices).
However, with net sales dropping from €2.633 billion to €1.929 billion, it is obvious there was a substantial reduction in volume (Lumia volumes were estimated to be 8.2 million in the previous quarter). Nokia, in its press release, while not offering exact unit volume numbers, does note that the quarterly decline in Q1 was primarily due to lower mobile phone unit volumes and, to a lesser extent, lower Lumia smartphone unit volumes, while the yearly decline was due to lower mobile phone unit volumes, offset, to some extent, bu higher Lumia smartphone unit volumes. This would suggest Lumia volumes of between 7 and 8 million in the first quarter of the year.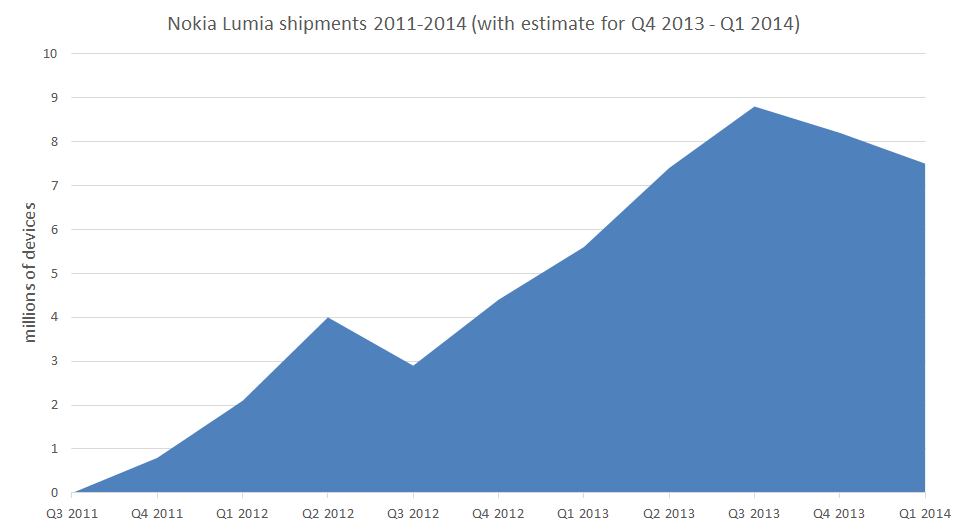 Uncertainty around the Nokia Microsoft transaction, together with the anticipated release of Windows Phone 8.1 devices, are likely to have depressed device sales to some extent, but it is clear Microsoft will need to move quickly to stabilise and then increase Lumia device sales.

New CEO
Earlier Nokia announced that its new CEO would, as of May 1st, be Rajeev Suri, previously CEO of the NSN (networks) division. He will now oversee all three Nokia business units. Risto Siilasmaa, who served as interim CEO during the period of the closing of the Microsoft acquisition of the Devices & Services division, will return to focusing exclusively on his role as Chairman of the Nokia Board of Directors.
Rajeev Suri, said:

"I am honored to have been asked to take this role, and excited about the possibilities that lie in our future. Nokia, with its deep experience in connecting people and its three strong businesses, is well-positioned to tap new opportunities during this time of technological change. I look forward to working with the entire Nokia team as we embark on this exciting journey."
Impact of Microsoft transaction
In its earnings press release, Nokia noted that if the Microsoft transaction had completed during the quarter, as originally envisioned, it would have ended the quarter with gross cash of approximately €10.5 billion and net cash of approximately €7.1 billion, compared to the reported gross cash of €6.9 billion and net cash of €2.1 billion at the end of the first quarter of the year, underlining the impact of the deal with the Redmond based software giant.
Nokia also detailed the slight increase in the sale price of its Devices & Services division to Microsoft, approximately €170 million over and above the agreed transaction price of €5.44 billion, a result of adjustments made for net working capital and cash earnings. The exact figures will be finalised in the second quarter of this year, now that the sale has been completed.
See also
Earlier results: Q4 2013, Q3 2013, Q2 2013, Q1 2013, Q4 2012, Q3 2012, Q2 2012, Q1 2012, Q4 2011, Q3 2011, Q2 2011, Q1 2011, Q4 2010, Q3 2010, Q2 2010, Q1 2010, Q4 2009, Q3 2009, Q2 2009, Q1 2009, Q4 2008, Q3 2008, and Q2 2008