In no particular order:
'Messaging + Skype' is no more
In fairness, Windows 10 Mobile's Messaging hasn't had this for a while. You may remember that Microsoft integrated Skype into Messaging back in 2015, along with a separate application for 'Skype Video'? The experiment didn't last long and by mid-2016 we had a full Skype UWP application. Then, by the end of 2016, Skype UWP acquired SMS facilities, rather ironically simultaneously reinforcing and reversing the original experiment's goal of integrating the two messaging systems.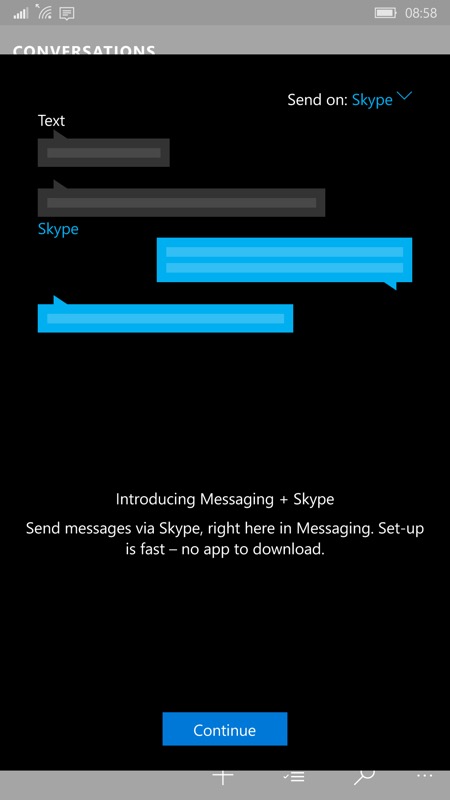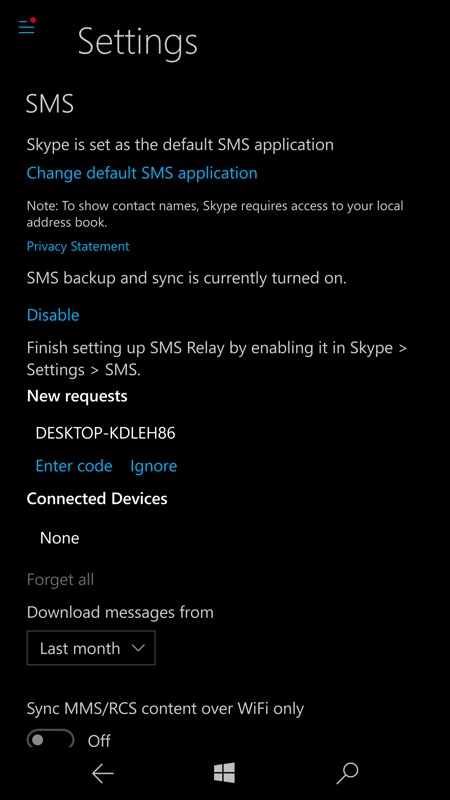 Skype does seem to work pretty well in this role though, with this week's news being that, along with a final, final, final (this time they mean it) date for Skype for Windows Phone 8.1 stopping working, of July 1st 2017, the Skype integration into that old Messaging client will also stop. Not that anyone really still uses it - maybe on an older phone upgraded by Insiders programme and left as-is since mid-last year?
So, a non-story, in a sense, but still worth noting.
Skype UWP now handles animated GIFs natively
On the Fast ring for Insiders anyway, which means that this version of Skype is coming to production users in a couple of weeks, after further testing. This (v11.17.420) seems to be available for all Windows 10 Mobile users now. Under the existing version of Skype UWP, animated GIFs were spawned out to Photos, which then did the animation full-screen. With this new version, the GIF now plays in-line, within the context of your chat: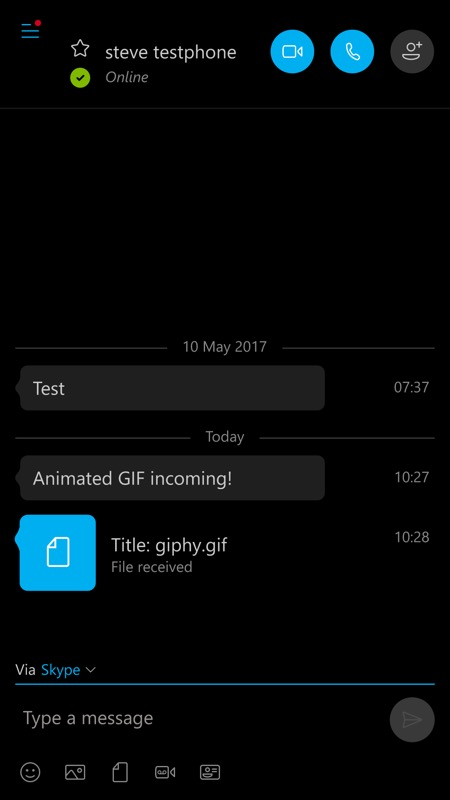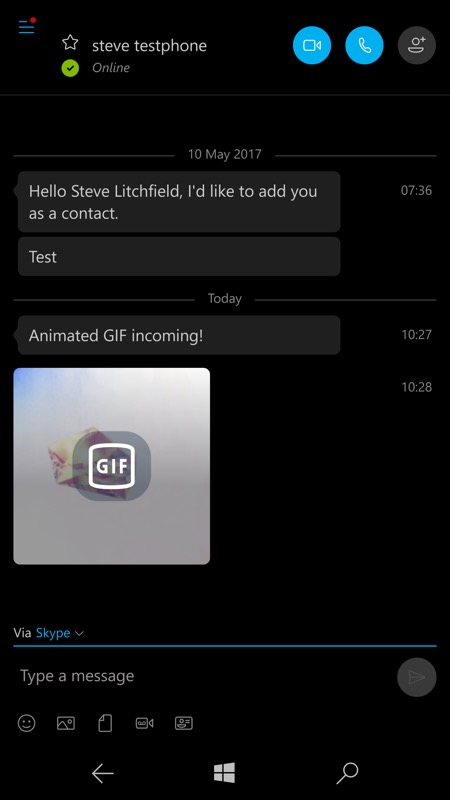 Nicely done, though there's no way to automatically download and play the GIFs - maybe just as well, since they're effectively videos and can be multi-Megabyte.
Skype facelift 'coming soon'
Skype itself seems to be about to take a leap into more consumer-friendly Snapchat/Instagram territory, with easier social sharing of media. See the video below:
This is detailed further here:
Buckle up for a major upgrade

The Skype you know and love has a fresh design and a ton of new features to stay connected with the people you care about the most.

Calling just got a lot more fun

Share photos, messages, emoticons and stickers in real-time. Whether you're planning your next big adventure with the whole group or just catching up with your family, calling is now even better.

Chat it up in living color

Choose the hue that fits you best to make your Skype experience your own. Bring your conversations to life by reacting to any message and expressing yourself with GIFs, stickers, and Mojis.

Supercharge your conversations

Buy tickets for a concert, find mind-blowingly delicious recipes or even plan your next trip around the world. You can also quickly find and drop useful information into the conversation.

Share memories with Highlights

Follow friends and family for snapshots of their week and react to them with just a tap. These memorable moments stay available for seven days.

Coming to a device near you

We built the new Skype to live across your favorite devices. It is coming soon to Android, iOS, Windows and Mac.
Argh! It's all so white! I don't want to sound too grumpy, but what's with all the 'white everywhere'? Just because the iPhone does messaging this way... With AMOLED screened phones (Lumia 950, Elite x3, IDOL 4S Pro), white screens all the time equals battery drain.
Having said that, I'm all for Skype upgrades and we don't yet know how or when the Skype UWP app for Windows 10 will be upgraded. Maybe the option to go with a dark theme will remain on mobile? Let's hope so.
I don't believe that this next-generation Skype is in any way tied to a particular release of Windows 10 (including Mobile), so the update will happen in the Store when it happens. I'm guessing that we might see an update by the end of 2017 for Fast ring Insiders and to production users early in 2018, with iOS and Android users hopefully taking the brunt of early teething troubles this Autumn as Microsoft continues its drive to make Skype more like Snapchat/Instagram Skype facelift.
---
PS. Other recent Skype stories:
Hat tip to MSPU for the GIF spot.