Firstly, here's what's new since the last coverage here: (note that some items are PC/Desktop-specific)
a fix for the playback issues the app had been experiencing recently. My apologies for any trouble this may have caused you.
fixes an issue where the app's live tiles didn't update and channel notifications didn't come through. So you can once again go ahead and pin as many tiles as you want ;)
fixes an issue where small groups of videos would be missing when scrolling down the subscriptions list, as well as an issue where the "Up Next" experience would repeat the same video over and over.
it is now much easier to drag the window on PC when in picture-in-picture mode.
restructured some of the app's underlying systems in preparation for myTube 4.0
the app will no longer remove your login info on a failed login attempt, which should fix the bug where you sometimes need to sign back in on launch
fixed issue where rating comments, adding videos to watch history and removing videos from watch later didn't work
fixed issue where the subtitles may appear as dark grey text on a black background when using the light theme
fixed issue where custom color scheme builder sometimes automatically picked a transparent color
fixed issue where keyboard playback shortcuts would override typing email/password to sign into the app
fixed issue where new lines were missing from comments posted from the app
improved casting device detection
when multi-selecting videos, right clicking anywhere will now bring up the context menu for the selected items
fixed issue where the video sometimes wasn't aligned to the top of the page in theatre mode
page navigation now occurs on the CompositionTarget.Rendered event, this ensures that the navigation transition animation always plays
(PC & Mobile) Removed pivot header from playlist page as there was only one pivot item
(PC & Mobile) Fixed issue where check mark was transparent when multi-selecting videos
(Xbox) Pressing the fast forward or rewind buttons on the Media Remote no longer brings up the player controls
Quite a list, with a couple of screenshots here from me to illustrate the app in action: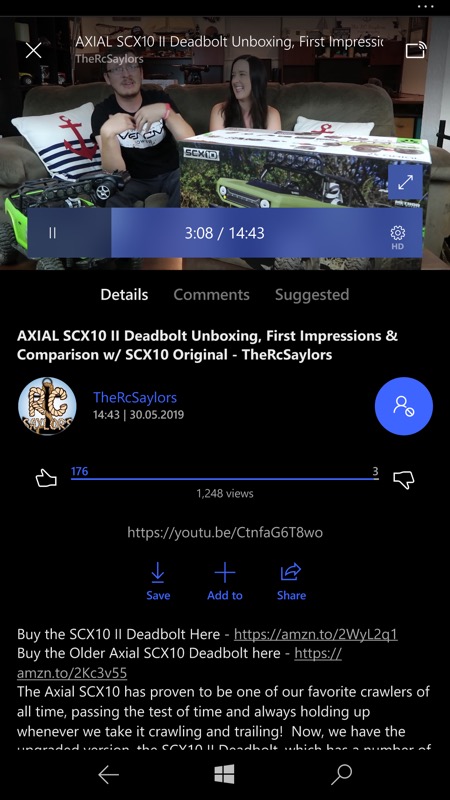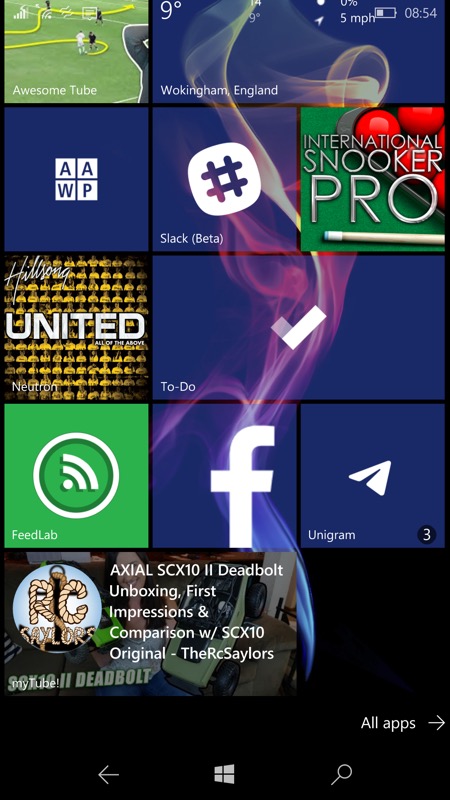 Plus, as usual, there's considerable 'behind the scenes' commentary from the developer on the plans for the future - version 4 is still coming soon!
Both myTube 2.0 and 3.0 each had to be rebuilt from scratch as they targeted a new OS (Windows 8.1 and Windows 10 respectively). That won't be the case with myTube 4.0, as Microsoft (thankfully) hasn't released a completely new OS or SDK since the launch of myTube 3.0, and seemingly won't for the foreseeable future. This means that myTube 4.0 will technically be an update to 3.0, rather than a whole new app like 2.0 and 3.0 were. This should allow 4.0 to be completed in a much shorter amount of time than those versions, without having all the bugs that a completely new app typically has.

Despite being an update rather than a new app, myTube 4.0 will still be a massive overhaul, as the UI is being torn down and rebuilt from the inside out. The app's shell (the global UI control that contains persistent elements, such as the header), video player, and many pages are being rebuilt from scratch. Some smaller elements such as the popup to save videos will remain shared between 3.0 and 4.0, and improvements made to these elements for 4.0 will automatically apply to 3.0 as well. This means even if you aren't in the beta, you will still get some small tastes of myTube 4.0 during its development.
Good stuff. This is all for Windows 10 PCs and Windows 10 Mobile-running phones, of course, you can buy it here in the Store (it's only a dollar or local equivalent). Yes, it's a blow to not have an official YouTube client from Google for the Windows 10 platform, but hopefully all users will find this (or one of the other top titles like Awesome Tube or Perfect Tube) quickly in the Store, making any omission somewhat moot.
PS. Note that myTube 4.0 isn't going to be built just for Desktop and 2018/2019 APIs - it will still target back to the Anniversary Update (build 14393), meaning that it will stay relevant to Windows 10 Mobile - hooray!