Now, this being cross-posted to AAWP, I have to start with the caveat that, try as I might, I still can't get the NexDock Touch to connect reliably to my Lumia 950 and 950 XL (UPDATE: workaround found), whereas the NexDock 2 was rock solid in this department. There were electronic changes for the Touch that seem to have adversely affected compatibility with Lumias, but the Windows 10 Mobile-powered Alcatel IDOL 4 Pro (and HP Elite x3) work just fine, so the lapdock is still an option in the ecosystem... just.
Or rather it was until NexDock ran out of display components to make it. From the latest NexDock blog post:
We can categorize the 3 major difficulties we've been dealing with as follows:

1. Delays in Delivery: Even though we only used prime couriers such as FedEx, DHL, UPS, TNT, etc. for the 1st batch shipments of NexDock Touch, we unfortunately observed huge delays. To our frustration, some of our customers received their devices 4-5 weeks after delivery. The problem with the carriers continues due to new COVID-19 waves surging around the world making delivery dates less and less predictable.

2. Increased Cargo Prices: Compared to the beginning of 2020, the shipping cost of the prime couriers at least doubled or even tried tripled in some cases. This doesn't allow us us to ship packages directly from Hong Kong at a reasonable cost anymore.

3. Backlog on components required for manufacturing: With more and more people working and socializing remotely, there has been a huge increase in demand for laptops in 2020. Big OEMs such as HP, Dell, Lenovo have millions of orders in backlog which makes the availability of some components a real challenge for smaller companies like ours.

Concerning the NexDock NexDock Touch:
Unfortunately, we were not able to source enough number of 14.1 inch displays to fulfill the 2nd batch of NexDock Touch pre-orders.
Life is tough when you're a minnow of a company in a sea with whales, it seems. The good news is that there's light at the end of the tunnel and it's a whole new form factor. Enter the NexDock Touch 360:
The good news is that we were able to source 13.3 inch displays and secure expedited mass manufacturing for our new version, NexDock 360, which will be ready by mid-February.

Customers that pre-ordered NexDock Touch can now get their order as NexDock 360! This will have a touch-screen display that can flip 360 degrees. It can be used in laptop, tablet, stand or tend mode with your smartphone or many other devices.
As before, this should work with any smartphone with a desktop mode. The prototype photos show the device with a Samsung Galaxy flagship with its DeX mode: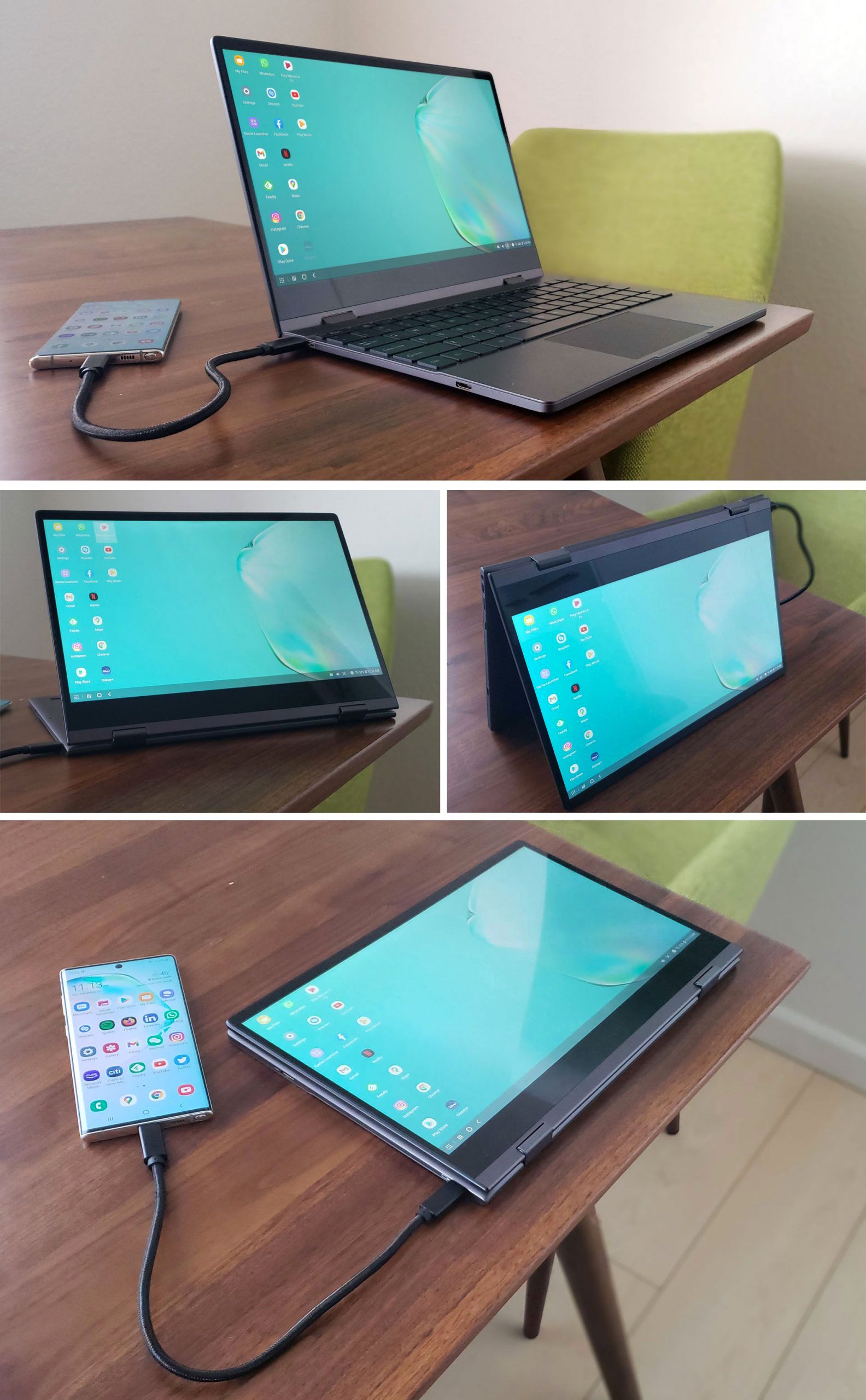 In terms of specs, we have:
Compared to NexDock Touch and in addition to having the 360 flip feature, NexDock 360 will be lighter, smaller and have an OSD control panel on its touch-screen for volume, brightness contrast and even color temperature settings. You will also be able to enable/disable charging your phone any time through the same control panel.

Input Ports

USB-C 3.1 with DisplayPort
Mini HDMI (1.4a) input (Mini HDMI to HDMI cable included)

Other Ports

USB-C PD charging Port
USB-C 3.0 data port (USB-C to USB-A adapter included)
3.5mm audio jack
Micro SDXC card reader

Specs

Display: 13.3 inch IPS touch screen, 1920×1080 FHD resolution, 16:9 aspect ratio

Battery: 44 Wh -7.6V 5,800 mAh (equivalent to 3.6V 12,200 mAh )
Audio: 4 x 1W speakers
Keyboard : Edge to edge full-sized backlit keyboard with multi touch trackpad
Dimensions: 307 x 209 x 14.7 mm
Weight: 1190 g
The NexDock 360 ships in March 2021 and is priced at $270 plus shipping, which seems fair enough. Notably, any NexDock Touch pre-orders will be converted to NexDock 360. Those who prefer to cancel their pre-orders at the NexDock website will get a full refund.
The design does look to have an awkwardly large screen bezel at the top/bottom (depending on orientation) - it's not clear yet whether this is a proto limitation, an overall design compromise, or perhaps a feature, with controls for the device. Time will tell. The screen size reduction is unfortunate, but then the NexDock 360 is an altogether more portable accessory, coming at 30% lighter, which more than makes up for less screen real estate.
I still have the NexDock Touch, plus there's now an easy workaround that lets the Lumia 950 range hook up to it reliably. In the meantime, it's something of a direct champion lapdock for my IDOL 4 Pro, plus it works even better with my Samsung Galaxy phones and DeX. See my video review embedded below.
(As usual with videos, click through to YouTube if you want more resolution and more quality:)