Review:
Lumia 800 Part 7 - Music and Video Hub
Score:
70%
Following our review of the Picture Hub on the Nokia Lumia 800 (and other Windows Phone 7 devices), we now turn our attention to the Music + Video Hub. This is where Windows Phone 7 collates all of its multimedia content. This mostly accounts for the music, videos, and podcasts, synchronised via the Zune desktop application, but you'll also find all of your related applications, such as streaming content - including our own AAWP application. Read on as we get in-depth with the Music + Video Hub and take you on a tour of what Windows Phone 7 Mango and the Nokia Lumia 800 have to offer for your multimedia needs.
Version Reviewed: 7.10.8107.79 (12070)
This hub is where all the audio and video action happens – here you'll find your music, videos, podcasts, and streaming applications. The hub pivots between 'Zune' (Microsoft's defunct personal media player brand), 'History', 'New', and applications.
Zune
The Zune section doesn't go into a sub-pivot as we've seen elsewhere; instead, it just has links to each of the different player sections in Windows Phone 7. In order, these are music, videos, podcasts, radio (FM), and marketplace. However, if you just want to get straight into enjoying some music without caring about what you hear, the music icon at the bottom of this screen will start playing a shuffled playlist of everything on your device.
Music
The music list pivots between artists, albums, songs, playlists, and genres; most of which support the same alphabetical shortcuts as can be found in the People Hub contacts list. When viewing an artist's page, you'll find a list of all their albums on your device, plus a marketplace link to more albums by that artist for you to buy. I liked that the artist view is split into albums; unlike some other media players I've seen that only offer a single list of all that artist's tracks. This is in stark contrast to the genre view which does exactly that, and doesn't give a list of albums available in that genre.
Playlists are primarily created on the Zune desktop software, and then synchronised onto your Lumia 800. That includes smart playlists created by the Zune desktop that are generated from a single track of your choosing, and periodically updated with different tracks. You can, however, create playlists on your Lumia while playing a track – this is a rather cumbersome way of doing things.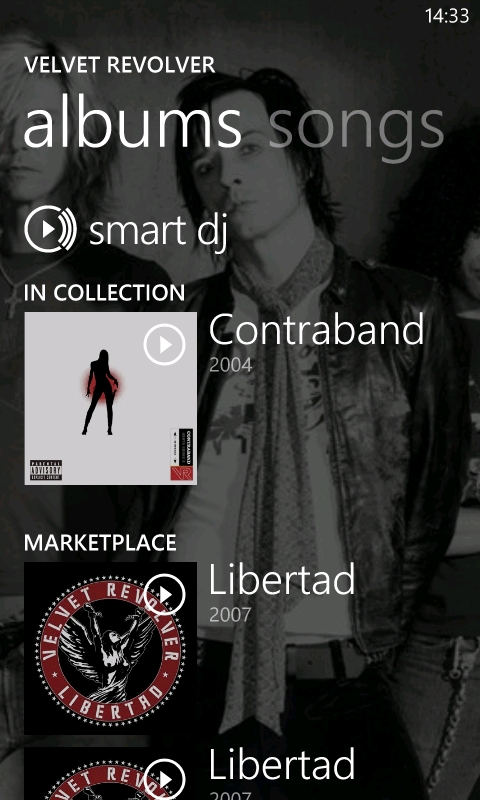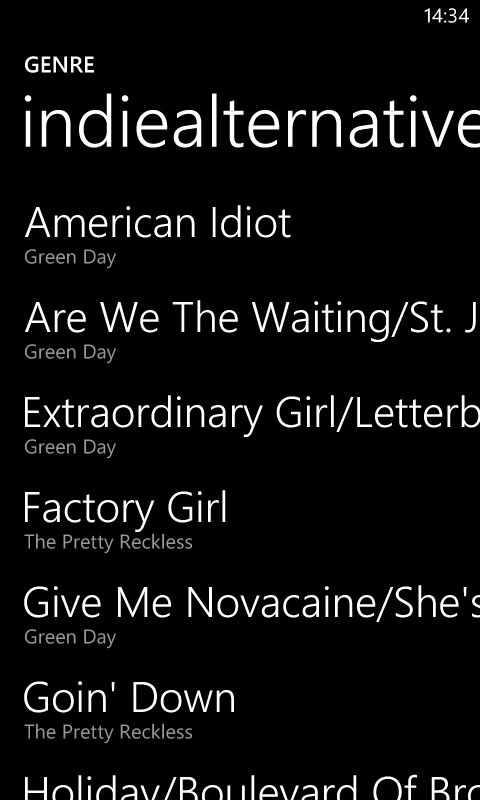 Fortunately, everything can be pinned as live tiles: individual songs, albums, genres, and playlists. Artists can be pinned too – and they are treated to a large double-width tile. If the artist has an official photo with Zune, this will be used on the tile, and will pan slightly as with the Picture Hub tile. Similarly, these photos will be used as the background to the music player and will, while playing, take the place of the lockscreen wallpaper.
When browsing artists, albums and even podcasts, there's a general rule that if you tap the play icon or album art, then things start playing, but if you tap the artist's or album's name, then you are taken through to see the tracks (or episode summary in the case of podcasts) filed underneath them. This isn't immediately obvious, but it doesn't take too much exploration to discover.
Moving on to the player, we have a simple layout, swiping across the album art performs a track skip, and holding down the skip buttons allows you to fast forward and rewind through a track. You can also set repeat album/track and shuffle tracks. There's also an icon to 'love' a track – I'm assuming this affects the selection of tracks in Smart DJ mixes for Zune subscribers – which I wasn't able to test for this review.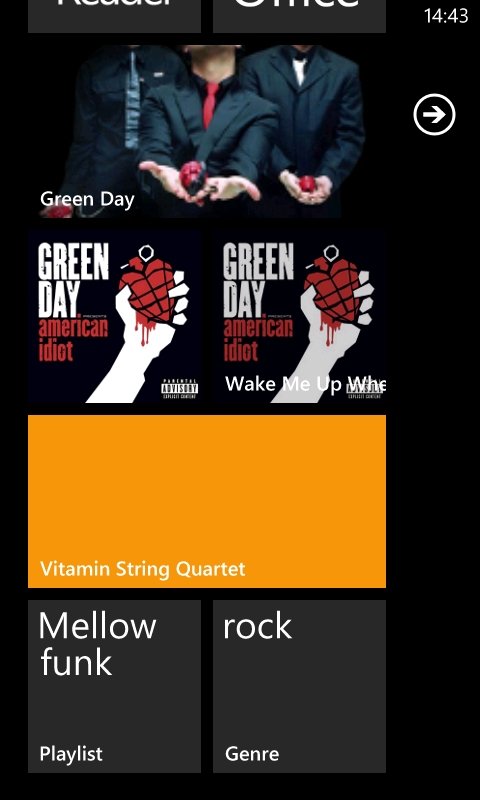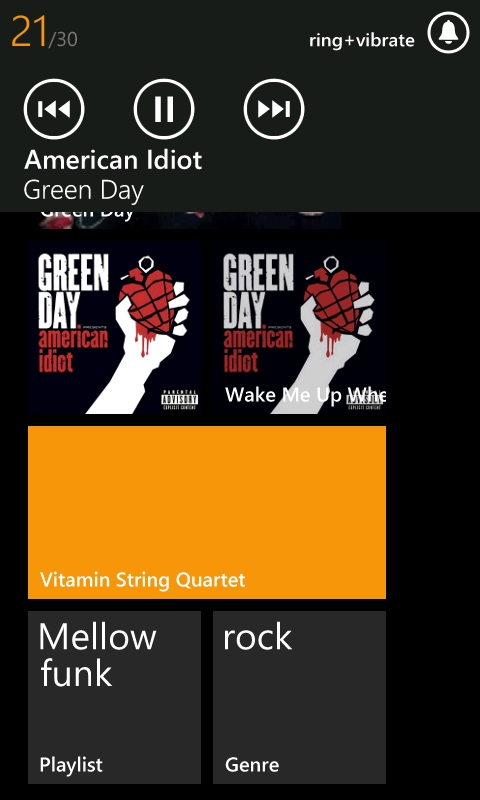 Given that the Lumia 800, like most touch devices, lacks any external media controls, a feature of Windows Phone 7 that saves a lot of time is the pop up media controls that appear whenever you press a volume key. Here you get back, play/pause, and forward, along with a read out of the volume, and controls to set the phone to silent mode. Having universally available media controls is just the ticket – and Windows Phone 7 is smart enough to pause tracks when you get an incoming call. The only complaint here is that there is just one volume level; if you turn your music down, you're also turning your ringtone down, and vice versa. This is something that must be fixed in future versions as it reflects poorly on Windows Phone 7's overall quality.
Videos
The video page pivots between 'All', 'Television', 'Music', 'Film', and 'Personal'. The television section is further split into different series – just as tapping on a musical artist will display their albums. The 'personal' section is where you'll find videos you've captured with the camera.
The utilisation of these sections depends on whether your video files have metadata set within the Zune desktop application. If you've purchased content on the desktop, then this data will be automatically set. However, if you've obtained your videos from other sources (such as backing up a DVD), and then metadata can be added manually within the Zune desktop application. Whichever way your videos are listed, they can all be pinned as live tiles.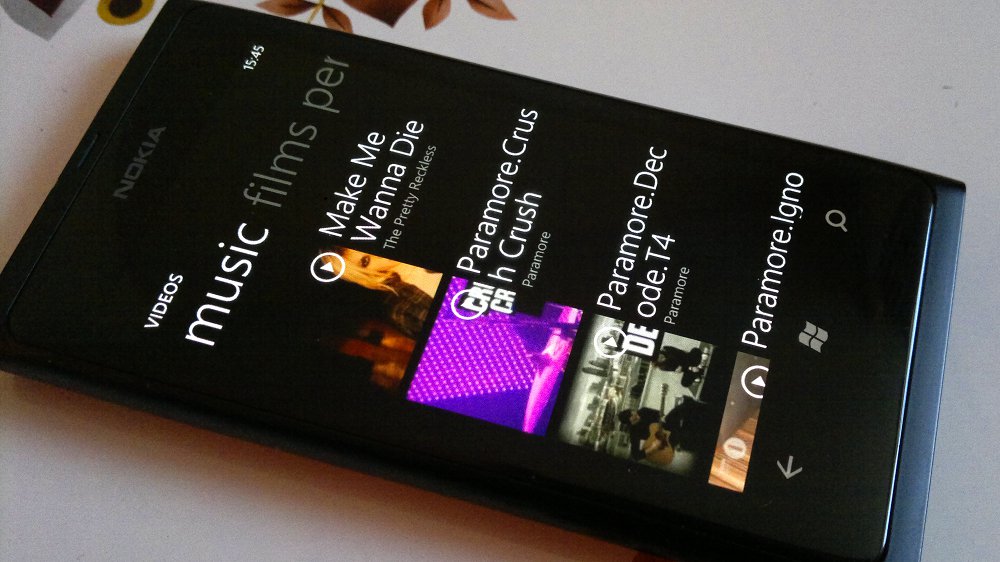 The video player is pleasingly simple – an opaque black panel pops up with a back, play/pause, and forward button, accompanied by a progress bar. Unlike the music player though, you can touch and drag the progress bar to skip portions of videos.
The biggest drawback with videos isn't the player at all – it's the process of getting videos onto your device. First, any videos you wish to copy to your device have to be placed in a 'watch folder' for Zune desktop to catalogue. Then you must find the video in the desktop application, drag it onto your device, and then wait for it to be transcoded before it is transferred to your device. This is a clear black mark against Windows Phone 7 and could have been avoided if a broad range of codecs had been included with the operating system. The only good thing is that you can set videos to be transcoded before connecting your Lumia 800.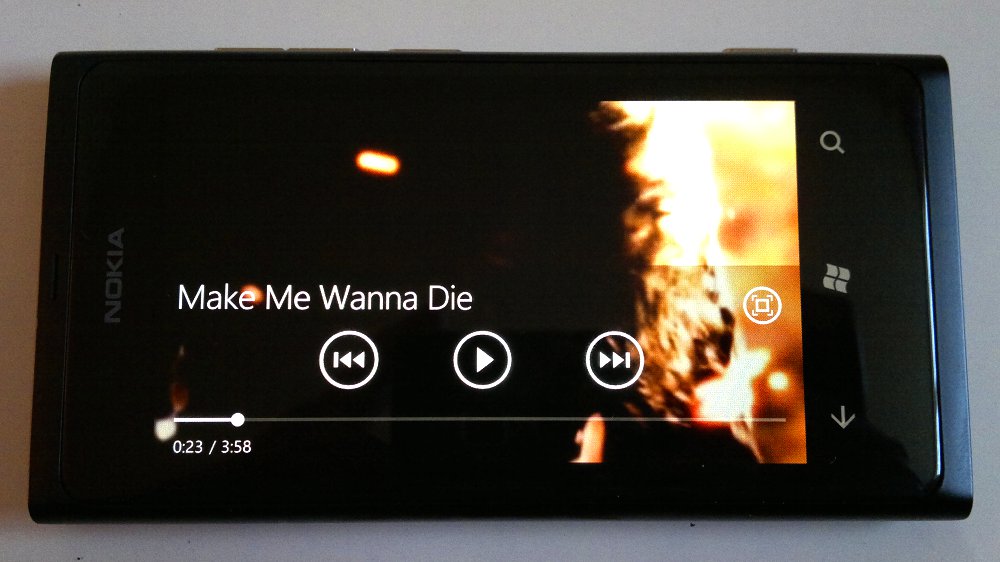 Podcasts
If you're anything like me, the podcasts section will be the most used part of the Zune software. If so, you'll have to be aware that getting podcasts onto a Windows Phone 7 device isn't quite as straightforward as you'll find on, say, a Symbian or Android device.
The podcasts section pivots between audio and video, and podcasts are grouped by series and marked by their cover art beside the title and how many new episodes are present. Similarly to the music section, tapping the name of a series takes you through to the episode list, but tapping the cover art sets all episodes playing one after another. The order of episodes is determined by the preferences you've set either on the Zune desktop or on your Lumia, if you've subscribed on the device. Note that podcast series can be pinned as a live tile, but individual episodes cannot.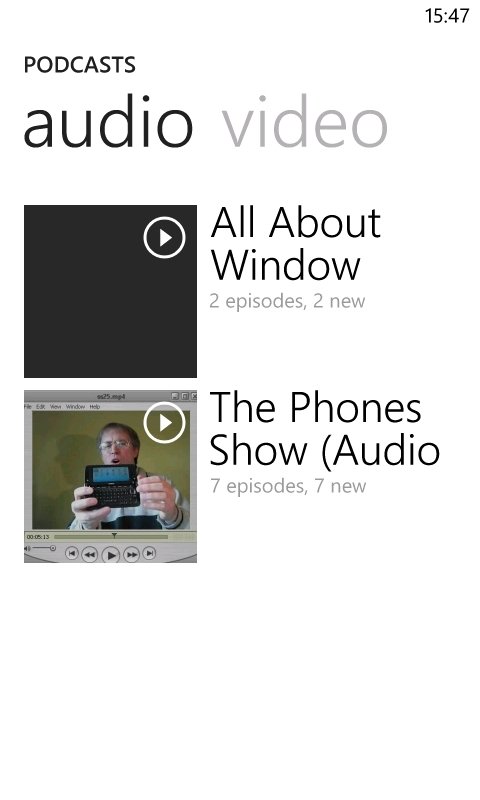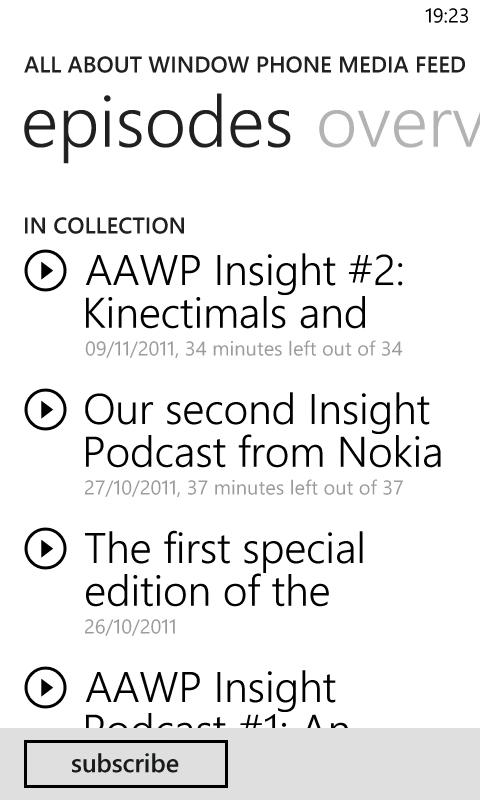 Browsing podcasts
Primarily, podcasts are meant to be downloaded on the desktop Zune application, and synchronised with your device. However, if you tap the 'Subscribe' button when viewing a podcast feed, the phone will take over the subscription for you. However, it will only check for podcasts after it has been plugged into external power for 10 minutes, and there's no other way to force an update. If you want to know more about how to set this up, read our guide. Given the limitations, though, you might as well stick to desktop synchronisation.
Given that power users may not be in favour of this desktop dependency, there has to be some sort of pay off, and there is. Your current position in a podcast, whether you're listening on the desktop or Lumia, is synchronised to the other device. This means that, for example, you can seamlessly start listening to a podcast on your computer, and then finish off on your Lumia while commuting to work. In my experience, the position synchronisation appears to be limited to once per episode, regardless of direction.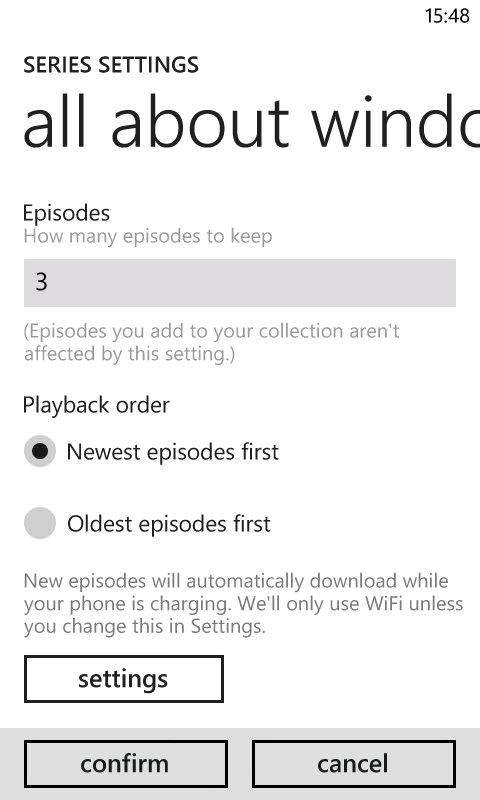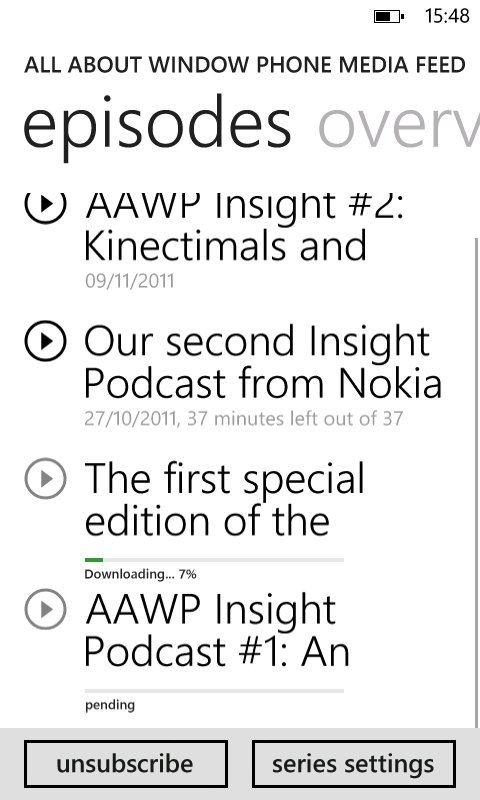 Subscribing to and downloading podcasts within your device
It should also be noted that in the USA podcasts can be added to a device from the marketplace, but that this service hasn't been enabled elsewhere in the world. Specifically, UK users will have to manually add podcasts to their Zune desktop by pasting in the feed URL, or clicking a Zune link in their browser, and then add the podcast to their device.
Radio
The radio is a very simple application – in fact, there's hardly anything to see at all. It's an FM only and you do need to have your earphones plugged in as an aerial. It would have been a practically useful hardware differentiator if Nokia could have somehow fitted an aerial inside the Lumia 800 – I know I'm asking a lot there. However, I've found that the Lumia 800's FM reception is markedly better than other devices, e.g. the HTC HD7.
The auto-scan is not very sensitive and only picked out a couple of stations in my area. However, manually dragging the scan bar to tune enabled me to find several more stations that I could receive on my battery powered AM/FM radio! Once you've found stations you want to return to, they can be saved as favourite pre-sets.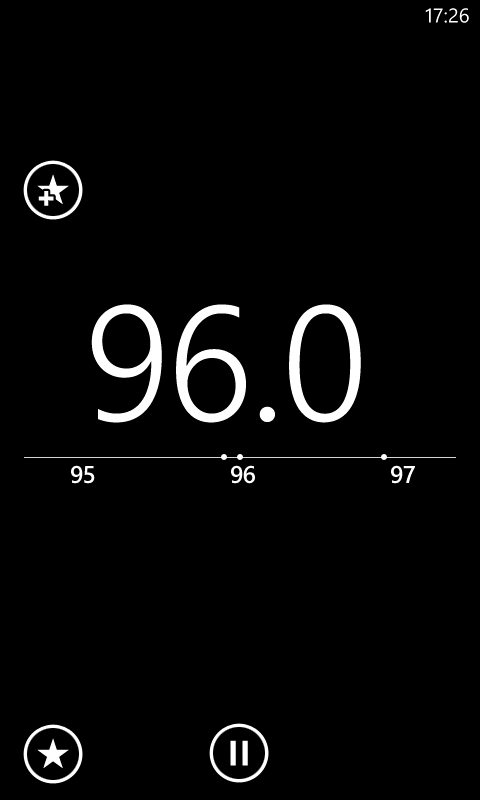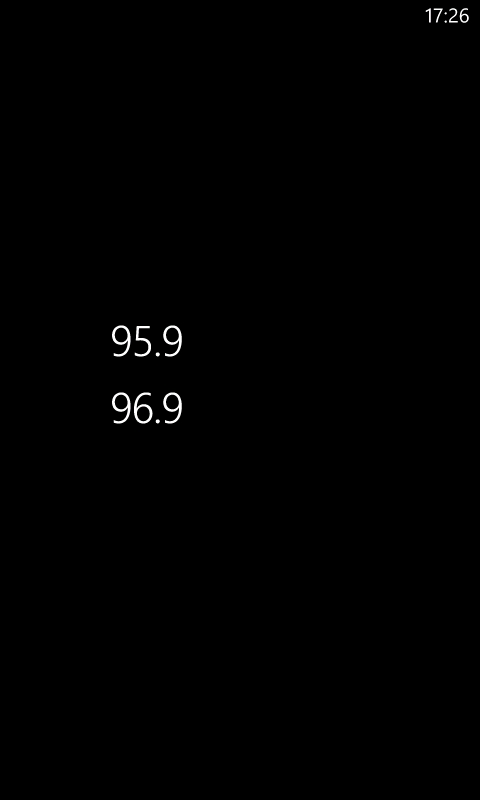 Marketplace
The marketplace links goes straight through to the marketplace client – it does not deep link into the music section. In the UK, only music can be purchased on a Windows Phone 7 device, and (as mentioned) podcasts aren't available here either. You'll find a view that pivots between featured content, new releases, top albums, and genres. Each genre gives a similar set of pivots, but adds "playlists". However, when you purchase songs from these playlists, there doesn't seem to be a way to purchase the playlist to go with them. Purchased music is downloaded to your device, and is synchronised back to your PC the next time you connect the Lumia to Zune Desktop. I was surprised to find how much it removed the need to manipulate files and folders – this is the benefit of the relatively locked down environment of Windows Phone 7 – Just don't take that comment as me approving of it!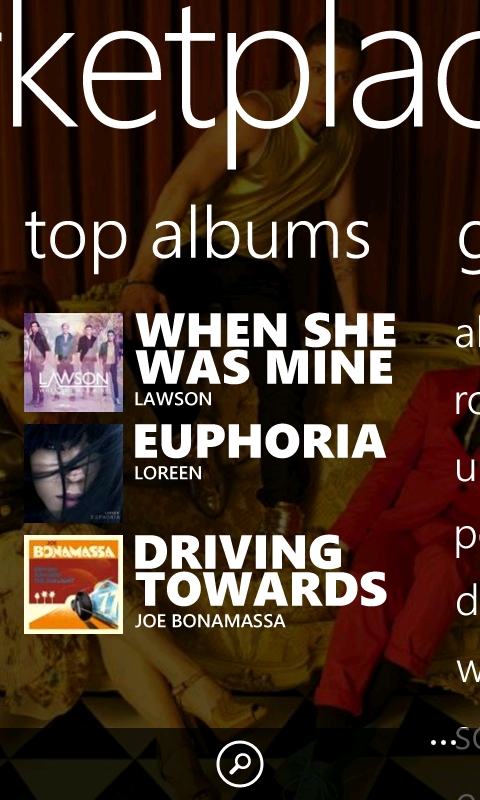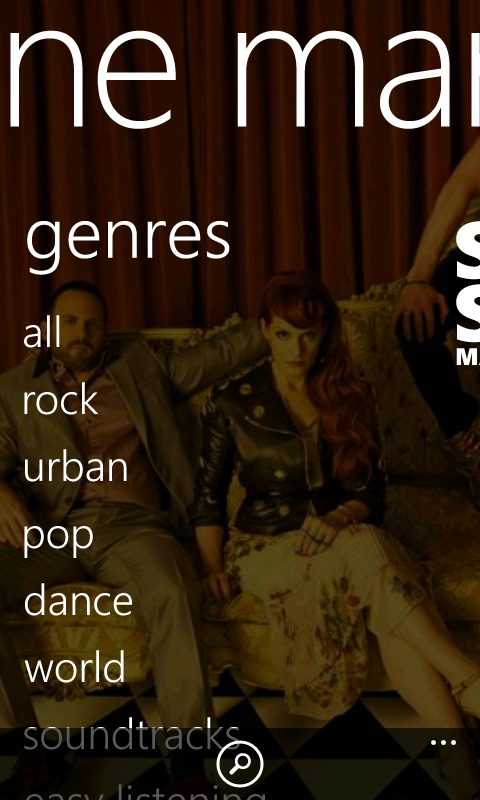 History
Returning to the top level pivot now – the history section, as you might expect, shows a grid of tiles for everything you've recently played, any of which can be pinned as live tiles. The history list even extends to content you've played in streaming applications such as Nokia Music, YouTube Pro and the BBC Podcast Lounge.
The most interesting part is the first tile, which is a large two by two block, which shows what is currently playing. When it is paused, tapping the tile will let you resume playback.
New
Similarly, this grid of tiles shows everything that was recently added to your device, music, videos, and podcasts alike.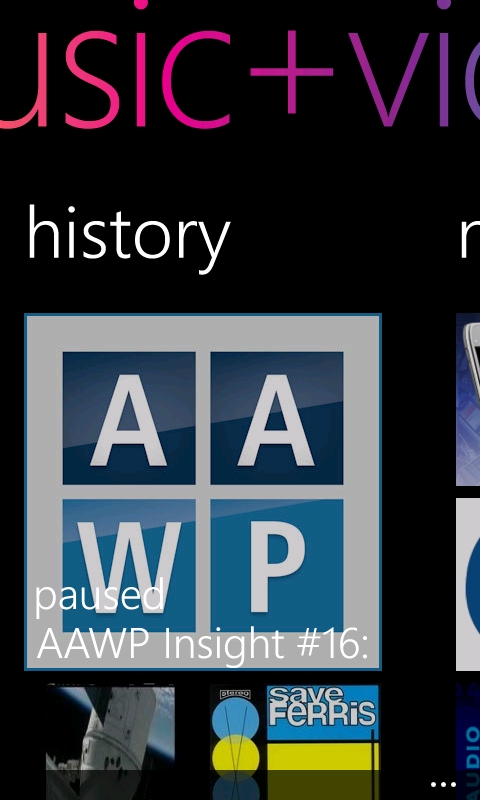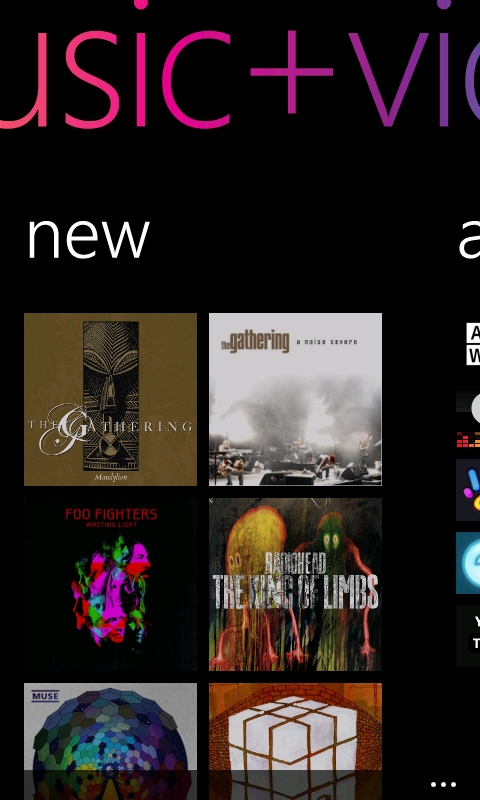 Applications
This has been referred to several times already – this view lists all applications associated with music and videos. These are typically, but not limited to, streaming applications, including our own app. A different example is MoodAgent, which uses the music stored on your device.
Interestingly, Nokia Reading has been added to the Music + Video application list, even though it is neither [a nod to audio books coming soon? - Ed]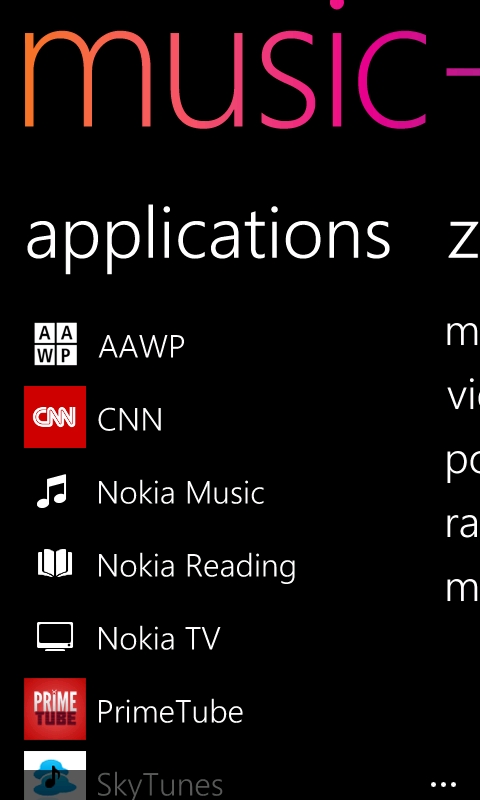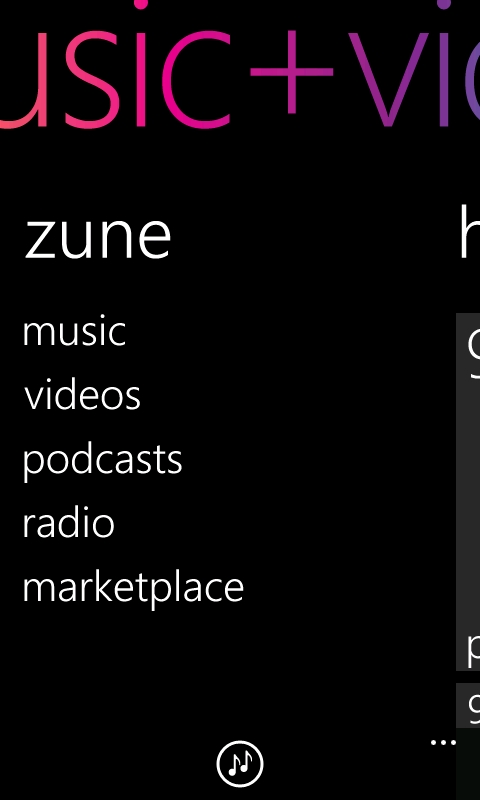 Conclusion
The Music + Video Hub and the Picture Hub are yet more types of application that benefit from the Metro UI design. Browsing and searching for content is made easy by swiping through the various pivots and the use of live tiles. The pop-up media controls are a clever way to integrate media controls without forcing the user to leave the application they're currently using. Also, the flexibility of having live tiles for any type of content allows you to quickly access the things that are important to you.
On the downside, there is the issue of only having one volume level. If you turn your music down, and forget about it, you've just left your ringtone on low volume too. While I like the simplicity of the single volume level, some shrewd thinking needs to be done on how to manage it more intelligently.
There is also the big issue of having no USB mass storage mode, and the enforcement of having to transcode videos. It is interesting to note that early versions of the Windows Phone 7 connector for Mac had an option to disable transcoding, which begs the question of how necessary this time consuming operation really is. The absolute requirement for Zune software is a great imposition on users, whether they want to connect their device to a friend's PC (who doesn't use Zune) or connect to use a Linux PC. It should not be forced upon us, and smartphones should be able to work independently of a desktop operating system.
The next part of our Lumia 800 series will be the conclusion, where we'll look at the Nokia exclusive applications, go over the whole series, and pass our verdict on this landmark device.
Reviewed by David Gilson at