Review:
Nokia Lumia 928 - Part 2 - Camera
Nokia's Lumia 928 is a rare breed of smartphone from the Finnish company. You can't miss that this is the 92x handset which has a Xenon flash, and for those who put a lot of emphasis on their evening or indoor photography, that makes the Lumia 928 a very attractive handset to consider. Let's take a closer at Verizon's flagship Windows Phone 8 handset in the second part of our review.


Stills Camera
Let's start with the one element that many will like about the Lumia 928 and that's the Xenon flash. With the Lumia 920 having the same 'floating lens' (OIS) technology that the Lumia 928 has, the difference between the LED flash and the Xenon flash is the key photographic difference here.
It's also the difference between the more global Lumia 925 and the Verizon exclusive Lumia 928, as the 925 comes equipped with a dual-LED flash. Coupling the Xenon flash with the PureView branded technology makes the 928 one of the best Windows Phones for taking pictures of people in dark and dingy environments... or Scotland as I call it.
The upshot is that any picture taken with the flash active on the Lumia 928 is going to have more light to play with thanks to the faster nature of the Xenon flash to trigger and the increased lumens that it produces over the shorter time period. You will need to keep an eye on the exposure levels if you are in a close (macro) environment for lighting, as the Xenon flash can overexpose and you might lose some of the more delicate details in objects.
[Steve Litchfield takes over for the actual test samples:]
Here are a few tests to illustrate the difference Xenon can/might make, demonstrated on the Lumia 920 (first, with LED flash) and then the Lumia 928 and finally the Nokia 808 PureView (the cameraphone champion from the Symbian world, also with Xenon, and running here in 8 megapixel mode, to match the Lumias). Here's the overall scene, trying to replicate in controlled settings a typical evening 'down the pub' or 'party' shot: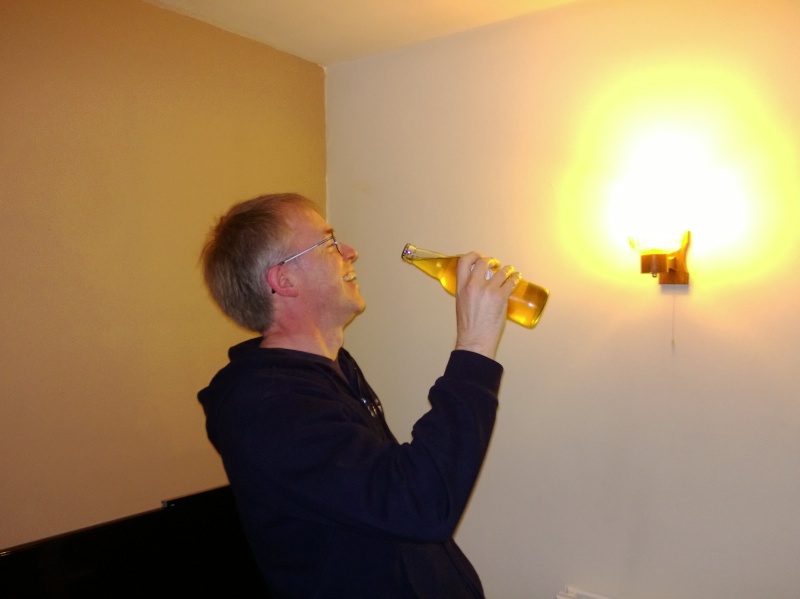 And here are crops from the 920, the 928 and the 808, stacked in that order: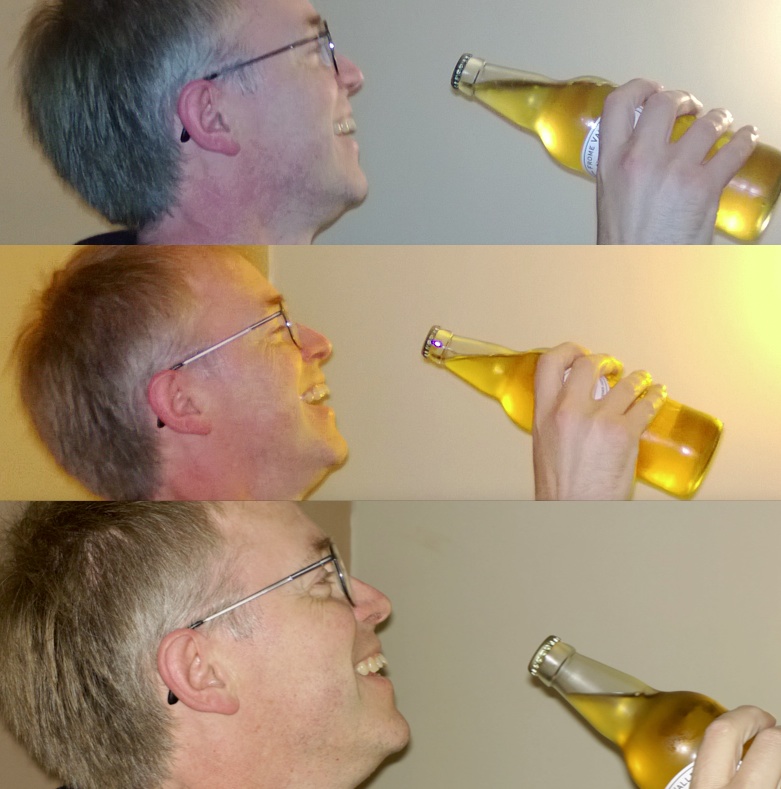 As expected, the Lumia 928's Xenon-lit image is very slightly sharper than that from the Lumia 920, but not to the extent that I'd have expected. Comparison with the bottom crop, from the Symbian-running Nokia 808 PureView, is very telling. There are multiple factors at work here - the 928's Xenon flash is smaller and less powerful than the 808's, the sensor in the Lumia 928 is just a standard 1/3" unit, some six times smaller than that in the 808, plus the Lumia 928's image processor is optimised for OIS and for low light, flash-free images (e.g. static subjects), whereas the 808 is optimised for Xenon flash illumination at the first opportunity.
In short, don't expect miracles from the Lumia 928's Xenon flash - it's only slightly better than the dual LED in the 920, in my testing. The only previous Xenon-equipped Windows Phone was the HTC Mozart and the Lumia 928 produces images that are miles better than this - but, equally, some way short of the 808's masterpieces.
One thing that we have noticed with the camera is that the colours on show are more vibrant - the reds and oranges of the worlds are dialled up slightly in the pictures compared to shots on other Lumia handsets. We suspect this is more down to software tweaks rather than new hardware.
I was also curious as to absolute quality, under Xenon flash, for static subjects, i.e. with no chance of random errors creeping in as a result of the subject moving(!) I took this shot of my daughter's colourful nail varnish rack in a pitch dark room: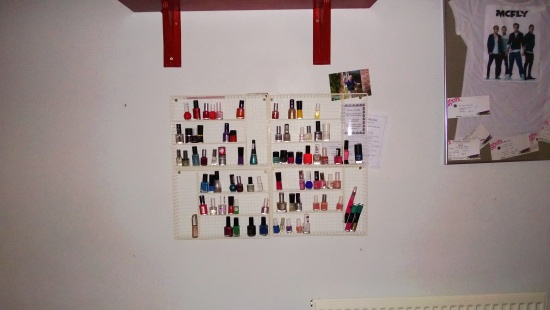 ...and then cropped in so that you can see any differences in quality. Here, the Nokia Lumia 928 is the top crop and the Nokia 808 PureView the two bottom crops below (one at 1x PureView zoom and the lower one at 3x PureView), all using their Xenon flash at about 2 metres: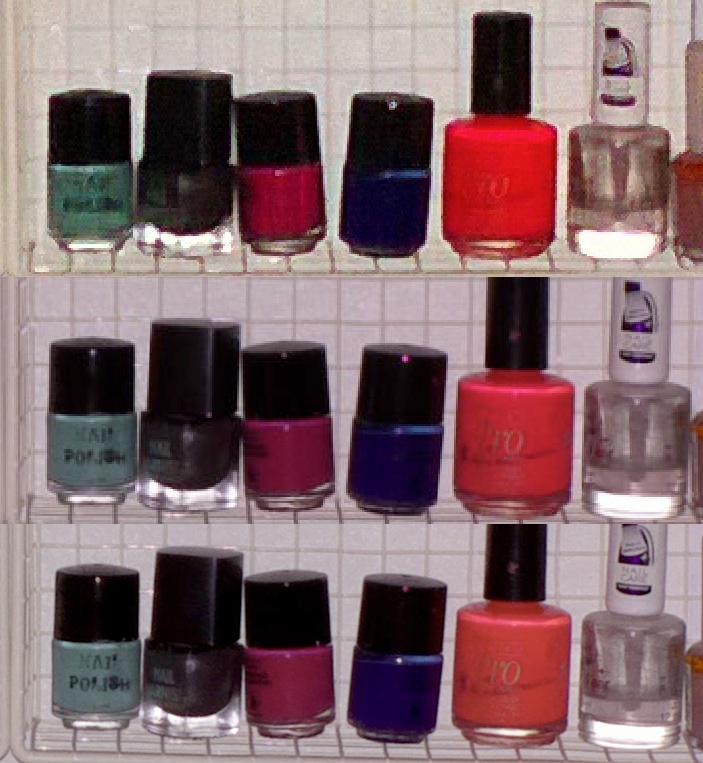 Again there's a huge quality difference between the two phone cameras. The Nokia 808 camera may not have OIS to keep it steady, but the quality of the optics and the size of the sensor make for far superior detail and absence of noise when you look closely, as I've done here.
But I'm being a little unfair - the Nokia 808 PureView's trump card is its camera - it's the reason the phone exists, whereas the Lumia 928 is a 'normal' Lumia Windows Phone with 'normal' sized camera, yet with a flash that's a bit better than the standard LED far from other competitors. And, pitched like this, to an everyday user, who will see better photos in all light conditions than their friends with iPhones and Samsung Galaxy(s), it matters not a jot that the pictures aren't perfect - they'll be 'good enough' by most peoples' metrics.
Here are some more photo samples (under overcast skies - sorry) from the Nokia Lumia 928, click the thumbnails for the full 8MP version, for your study and interest:
The photos are exactly comparable to those we've previous seen from the likes of the Nokia Lumia 920 and iPhone 5/Galaxy S III (and more). Very decent in good light. When light conditions worsen, photos will out perform most of the competition, thanks to the OIS and Xenon. But for more, you'll have to wait to my next camera phone shootout!
[Back to Ewan:]
As always, a lot of the detail and accuracy in a cameraphone is determined by the user. It's a truth universally acknowledged that I'm not an expert in camera phones, and am the true amateur when it comes to assessing image quality. That said, I would personally be a lot more comfortable trusting the Lumia 928 to take my pictures than the Lumia 800. It seems to replicate what my eye can see in terms of colours, and most of the time images that I take are indoors at night, either at home or at music gigs - both of which are challenging environments with low light and fast moving moments that need to be captured because it's unlikely they would be repeated.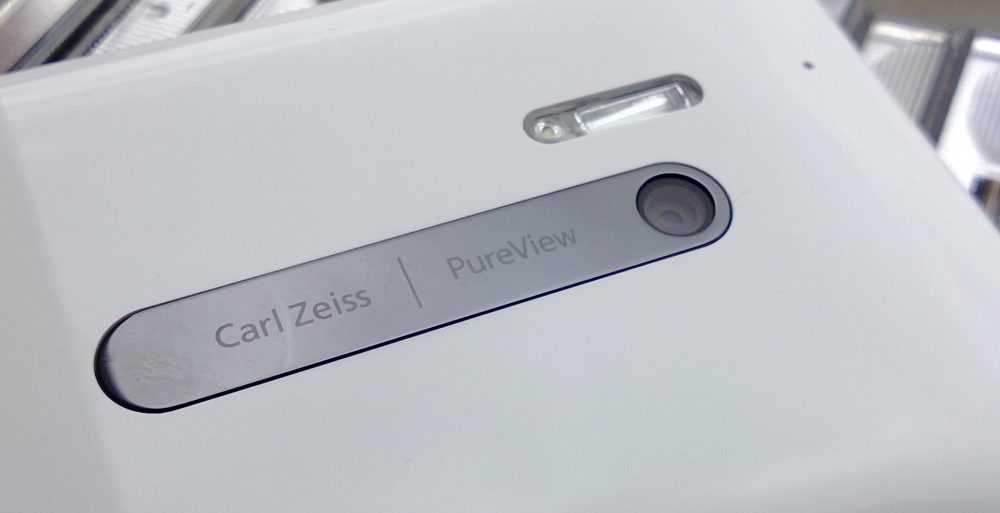 Video Camera
You have two choices in terms of video recording - 720p or 1080p. I know that many people are going to default to 1080p to record simply because it's the biggest number, but there are a lot of arguments to stay with 720p.
File size is the biggest one. The Lumia 928 has 32GB of storage on the circuit board, less once you add a few apps, music files, and other data. You're not going to have a huge amount of storage space for your video, so unless you are only taking very short clips, or know you are going to be near somewhere to offload the data, 720p's file size will be more than enough. The free 7GB of storage on your SkyDrive would be used up rather quickly if you were offloading 1080p video, so it's an option, but not a huge one.
The same low light performance benefits the still camera has are evident in video as well, although what you don't get is the extra oomph of the Xenon flash. Extra lighting for video recording is provided by the LED light, which is also used to help focusing during still photography. This dual solution is a good compromise between the benefits of having Xenon for stills, while still providing a solution for low light video recording.
[Steve says] Having Optical Image Stabilisation onboard helps enormously with video too, as I proved in my Phones Show tests, reported on here. Video performance of the Lumia 928 will be identical to that of the Lumia 920 and very similar to that from the Lumia 925. Video is smoother and less tiring to watch - and I agree with Ewan about 720p - for most uses, people can't tell the difference, yet quality is arguably higher and file size smaller.
Software
You'll do most of your management of your images and videos in the Windows Phone Photo hub. All your photo applications can be found here, along with direct access to the camera roll (even though photo quality is degraded, on-screen - Steve). You also have your albums here, and these are not just the albums on your device, but those gathered from SkyDrive, Facebook, and other online destinations. It's a nice way to stay connected to all your images as long as they are online with one of the services that Windows Phone ties into. This is where the 4G LTE speed of the 928 comes in useful, as it's far easier to explore these folders and albums with a super-fast data connection.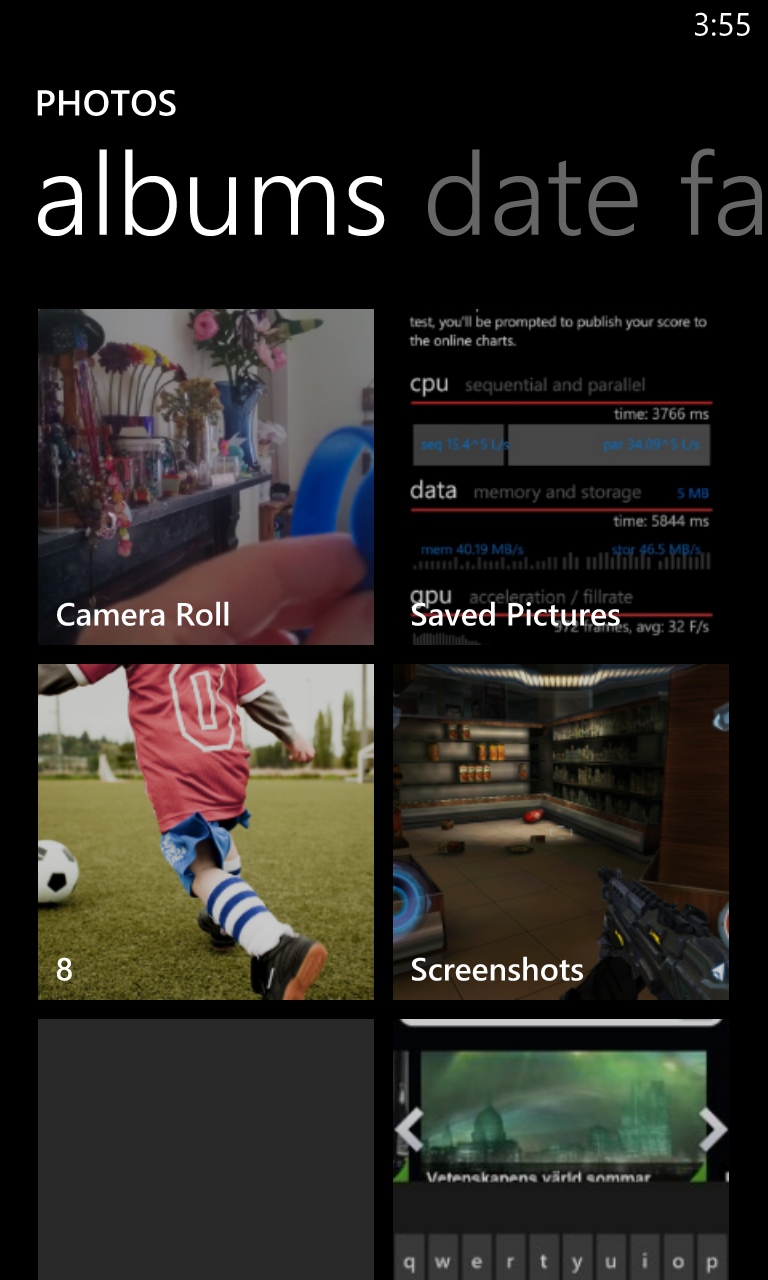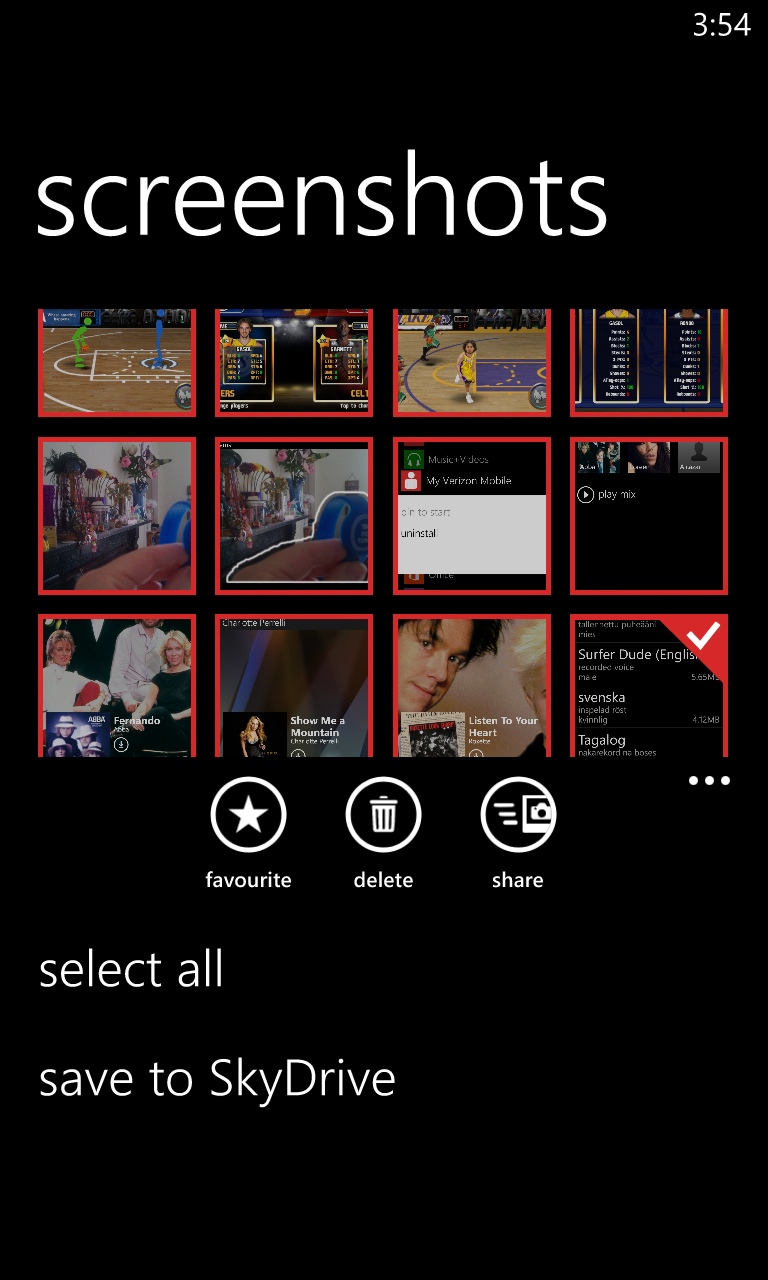 The social media ties help with your sharing, as a quick tap on the menu bar when viewing a photo or a video brings up a range of networks you can share to, either publicly (Facebook, LinkedIn, Twitter, etc), privately (via MMS messaging or email), or point to point, using an NFC 'tap and send' movement to send the media to another compatible Windows Phone device. It's all well put together and connected... if you connect using these services.
The issue is what to do if the service you want to use isn't listed here. Flickr is the biggest omission in terms of pictures, while the lack of Instagram might cause a few people to take a second look at their decision to go with Windows Phone and the 928. While a number of web services offer email as a backup to getting your content to their servers, there's no easy architecture to plug into unless you are a developer. There is an appeal here, and most of the major bases (ahem... Facebook) are covered, but if you stray from the chosen sharing path, then you will find that Windows Phone can be a bit lacking.
Personally, I'm all for email and a bit of Facebook imaging on the side, so I wouldn't regard this as a major problem, but it is one that is there.
Lenses
I don't want to skip over the 'Lens' part of Windows Phone as well. This is the modular part of the camera, where developers can tie in applications and special features directly into the Camera application. It's a smart way of organising these extra features, and one that many third party apps have been using - Twitter is one of the latest to add in a lens, so you can take a picture with the express intent of uploading it to Twitter as an image direct from the Camera app.
Out of the box, the Lumia 928 has five lenses that cover a broad feature set to demonstrate what can be done.
Bing Vision lets you scan barcodes, QR codes and tags to find out more information, while CNN iReport is a citizen journalist tool that lets you upload newsworthy images and video to CNN's server.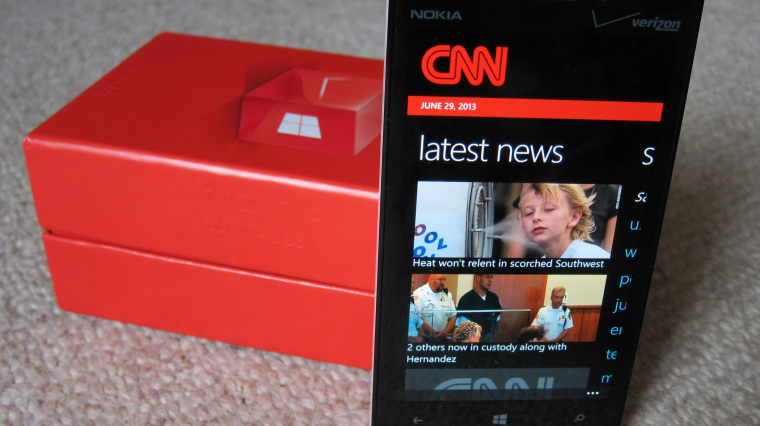 Cinemagraph allows you to create animated GIFs as you take a picture, and share them via an upload to Nokia's servers. It would be nice if there was a direct way of sharing a GIF from the handset, and the Panorama lens allows wide sweeping vistas of where you are in a stupidly wide (if not very tall) image.
Nokia's SmartShoot helps you get the best picture possible by taking four pictures in in quick succession and allowing you to select the best elements from each, such as a smile from one person in picture one, from another in picture three, and the background from picture 2 - you can also remove something that strays into shot, such as a passer by waving a Nokia Music NFC bracelet.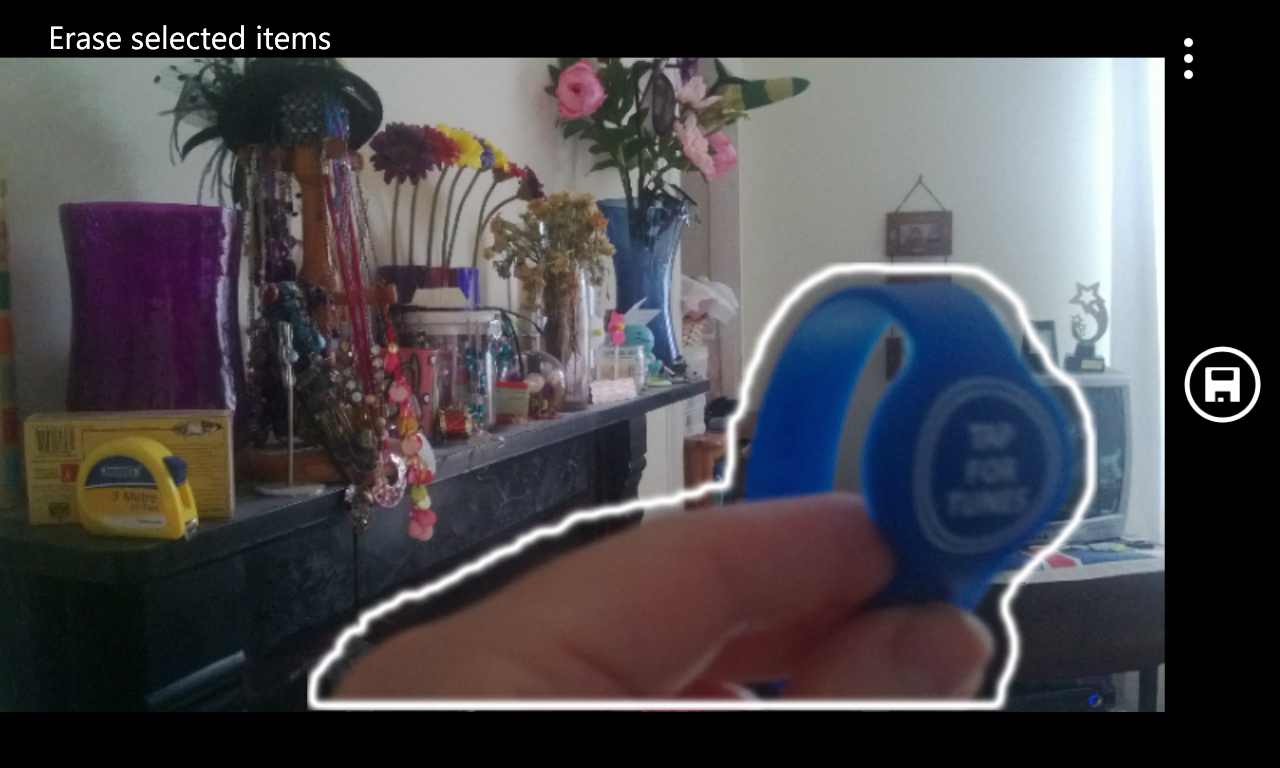 You also have Nokia's HERE City Lens, which is accessible from the Windows Phone app launcher, rather than the lens system. This overlays real world locations and mapping over the image you see through the camera lens, providing a layer of information to help you navigate your local area. It is a bit gee-whizz for me, but it shows off the camera working with all the sensor technology on the handset, and joins up a number of applications in the handset to create a seamless mix of navigation, information, discovery, and location based services.
Conclusions
Nokia are already leaders in smartphone imaging, and the Lumia 928 builds very slightly on that image in the Windows Phone world with the addition of the Xenon flash (even though this exclusivity in the world of WP8 is likely to be shortlived with Nokia's big new PureView flagship due to be unveiled in a week's time). The regular Windows Phone software makes for a simple to use camera, and the extra functionality of the lens system allows for some fantastic images to be captured.
In terms of replacing a point-and-shoot camera, the Lumia 928 is one of the best smartphones out there. As expected with smartphones, you lack a good in-lens zoom option, but that's still the trade off that physics will force you to make when you have a ten millimetre wide smartphone.
In the next review part I'll summarise the software loadout and assess the Lumia 928 as a daily device.
Ewan Spence [with interjections, images and editing from Steve Litchfield, as you'll have seen above]
Reviewed by Ewan Spence, Steve Litchfield at