Review:
OneLocker: a polished sync-able password and secrets store
Score:
82%
The search for a really good syncable encrpyted database and password manager is one that's close to many of our hearts. And there's a new contender, OneLocker, 'built for Windows 10', meaning that it's fine on both laptop and also Windows 10 Mobile-running smartphones, syncing through to OneDrive or Dropbox. There are a few caveats, but this still seems like a viable and mature solution, at least if you're building this up for yourself from scratch.
Buy Link | Download / Information Link
From the Store entry:
OneLocker is a complete, powerful and feature-packed Universal password manager for Windows 10. Do you happen to have lots of passwords for all your accounts and you always end up writing them down somewhere not to forget them? This app is the perfect solution for your problem: you'll no longer have an hard time trying to remember everything as OneLocker will keep all your data safe and available wherever you are.

Super secure, NSA Top Secret standard AES encryption with 256bit keys
Support for a primary account and multiple guest users
You can add as many fields as you want to every card in your database, and you can choose from different field types (text, numbers, dates, images, even files and audio notes, and more)
Create and manage sections to better organize your data
Assign a group to the items you want, to be able to see them sorted by category
Two internal clipboards to let you cut/copy items and move them around your database with ease
Optional sidebar with a Quick Access list, to let you see and jump to your most used cards
Share data using QR codes, sms or emails, OneNote or other apps on your device
Add your items to your favorites section
Create templates from your cards and generate new items in a single step
Backup your database on both OneDrive and Dropbox, or on your device storage
Export your data as a CSV file if you want to work with Excel or other external programs
Set a lockout timer if a user enters the wrong password for too many times
Tons of settings to customize your app, from the UI to its features
You can have the app automatically delete the database if someone is trying to access it without having the right password
Set notifications that will sync on other devices
ShakeToShow function: shake your device to quickly show all your hidden fields inside the current card
In fact, the bullet list above seems out of date, in that the current application does even more than this, with the ability to perform a full entry-level sync through to OneLocker databases on OneDrive or Dropbox - and yes, this is all available to test in the free trial version.
OneLocker was in fact available as a standalone Windows Phone 8 application, but with a 'desktop' client, written for Windows by another developer - and it didn't work very well, apparently. But now we have the original OneLocker code compiled for Windows 10 on both mobile and desktop, thanks to the magic that is the Universal Windows Platform - it's the exact same app and therefore is a whole lot more compelling.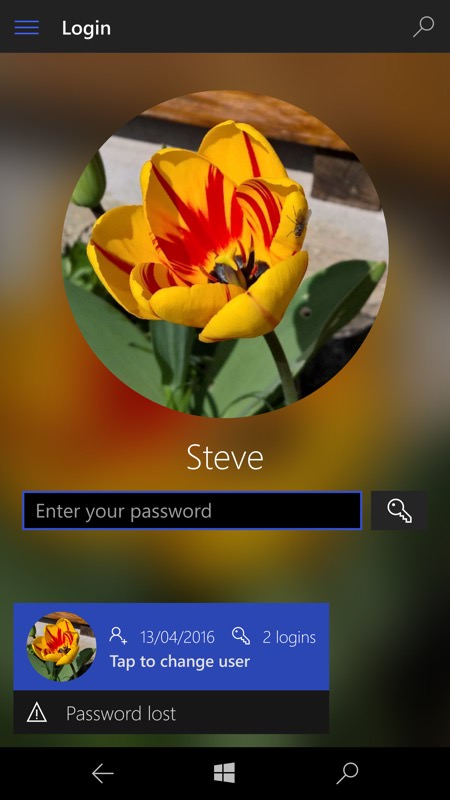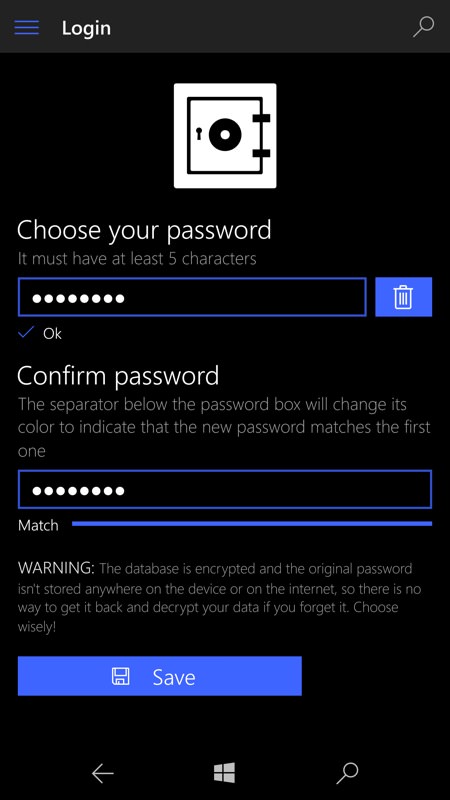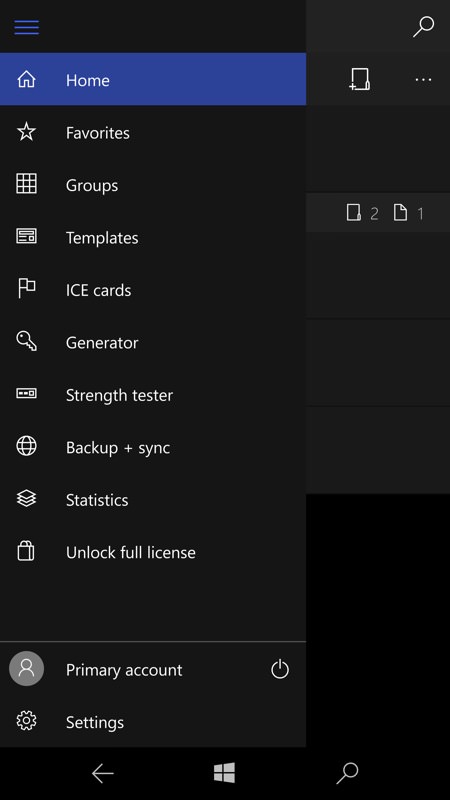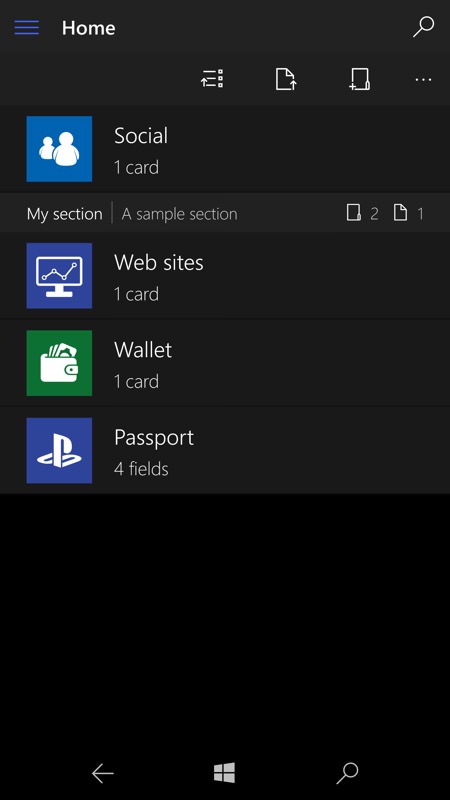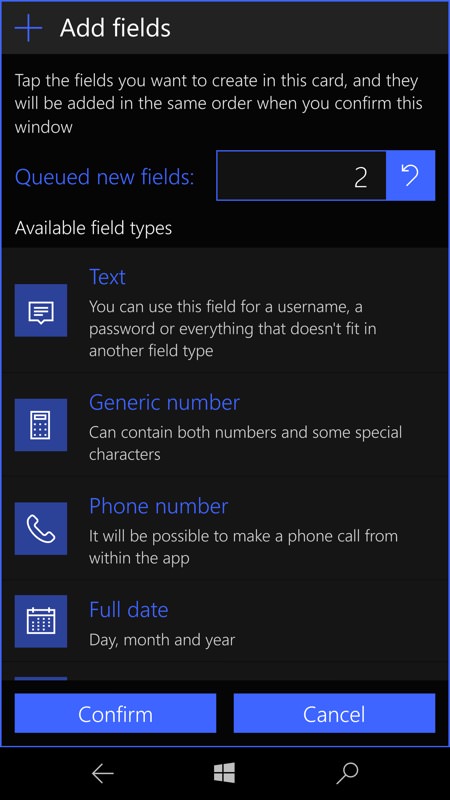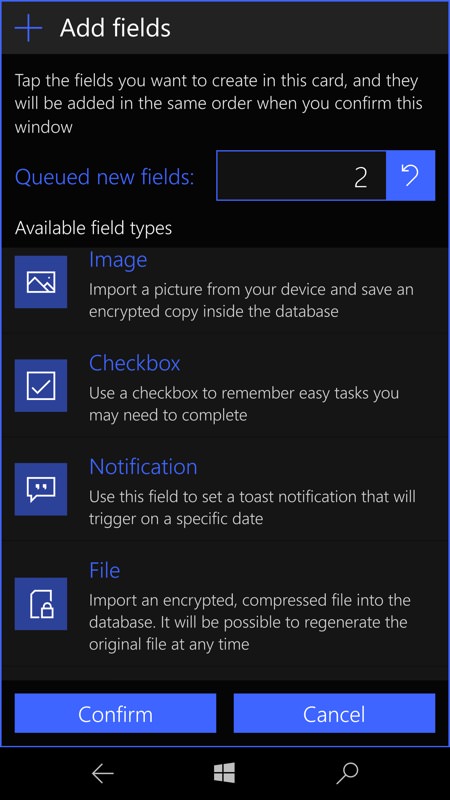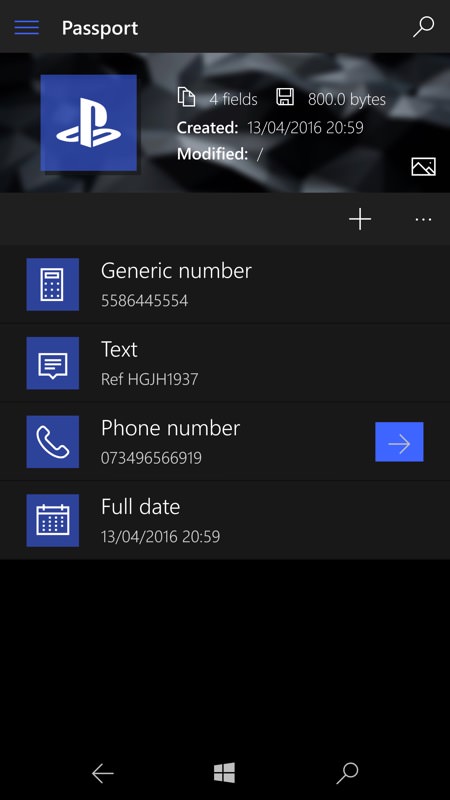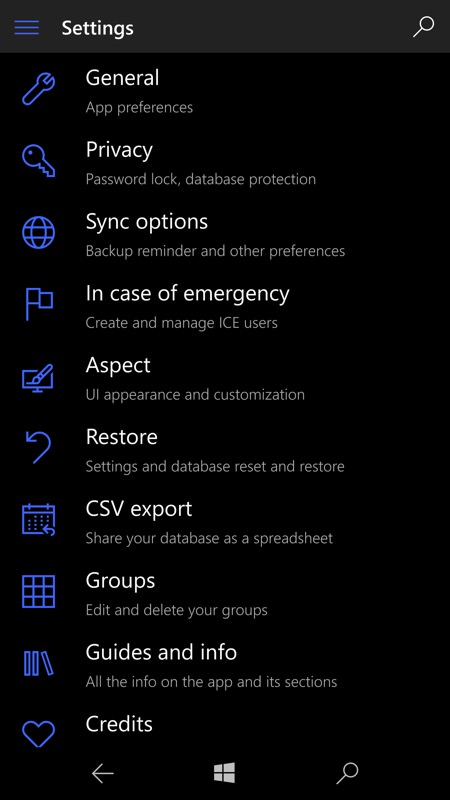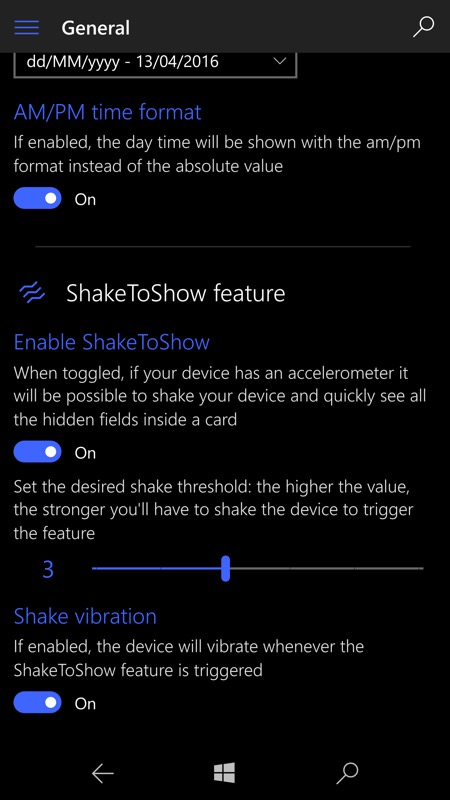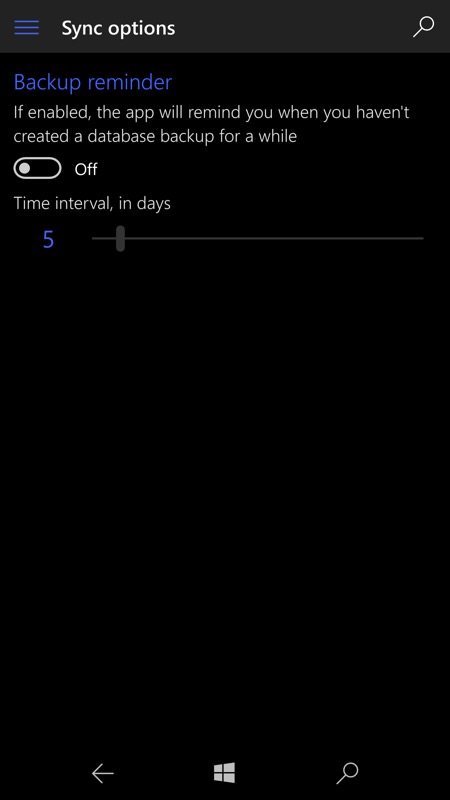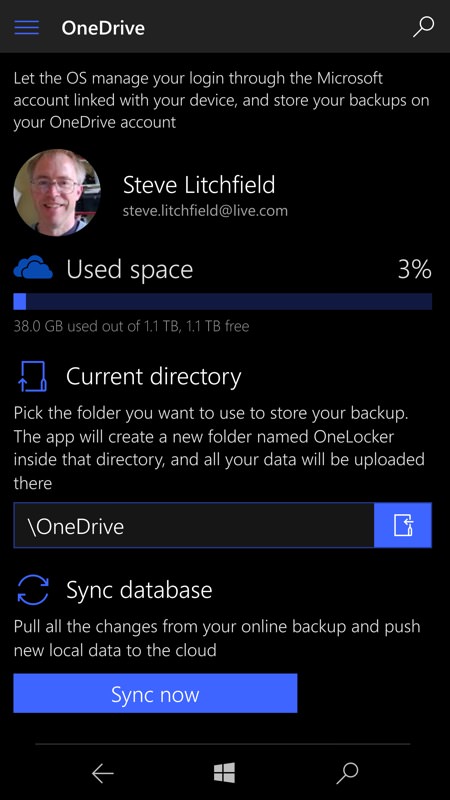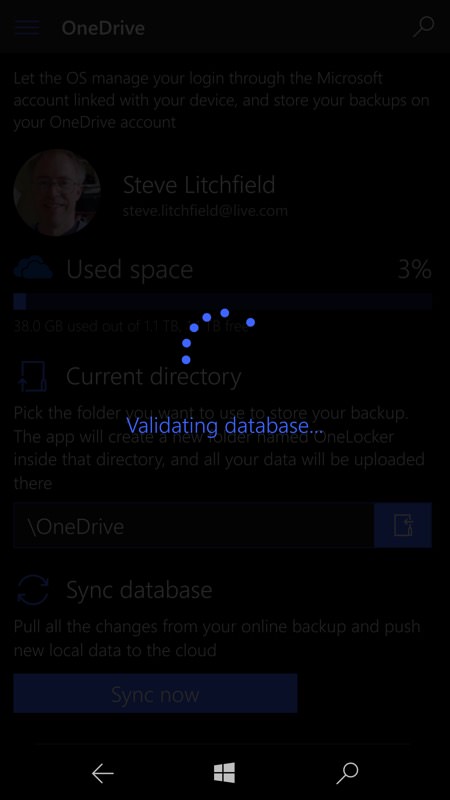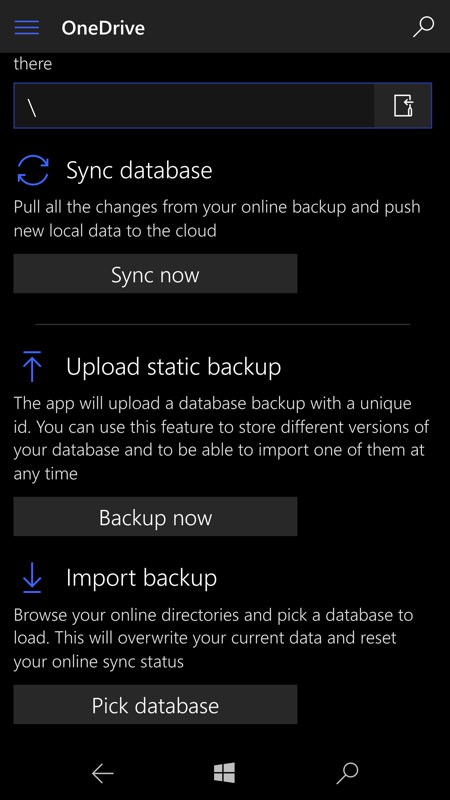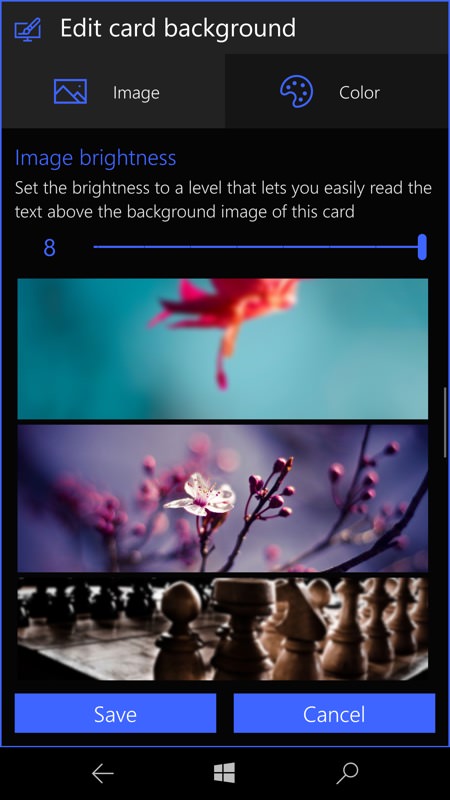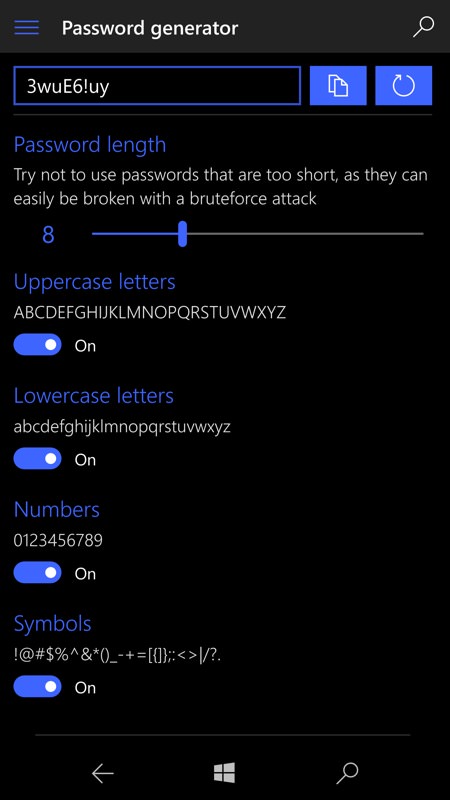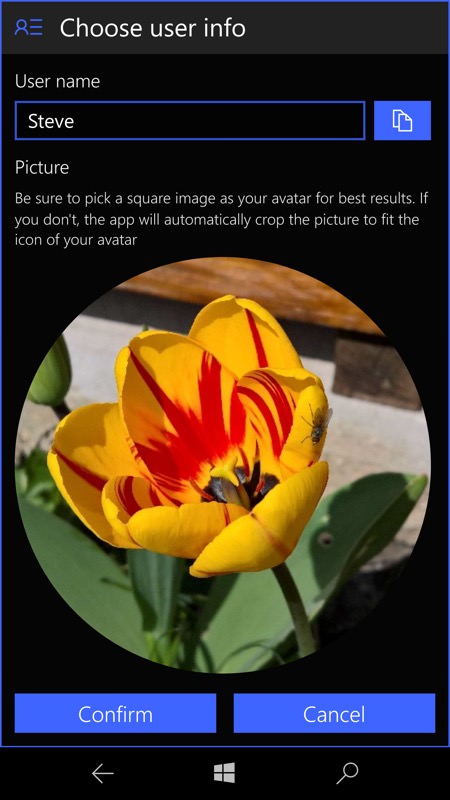 Perhaps the biggest caveat I should mention is that, because of the flexibility in format, there's no (even approximate) standard layout to the cards, making import into OneLocker just about impossible, so the application will only really suit someone getting going with an encrypted database for the first time. Those (like me) with existing KeePassX, SplashID or Handy Safe databases (to name but three) are unlikely to have an easy way to get much of this data into OneLocker except by significant amounts of copy and paste work, probably on the desktop.
There's a trial version that you can play with for free - it's a little crippled in terms of sync, unfortunately, but you'll get a feel for the app and will know whether it's worth the £3 purchase price in the Store. Here are the restrictions in the free/trial mode:
The database can only contain up to 5 folders, 5 sections and 10 cards
Each card can have up to 5 fields, with a total of up to 30 fields in the whole database
The CSV export feature is disabled
Is it possible to create just one ICE user
The static upload/import options for OneDrive and Dropbox are disabled
The Templates section is locked, and existing cards can't be saved as templates
It's not possible to save/restore a local backup
You can grab OneLocker here in the Store. The rewrite seems to have arrived on Windows 10 fully formed, tested and mature, so full credit to the developer and his beta team.
PS. You may remember my own experiments in this area, with KeePass 2 databases? I currently have one of these still, with the MetroPass client on Windows 10 Mobile, but it's not ideal in terms of syncability and searchability. If I was starting from scratch with the concept, I think I'd give serious consideration to OneLocker, though I'd like to see Mac and Google Drive support too - hey, what can I say, I want to have my cake and eat it too!!
Reviewed by Steve Litchfield at