Review:
Realme Buds Q
Score:
83%
It's inevitable that technology will drop in price as time goes on - Apple introduced the original TWS (True Wireless Stereo) AirPods at around £150, but we now have vastly cheaper alternatives with better sound quality at under a fifth the price (or a seventh, compared to the in-ear AirPods Pro, which are a better comparison). I've been reviewing these with my Lumia 950 XL and my iPhone 11 Pro and was impressed. Obviously, the materials used are a cut below Apple's and there are less 'joined up' software bells and whistles, but the Realme Buds Q are £30. Cheap plastic, whatever, these are damned good value.
Buy Link | Download / Information Link
I should preface this review by saying that I'm not a huge fan of the TWS concept - which is why I haven't reviewed many pairs. In the ear, they're nice enough, though usually limited in fidelity and battery life by the physical constraints. But there's always the worry that one will fall out and get lost. This is a real 'thing', which is why all of us have seen lost and broken AirPods on train platforms and the like over the last few years. Then there's the fact that you have (up to) three things to carry and keep track of. You have to remember to bring the charging case on most trips. So there's that in your pocket and a bud in your ear. All well and good most of the time, but something's going to get lost or forgotten at some point. Finally, there's extra latency (usually), in terms of the Bluetooth connection to the buds and keeping the two ears in sync - the latter is managed, but actual 'lip sync' with video content on the phone screen can be an issue.
In my opinion. Which is why I always go for wired or at least 'conjoined' Bluetooth solutions (such as the ROCKJAW T5), which have nothing to lose, way better battery life, plus real media controls and buttons. With the only downside being a small wire behind your head to join the two buds. I think this is superior, but lots of people are buying TWS earbuds, so I guess I'm in the minority!
But I'm not averse to reviewing kit for those people who do like TWS earbuds - especially, as in this case, those who want the tech without having to hand over a significant amount of cash. In this case only £30 on Amazon UK, a fairly trivial amount compared to the typical £150-£200 that the industry leaders tend to charge. How exactly did phone company Realme get down to this price? Through some clever materials and feature choices.
For starters, it's all plastic, obviously, but it's all incredibly light. The charging case including the buds is only 36g. Wow. Compare that with 55g for the Apple AirPods Pro, all in. Yet the overall listening time, around 20 hours after a couple of bud recharges, is comparable to the competition. The buds are just 3.6g each. I'll repeat that. 3.6g. Effectively nothing at all, and this helps them stay in the ear, since gravity has little pull on them. They each have a tiny 40mAh battery, plus a full 1cm speaker driver, which is relatively insane. How is that possible with such tiny weight?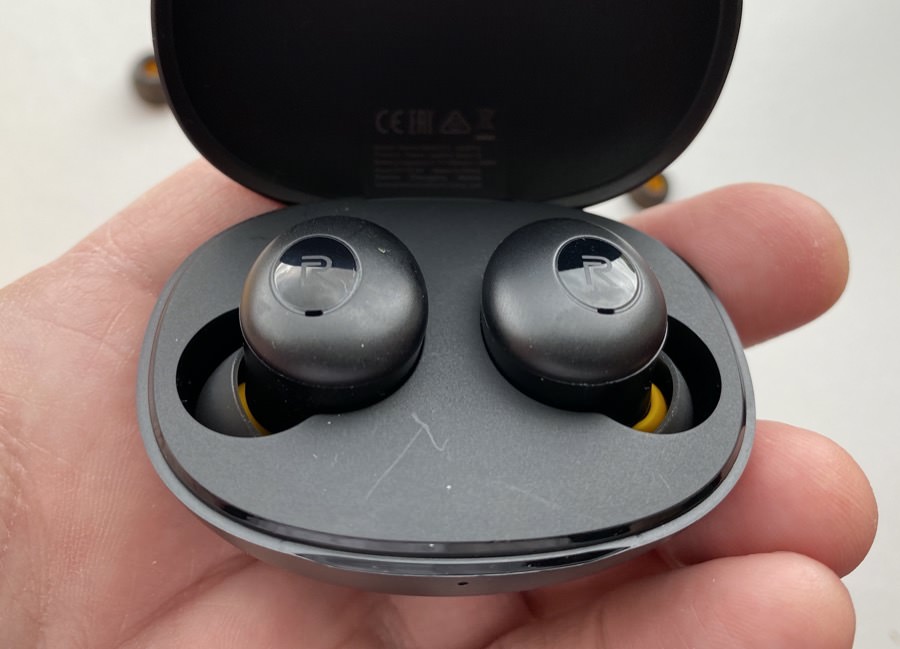 As usual with TWS earbuds, they recharge on gold pins in the charging case, as shown above. The fit is good, though at this price point you don't get a LED in the buds to indicate charging - you have to take this on trust(!) Note also the rather scratch-prone plastic of the case itself. But then at £30 all in you're not expecting premium materials or a glossy shine.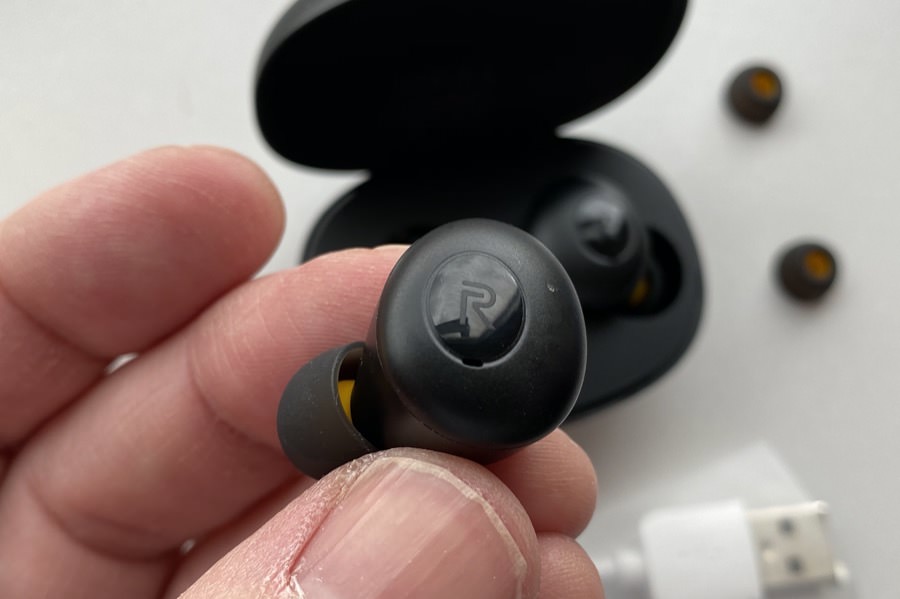 Each earbud has a touch sensitive surface, as is traditional for TWS buds, but unlike much of the competition a single (perhaps accidental) tap or contact doesn't do anything. And this is good. Here you have to tap twice to play/pause/answer a call, for example. So you can manipulate the buds in the ear without triggering accidental music playback/pausing/skipping. Well done, Realme. There's a long press action to trigger Google Assistant on Android but I didn't test this as I was using Windows 10 Mobile and iOS.
As usual with earbud solutions, you get supplied with three different size of silicone tips - and as usual I felt most at home with the largest of these. The Realme Buds Q do boast a 'bass boost' speaker, so it's important to get a good seal in the ear canal: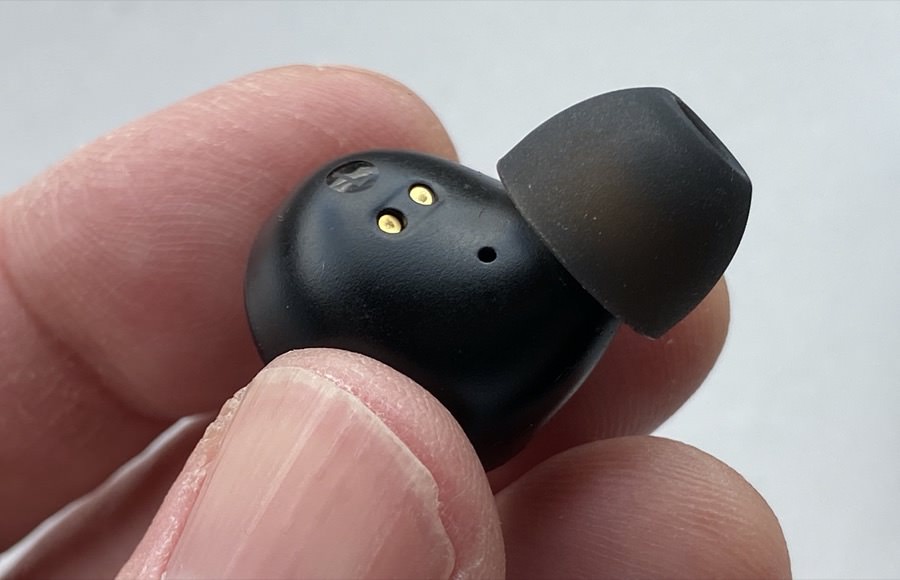 In practice, testing the Realme Buds Q across two mobile OS and three devices, and across a dozen songs of different genres, I was impressed. For TWS, that is. I've never yet found a TWS earbud set that got close to decent wired headphones or my T5s... and this is no exception. But at £30 all in, I wasn't expecting much and I was surprised. There was some bass and general enjoyment all round. The high end wasn't very well defined, but I've heard a lot worse - and this is all without any wires and at a budget price. Could I live with the Realme Buds Q if I absolutely had to? Absolutely yes. It's not the perfect solution for me, but it's up to the job of delivering most music.
I would have liked a bit more volume, maybe another 20% or so, but then these are possibly limited by those namby-pamby EU rules (which surely we can forget now, one of the few benefits of Brexit??). And it's probably best I don't blow my eardrums out anyway - despite my rock music addiction!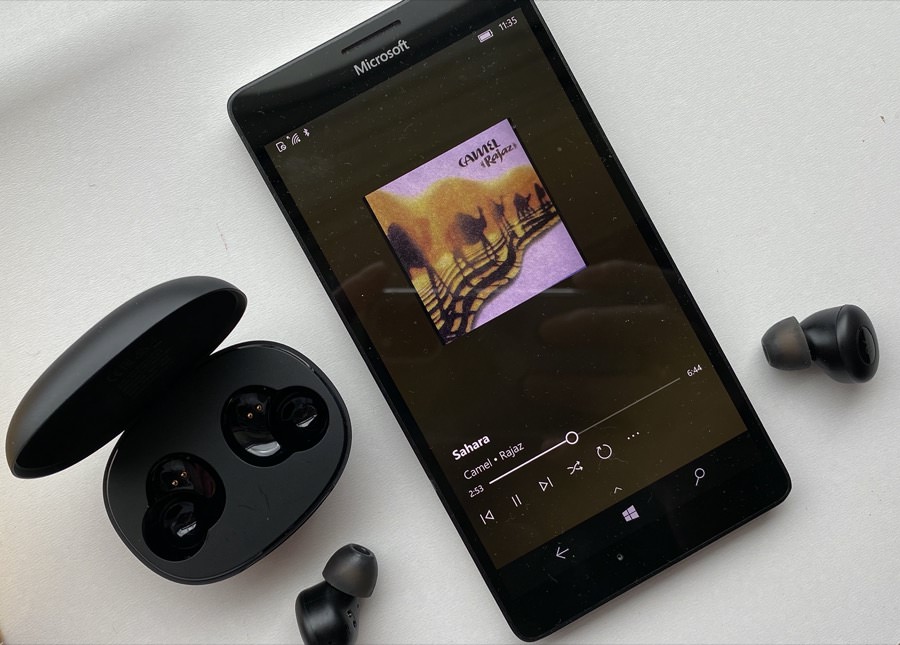 This, £30, is the point at which TWS earbuds come in the same buying bracket as other half-decent wired headphones. I'm thinking the same sort of quality as the AKG wired headphones that come with all the Samsung flagships. Good, but not stellar. But given that TWS has usually been a super-premium option, to be able to play with the tech and even enjoy it at a super-budget price point is a major boon. Well done Realme, the existence of the Buds Q at £30 is a veritable value milestone in 2020.
Reviewed by Steve Litchfield at