Symbian to Windows Phone 7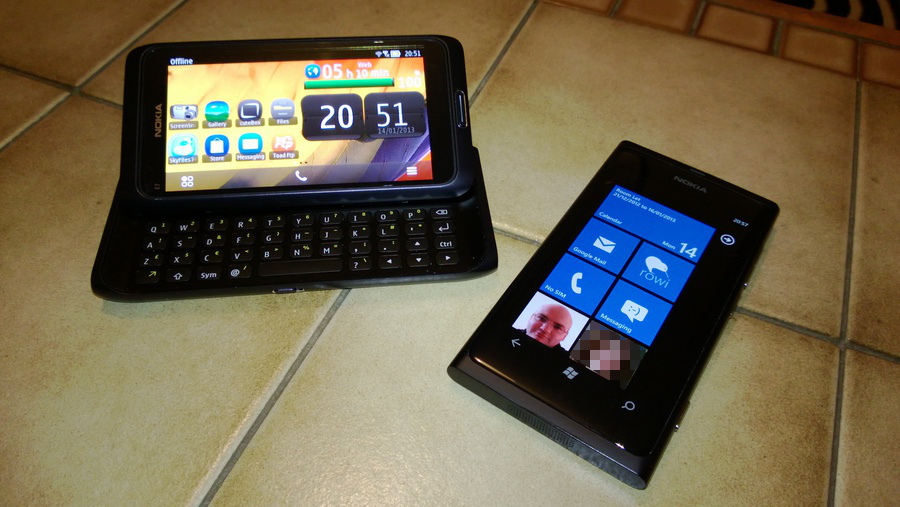 As an aside, my move to the Windows Phone world came from using a Nokia N8 for almost year, and the Nokia E72 before that. Of all my transitions, moving from Symbian was the most difficult. As an aside, I should mention that some of this article has been written on a Nexus 7 tablet!
Multitasking
Using Symbian (and Android) shows how alike Windows Phone and iOS are, if not aesthetically, but in other fundamental ways. Symbian, has full multitasking where apps are truly running in the background. While iOS and Windows Phone (from 7.5) both suspend their apps in memory until you return to them, relying on built-in services to create the impression that apps are still active (e.g. file downloads, etc.).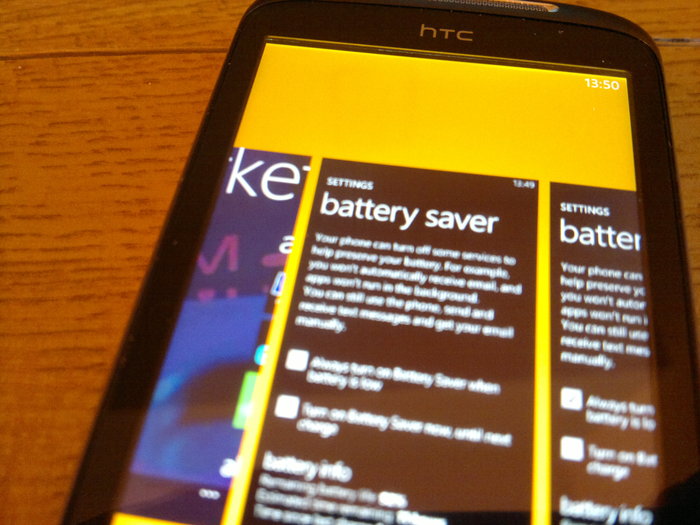 File System Access
Symbian has full access to its PC-like file system, allowing you to side-load any type of content. This feature is largely absent from Apple's and Microsoft's offerings. The iPhone does appear on Macs and PCs like a connected camera for drag and drop retrieval of images, though. Windows Phone 7 has no visible file system, completely relying on the Zune Desktop software for file transfer. Things have improved somewhat with Windows Phone 8. An attached device appears as a Media Transport Protocol (MTP) device in 'My Computer', allowing you to add and remove any file types, but this functionality is only intended for Windows PCs. Mac users have to use a Connector application.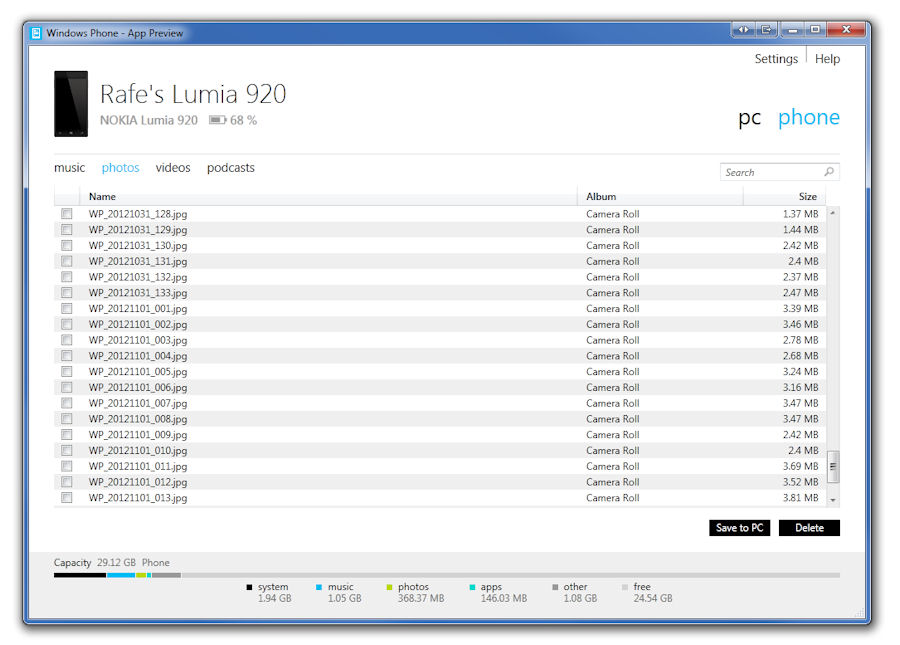 Ultimately, Windows Phone 7.5 proved to be a good user experience, but the comparative restrictiveness took a long time to get used to. Then again, if you are used to using the iPhone, you're already accustomed to such things.
Windows Phone 7.5 to iOS 6
Moving onto iOS 6 went very well, and provided several advantages.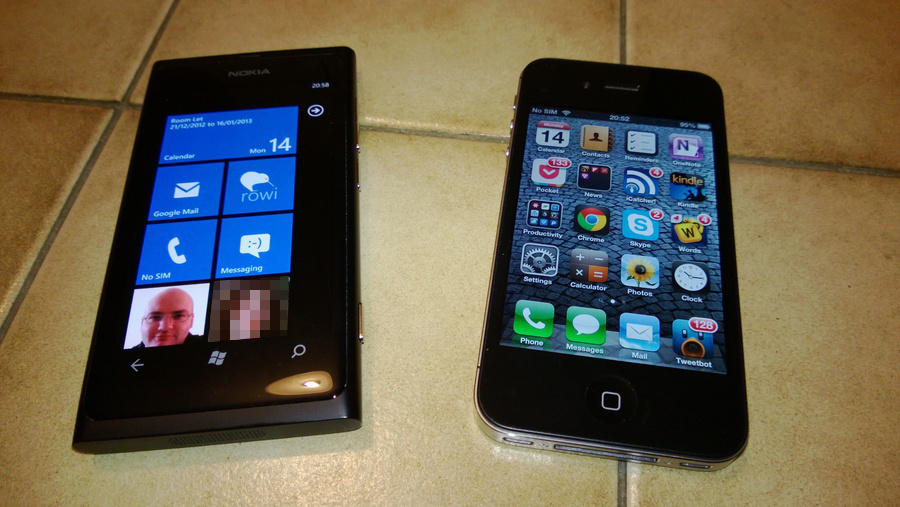 Notifications
I had a preconception about iOS that the app grid was a lifeless design, but I was pleasantly surprised to find that app icons included a counter to indicate how many items (e.g. unread messages) require your attention. Admittedly, this makes the app grid look as if it has measles, but it works. Where iOS does beat Windows Phone is its notification centre ('inspired' ahem by Android's notification shade), which displays a history of all incoming notifications that can be selectively cleared. This is a feature sorely missing from Windows Phone, because if you miss a toast notification, it's gone. Similarly with unread counts on live tiles, they are gone as soon as you open the app.
Going back to icons
The thing that I really missed from Windows Phone 7.5 when moving to iOS 6 was the Live Tile system. While the Retina Display of the iPhone 4S makes app icons look great, app icons feel somewhat old and tired. On the plus side, iOS has a very good way of handling folders, by automatically suggesting relevant names. Windows Phone has yet to introduce folders into the application list, but this is a matter for debate as the alphabetical jump list in all of Windows Phone works very well for finding apps too.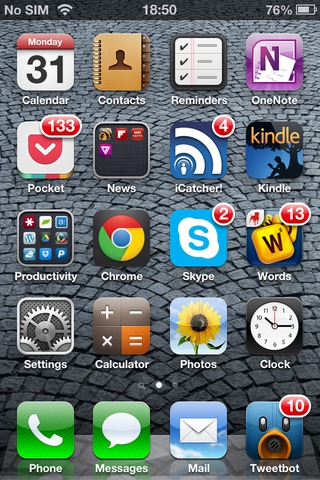 iOS app icons and notifications
Search
If you swipe to the left of the first app grid on iOS you come to a universal search page, where you can search within your personal data and for apps. This is something else that Windows Phone is missing. The internal search capabilities of Windows Phone are comparatively patchy, and are provided on an app by app basis (Calendar still lacks a search option, but there is a third party app).
Apps Apps Apps!
Of course, one of iOS's strengths is the size of its app catalogue. While it's true that you only need relatively few apps to suitably equip your phone, the bigger the catalogue the better the odds you'll find your perfect set. For example, I found apps for two local taxi firms on iOS that just weren't available on any other platform (but since I switched to WP8, one of them became available on Android). While many of the apps exclusive to iOS are not mission critical (speaking for myself!), it gives you a good feeling to know that there is so much software at your fingertips.
iOS 6 to Windows Phone 8
Here is the critical step, can Windows Phone 8 replace your iPhone? Actually, things went quite smoothly.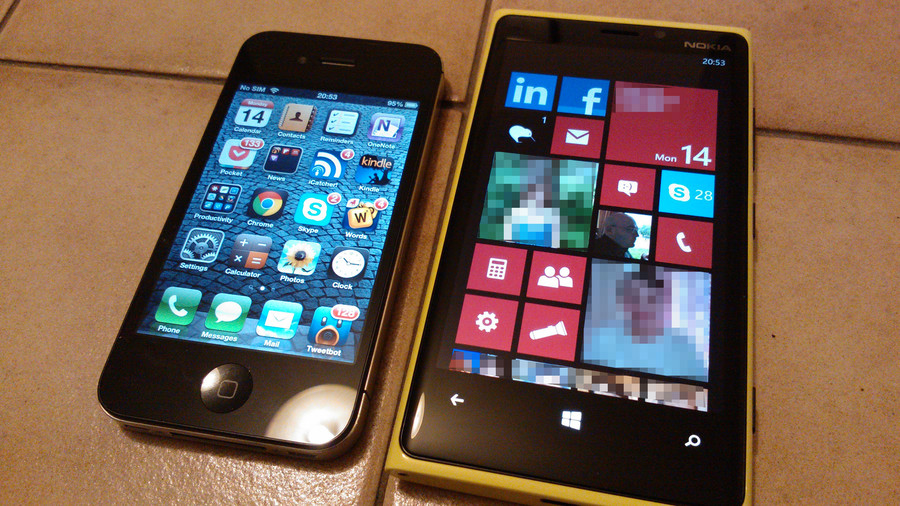 New live tiles
The thing that I'd really missed about Windows Phone 7.5 while using iOS 6 was the live tiles. I try not to drink the corporate Kool-Aid when it comes to the design virtues of any product. However, in spite of my necessary scepticism, I honestly find that Live Tiles make a smartphone more interesting to look at and use. The new live tile sizes in Windows Phone 8 let you get a little more creative too, varying the emphasis on the things you pin.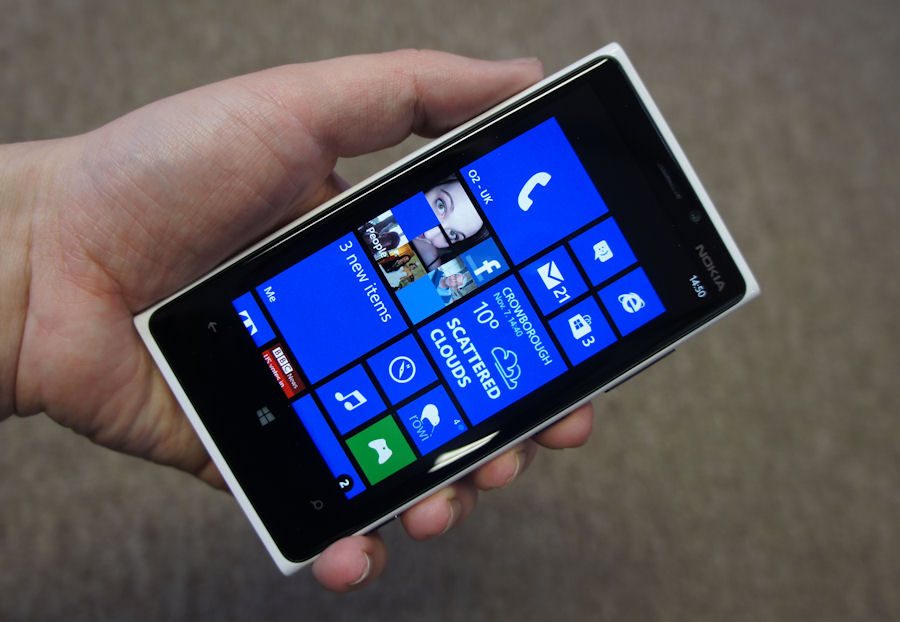 Easier content loading
Because Windows Phone 8 devices appear as a MTP device on Windows PCs, loading content is as easy as putting files on a memory stick. If you want a more automated experience, then you can get the Windows 8 companion app – if you're a Windows 8 user (Windows 7 users have a desktop WP8 sync application too). This was a welcome relief from using dedicated applications like Zune and iTunes. If you do prefer to use a desktop application to administer music, then Windows Media Player functions perfectly well with Windows Phone 8. One caveat, is that if you wanted a completely automated plug-and-sync solution, then Zune Desktop for Windows Phone 7.5 is actually better.
Furthermore, since music purchased from iTunes does not have DRM, copying your iTunes library over to a Windows Phone 8 device is easy too – note that I've only tested this with MP3 files though.
Camera Lenses
While the iPhone has a the simplest camera interface I've come across on a smartphone, the plugin system introduced with Windows Phone 8 makes so much more sense. On iOS (and other platforms), alternative camera apps are listed among all the other apps, and there's no way to reassign the iOS lock screen shortcut. In Windows Phone, tapping the double arrow icon on the camera toolbar allows you to pick from the list of installed camera related apps. Yes, it could be argued that doing this is an extra step too, but it makes much more sense to press the camera button, and then choose from a list of apps specifically for the camera.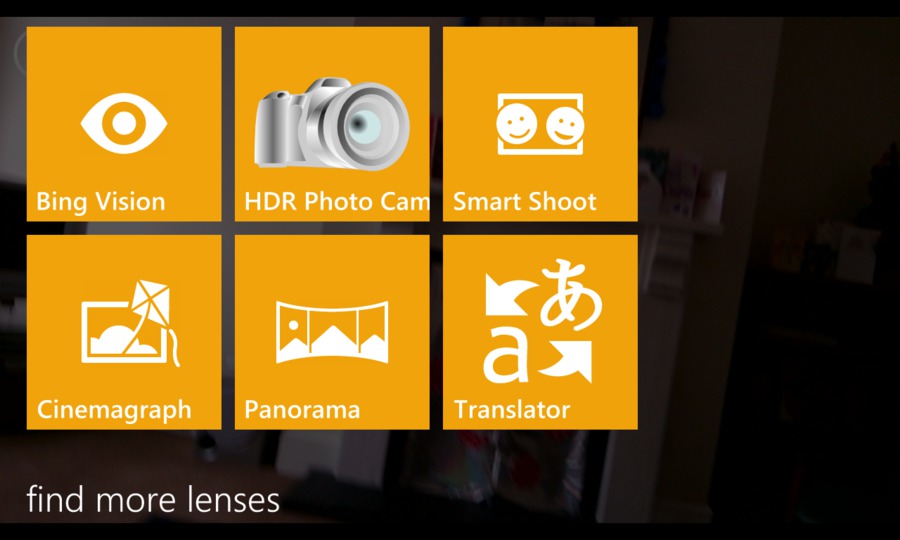 Windows Phone 8 Camera Lenses

Stocking up on Apps
Yes, it is true that there are a number of high profile apps that are not available on Windows Phone. Indeed moving from iOS to Windows Phone 8 meant that I lost some business related apps, namely Freshbooks (freelance bookkeeping) and Asana (project collaboration). In the case of the latter though, I'm already beta testing a third party Asana application.
The official applications for Facebook and LinkedIn work well, the WP8 Facebook app is a big improvement over that of WP7.5. There are a good number of Twitter clients available, and Skype's background support now makes it 95% as usable as the iOS version. That missing 5% is related to the intermittent nature of its notification service (I shouldn't have to uninstall and reinstall because of such things).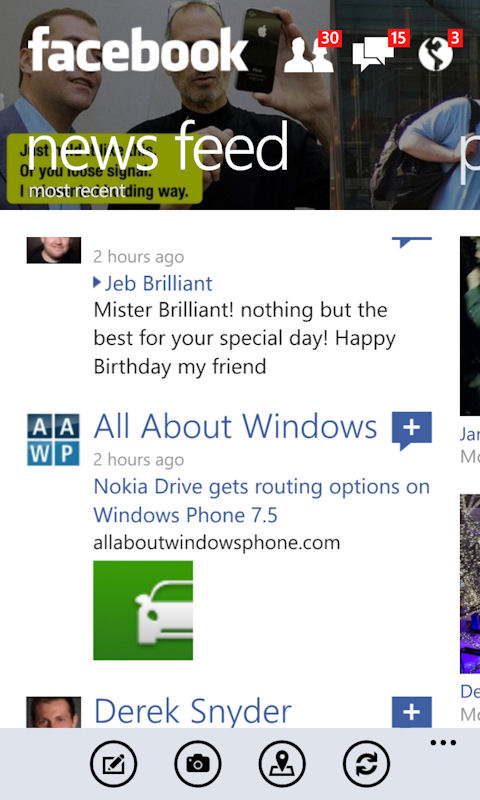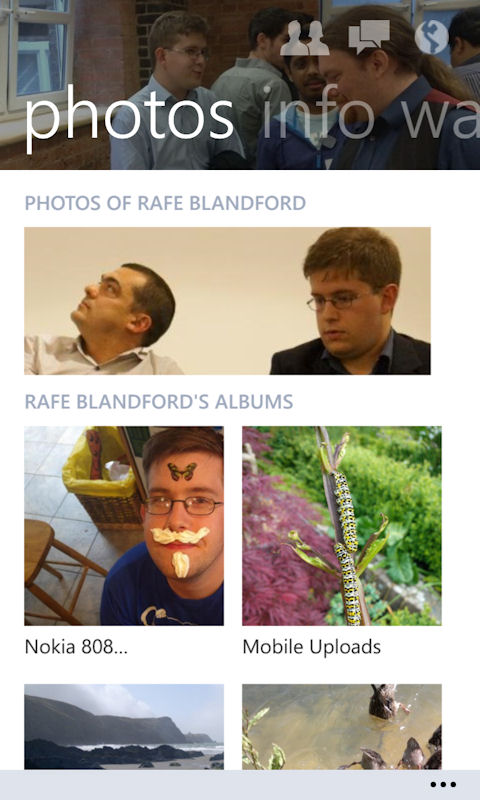 While Google is infamously making it difficult for Microsoft to have an official YouTube app, there are good third party apps (e.g. Tube Pro), and my eBooks are available thanks to the Kindle app.
One class of apps that haven't caught up with the quality on offer in iOS are podcatching apps, but there are several titles available already that are being regularly updated; e.g. Podcatcher.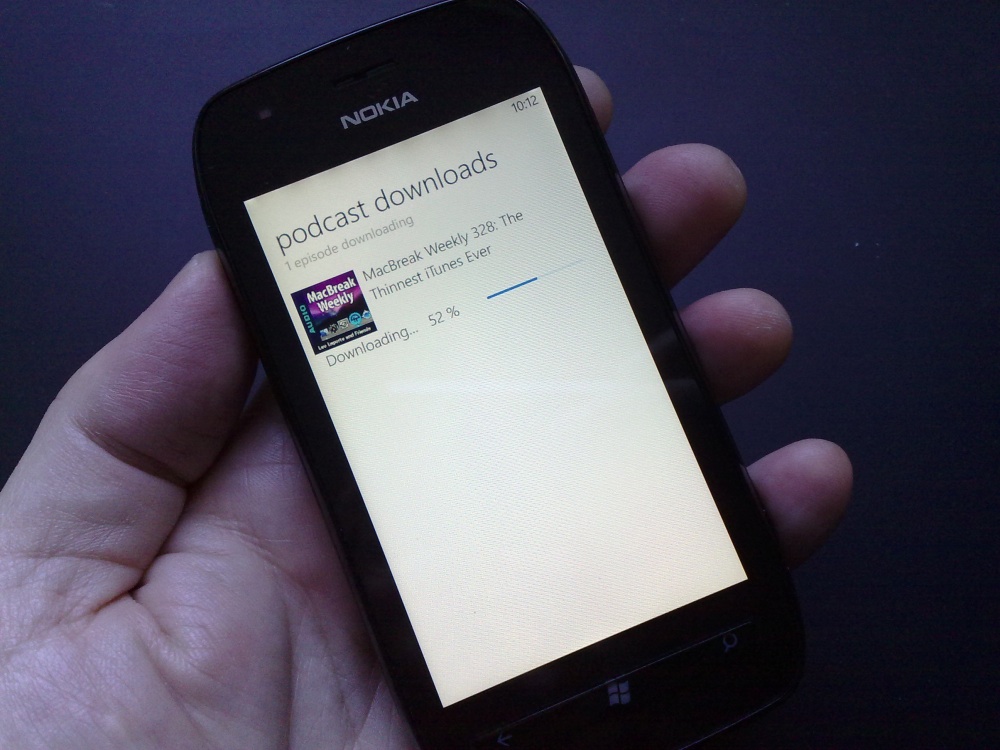 When it comes to shopping apps, Windows Phone is call catered for already, with eBay, Tesco, Ocado, Amazon, etc. all available.
An edge case that affected me was the lack of an app for Pocket (formerly known as Read-It-Later). While there are apps for this service in the Windows Phone Store, I have found none of them to be satisfactory yet. Until that situation improves, I have restored to pinning a small tile for Pocket's website to my Start Screen instead.
While not all of you reading this may care about that particular case, it's likely that there will be something you use regularly on iOS that you won't be able to find an alternative for (yet) on Windows Phone. The moral of the story is that when you are stuck for a particular app, using the service's website is a viable alternative in most cases.
Working on the move
One of the key advantages for work focused users is the inclusion of Microsoft Office, being able to edit your SkyDrive files on the move is a massive advantage. I still feel that Office on Windows Phone is lacking features for which there is little excuse to exclude (e.g. word count in Word, and copy and pasting formulae in Excel). However, in terms of compatibility and connectivity it works well and adds value to the device. Especially when you consider that the best third party alternatives on iOS and Android cost nearly £10.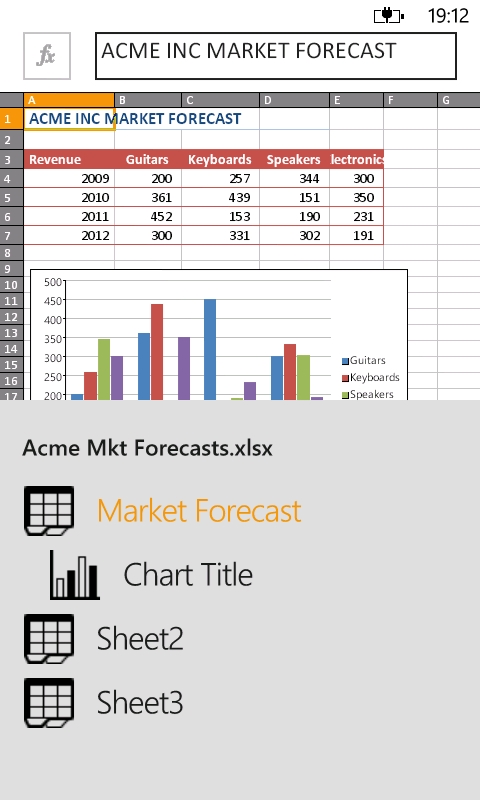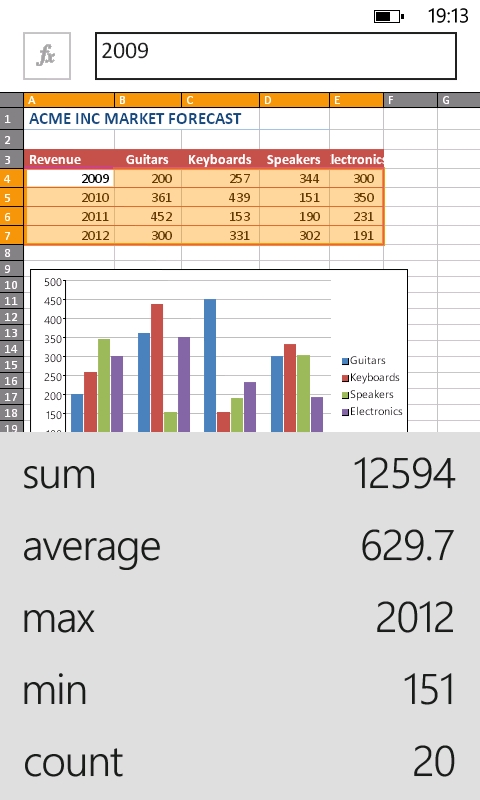 Where art thou Siri?
A unique feature of the iPhone is the voice assistant, Siri. While many iPhone users don't like or use this, I found myself using it a lot. Windows Phone does offer a degree of voice control. However, the lack of a task based vocabulary means the integration for a slick user experience isn't there. For example, with Siri you could say "1 hour countdown" to help with cooking a meal. In Windows Phone you'd have to install a third party timer, and then launch it with voice control, which still leaves you to input the time limit manually. Calling and texting on Windows Phone works much better though.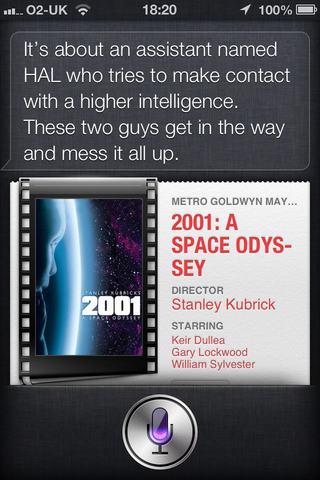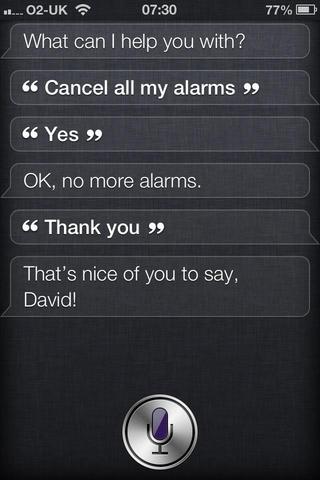 Navigation
Using a Lumia device means that I have access to offline Nokia Maps, which is a huge advantage over iOS, with its famously deficient Apple Maps. The offline component of Nokia Maps and Nokia Drive means that it's still more versatile than the iOS version of Google Maps.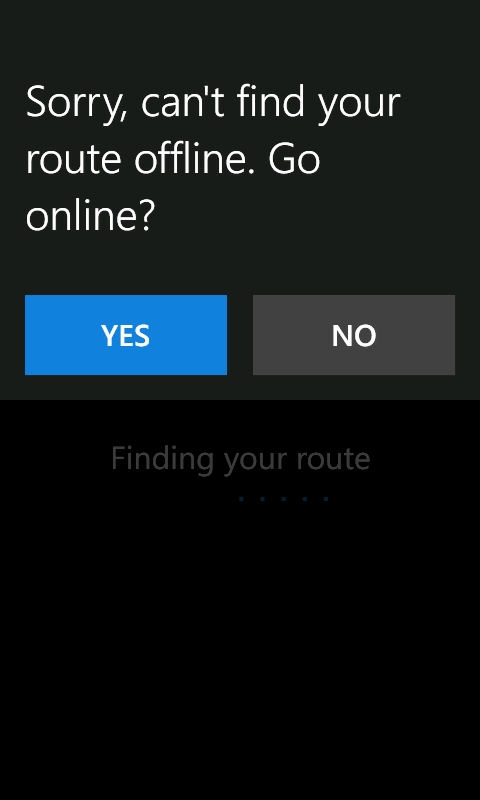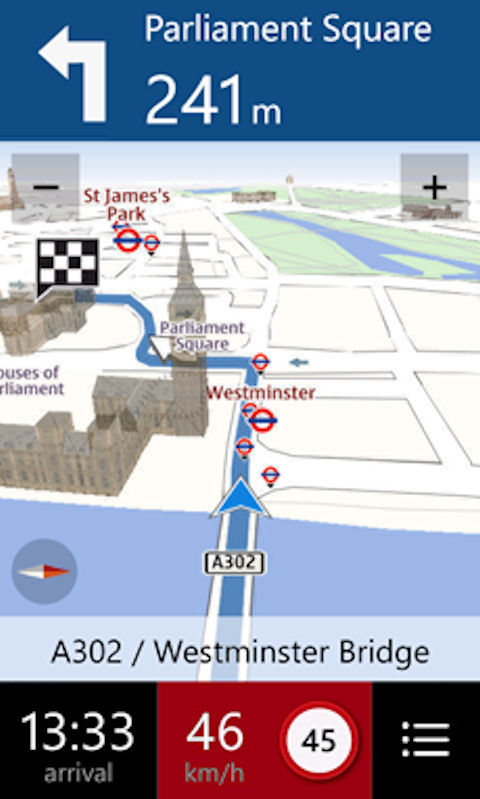 Easy TV-Out
A feature of iOS is sending component video out from a device's connector. I used this feature regularly to watch videos on my old TV set. The only way to get video from a Windows Phone 8 device to a TV screen is via DLNA streaming. So this is something the iPhone is going to have to stick around for in my house.
Conclusion
When moving from one platform to another, there is always the risk of ecosystem lock-in. Therefore, if you are heavily invested in iCloud, iBooks or News Stand then switching to another platform would be more difficult. However, as long as you use neutral services such as Amazon Kindle and a third party email provider (including Gmail) then switching is pretty painless – just accept you'll have to re-buy certain apps!
While there are some apps that I miss from iOS, my enjoyment of the Windows Phone 8 user experience means that I won't be switching back for them. There is nothing inherent about iOS that I require for my everyday smartphone usage (notwithstanding the TV-Out case mentioned above).
All this ultimately means that – YES – I think you can safely switch from the iPhone to Windows Phone 8, depending on any "mission critical" apps you may use.