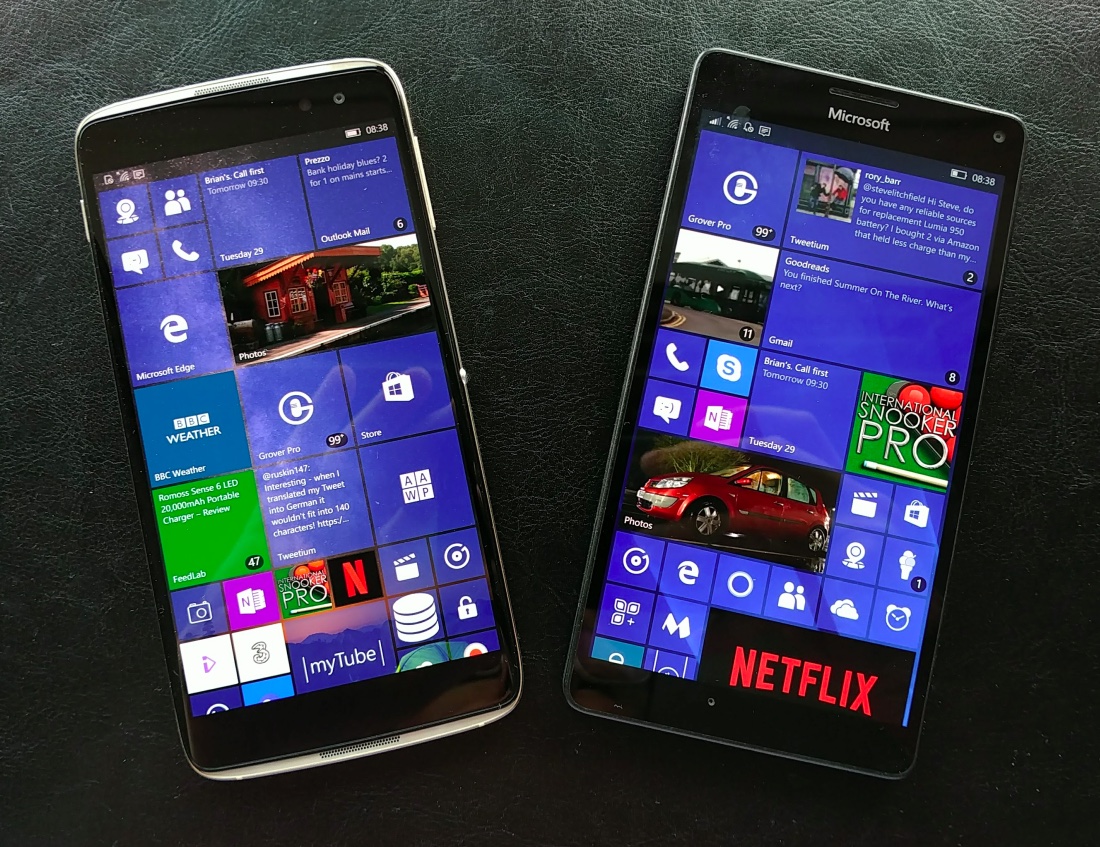 As usual, I've shaded in green an obvious 'win' for either device, I honestly have no idea which way this one's going to go (as I start to compile the feature)... Any row where a winner would be totally subjective is left uncoloured. Or, where both devices are utterly excellent (or bad) but in different ways, I've given both a 'green'(!)
Alcatel IDOL 4 Pro
Microsoft Lumia 950 XL
Date first available
August 2017

November 2015

Current price, availability
£420 (SIM-free in the UK, inc VAT), still available from the Microsoft online Store. See your local version for pricing. We've seen occasional drops in price.
No longer for sale officially (aside from clearances in the USA as this article is being compiled), but some sellers still have used and new stock on Amazon UK.
Dimensions, form factor, weight, design

154 x 75 x 7mm, aluminium frame with toughened glass front and back, 152g. So 3mm narrower in the hand and 13g lighter than the 950 XL, though this is mitigated a bit by the need for a case!

152 x 78 x 8mm, plastic chassis and replaceable backs (plastic/leather/wood etc, from Mozo, at extra cost), 165g. Less premium and bigger but very flexible in terms of repair and customisation.

Durability
No specific durability metrics, plus the dual sided glass design means a case is a must. If water gets in then you're pretty much out of luck. Sadly.

No specific durability metrics, though the fact that the back comes off will help enormously for water damage, i.e. taking out battery and cards immediately, drying out the internals. Damage to the back or corners is trivial through replacement, but the screen's exposed, of course.
Operating system, interface

Windows 10 Mobile Fall Creators Update*, (dismissable) virtual controls
* Achieved through various means. Cough.

Windows 10 Mobile Fall Creators Update, (dismissable) virtual controls

Display

5.5"

AMOLED 1080p, Dragontrail Glass, high contrast and just as good as the Lumia's to my eyes, but loses here because of lack of Glance screen.

5.7"

AMOLED QHD (1440p), Gorilla Glass 4, ClearBlack Display polarisers help with outdoor contrast, Glance screen available for always-on time, day and notification icons

Connectivity

LTE up to 300Mbps (all bands), Wi-Fi b/g/n/ac, integral wifi tethering, Bluetooth 4.1, Continuum connectivity to use external displays as secondary screen, independent of the phone display.

Note that there's no NFC, though there's also no 'Microsoft Pay' in this ecosystem, so it's moot. Possibly thanks to the Snapdragon 820 chipset, the IDOL 4 Pro can connect to 5GHz Wi-Fi in airplane mode, something the Lumias can't.

LTE up to 300Mbps (all bands), NFC,

Wi-Fi b/g/n/ac, integral wifi tethering, Bluetooth 4.2, same Continuum connectivity just as with the IDOL 4 Pro, via the usual Hub, wireless and cable adapters.



Processor, performance
Snapdragon 820 chipset, 4GB RAM (of which 3.5GB are used directly), the fastest Windows phone I've tested so far.

Adreno 530 GPU.

Snapdragon 810 chipset, 3GB RAM. Adreno 430 GPU. The 810 chipset has had its issues on other platforms, but it's been trouble-free for me on the 950 XL...

Capacity

64GB, expandable via microSD

32GB internal storage,

expandable via microSD

Imaging (stills)

21MP f/2.2 1/2.4" BSI sensor, dual LED flash, HDR shots, PDAF, very decent shots in most light conditions, but falls down in really low light, as you'd expect (with no OIS). See my review part 2. I tend to run the IDOL 4 Pro in its 9MP 16:9 mode. I don't think there's any real oversampling, but you do get some lossless zoom and the file sizes are smaller!

8MP front camera

20MP PureView f/1.9 1/2.4" BSI sensor, Phase Detection auto-focus, dedicated camera shutter button and launch key, genuine 2x lossless digital zoom (in 8MP oversampled mode), OIS. 'Rich Capture' produces customisable HDR shots and 'dynamic flash', with triple LED illumination. Outstanding shots in most light conditions, with just focussing issues in low light as an Achilles heel.

5MP front camera

Imaging (video)
4K, optionally digitally stabilised, with 'Best photo' 8MP grabbing built-in, plus decent stereo audio recording. See my review part 3.

4K,

optically (and optionally digitally) stabilised, with 'Best photo' 8MP grabbing built-in, plus Rich Recording and quad HAAC microphones for high quality stereo capture.

Music and Multimedia generally
Terrific front-facing 3.6W stereo speakers, right up with the best in the current smartphone world - in any ecosystem. Add a media app with separate EQ and you can push the speakers even further.
Decent mono speaker, loud but lacking in bass and depth, though you can trade volume for fidelity in a simple tweak.
Headphone audio

3.5mm headphone jack, A2DP+APT-X, high quality DAC (part of the 820 chipset, I think)

3.5mm headphone jack, AA2DP+APT-X, DAC (handled by the 810 chipset) is average.

Navigation
Windows 10 Maps is comprehensive, has a degree of live traffic awareness (see the latest workaround), Includes full offline maps with automatic updates, though we haven't had one for over a year - sob!

Ditto.


Battery, life
Sealed 3000mAh battery, plus USB Type C fast charging (up to 2A) and compatibility with Qualcomm's QuickCharge 3.0. So charges slightly faster than the Lumia, but no Qi charging is a missed opportunity.
Removable 3300mAh battery, easily gets through a day (on latest firmware), plus USB Type C (up to 3A) and Qi wireless charging built-in.

Cloud aids
Windows Photos syncs across all signed-in devices, subject to your OneDrive tariff, should you have thousands of images in the system. Plus Windows 10 backs all your media, application data and settings to a separate backup folder system, tariff-free on OneDrive. Cortana voice assistant works very well.
Ditto, Windows 10 Photos works really well, helped by a decent chipset on these devices to plough through hundreds of thousands of thumbnails!
Biometrics
The fingerprint sensor is effectively instant (and recently improved), though in practice the 'Hello' animation takes a second, plus there's the powering on of the display if this is all from a screen-off state. Still, it's a lot faster than PIN entry or iris recognition.
Reliant on just the iris scanner - it works but is hardly the quickest or most convenient way to authenticate, definitely slower in all cases than a fingerprint system.
Applications and ecosystem
Windows 10 Mobile now has just about every mainstream app covered, aside from Snapchat and Tinder. And anything to do with Google services! Most things can be done via Edge, though 'not quite' as slickly as with dedicated applications. Maybe the new PWA era will save the day?
Ditto, of course. The remnants of Nokia's influence on the Lumia line linger on in terms of Glance screen, an audio equaliser, Lumia Motion data, display colour settings, and more. All certifiable extras that don't seem to have made it out into the wider Windows phone world. Sadly.
Upgrades and future

Windows 10 Mobile Fall Creators Update will be updated monthly through 2018, of course, as part of the global Windows 10 ecosystem and the regular patching and fixing process. There are no further OS branches planned by Microsoft though. Updates will effectively cease in Spring 2019.

Microsoft finally got round to putting up a proper WDRT recovery image for the phone, but now that the Insiders programme has dropped Anniversary Update, you need to do a little hacking to get the phone up to this FCU.

Ditto, monthly updates well into 2019 and then that's it. Though apps aren't going to stop working after that and I doubt that malware will be an issue, given the mobile platform's low target size.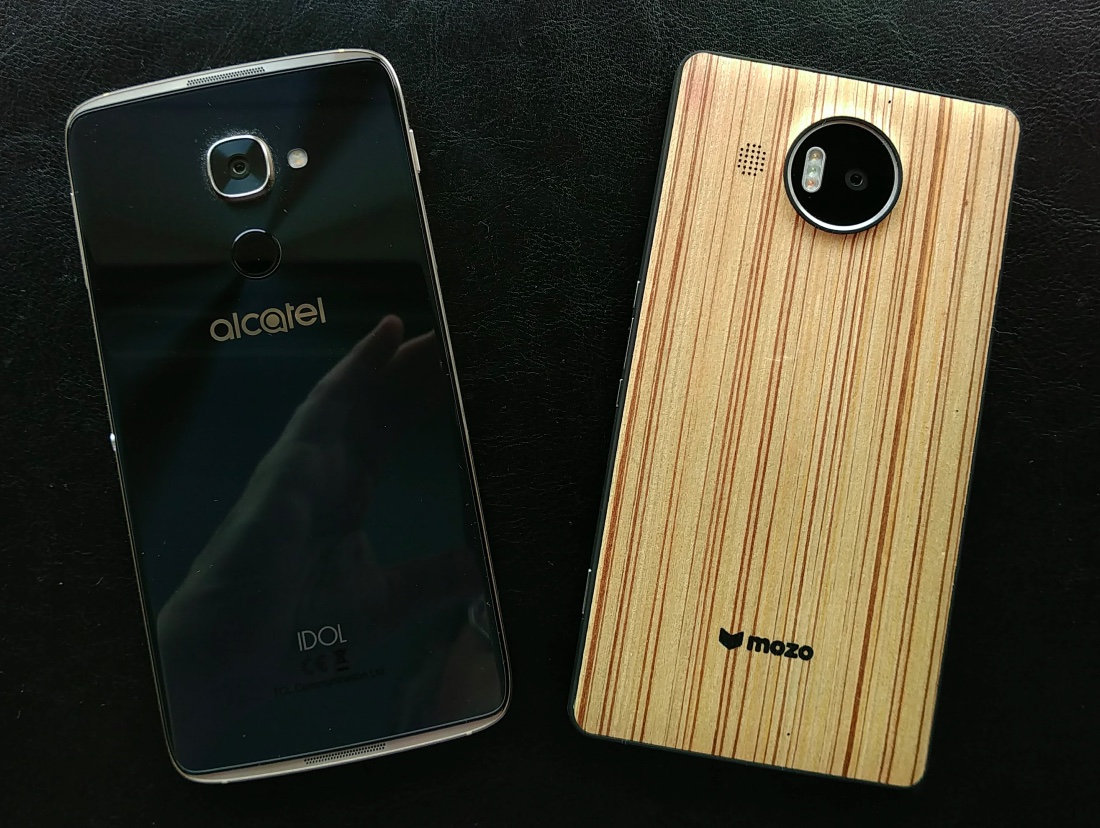 Verdict
Adding up the green 'wins' now gives a 6-6 score draw, giving numbers to the 'pros and cons all round' feeling I get when considering which of these to use as my Windows 10 Mobile flagship.
Annoyingly, the two factors uppermost in my mind are great imaging and great speakers/audio and it seems that the only way I can have both in 2017 is to buy an iPhone! And then I lose the headphone jack, which is a showstopper. And I'd have to use iOS, which is an even bigger showstopper, for me personally.
What's your own verdict for these two? More modern, more premium versus customisability and a better camera. It's certainly a very tough call!