Hopefully the video above tells the whole story, attractively and quickly. From the launch article for the new tile:
In the coming days, just in time for summer, new updates are beginning to roll out for Microsoft Band and Health users. These updates include a new hiking experience with the new Explore Tile and an update to the Microsoft Health app, making it available in the Windows Store for Windows 10 PCs and Tablets. And, there are a few other fun features we're looking forward to telling you more about. But first, here's a closer look at what makes the Explore Tile awesome!

Download the app update to receive the Explore Tile, and try out the new experience for yourself. The Explore Tile uses built-in GPS to keep track of your route on your band's display, and lets you drop points of interest along the way. It's perfect for tracking hikes, or even just a walk around the neighborhood. Here are some of the new features to take advantage of on your next outdoor adventure:

GPS Power Saver automatically allows your band to track your hike for up to 12 hours.
After your hike, sync your band to your mobile app to see your points of elevation and a map of your route in the Microsoft Health app and web dashboard.
Stay hydrated, properly fueled, and get help dodging any inclement weather with smart alerts. They'll remind you to hydrate and refuel, tell you what time the sun sets, and alert you of any inclement weather advisories based on atmospheric pressure.
The UV monitor you know and love is enabled while you hike. It will notify you when your UV exposure is high, so you can stay covered or apply SPF while you're out in the sun.
Exploring on your own? Leave your phone in your pocket and turn up the tunes – skip tracks and adjust the volume on your phone's music apps from your band's touchscreen.
If you want to stop for a rest or take in the view, no problem. The Auto Pause feature will automatically detect that you've stopped, so you can focus on your adventure.

The Microsoft Health app, the companion app to the Microsoft Band, will begin rolling out in the Windows Store this week to download onto your Windows 10 PCs and Tablets. Sync your Microsoft Band manually to your PC or Surface through a USB cable and manage tiles, personalize your band, update firmware, and more. The Live Tile will display your current step count and calorie burn.

And, last, a bit of friendly competition. When you use your Microsoft Health app, look for two new profiles in your social leaderboards. One profile represents the average daily steps and cardio minutes for your group – the group being the people who share your age, gender, and BMI – while the other profile represents those people whose daily steps and cardio minutes rank in the top 25th percentile for your group. We hope to inspire you to increase your daily steps or cardio minutes with the two new profiles in your leaderboards.
Not only will the Explore tile give the Band 2 a whole new lease of life for me (I - like Rafe - love walking, 'following my nose', and - weather permitting - cycling), but it follows a sequence of important updates to the Band 2:
Added together, all the updates make for a compelling wearable if fitness and outdoor activities are your 'thing'. Knowing that this is right up Rafe's street as well, we'll make sure to chat about this on the next AAWP podcast after we've both given it a try in the outdoors!
In fact the improvement in the functionality of the Band 2, for what is now quite an old accessory makes us pretty certain that a Band 3 isn't far off - there's no way that Microsoft would put this much effort into the Band 2 if the work was going only be seen by a relatively small group of Band 2 owners. Any guesses on a release date? In the meantime, you can pick up the Band 2 at £150 here on Amazon UK or, potentially cheaper in sales elsewhere from time to time. But it does seem as though the new band will be software compatible with the current one, so if you see a good price then snap up the '2' while you can?
As usual, you can update the Band 2 by going into the Microsoft Health application on your smartphone and making sure the Band is connected - it'll check for updates and then flash the new Band software for you: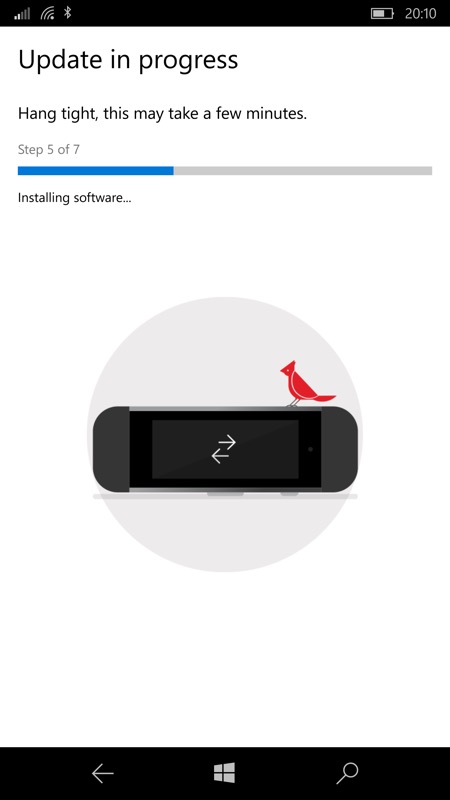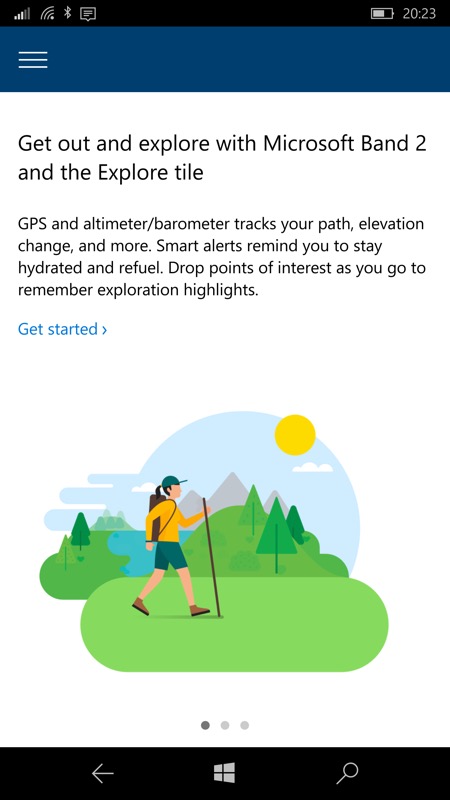 The new Explore tile is enabled by default, don't worry, front and (almost) centre on the Band 2. But you might want to take a moment in the 'Manage files' section of the phone application to remove any tiles you won't need - the more streamlined your Band is, the faster you'll get around it and the less tapping and swiping will be needed while mobile!

PS. See also my tutorial: How to: issue and manage Microsoft Health challenges on Windows 10 Mobile