Given that I'd been describing the 'feature2' branch as 'RS2+' for the last few months, the jump to referring to RS3/Redstone 3 is significant. The previous Fast ring build was 15250 around a month ago, so something new was overdue.
From Microsoft:
We have released Windows 10 Insider Preview Build 15254.1 for Mobile to Windows Insiders in the Fast and Slow rings. This build is currently the release candidate for the Windows 10 Fall Creators Update for Mobile. This build includes all the same fixes from Build 15252 and also includes all the improvements from KB4041676.

In other words, this contains the under the hood improvements for the Redstone 3 (1709) branch plus all the kernel and module fixes that were in the production updates a couple of days ago.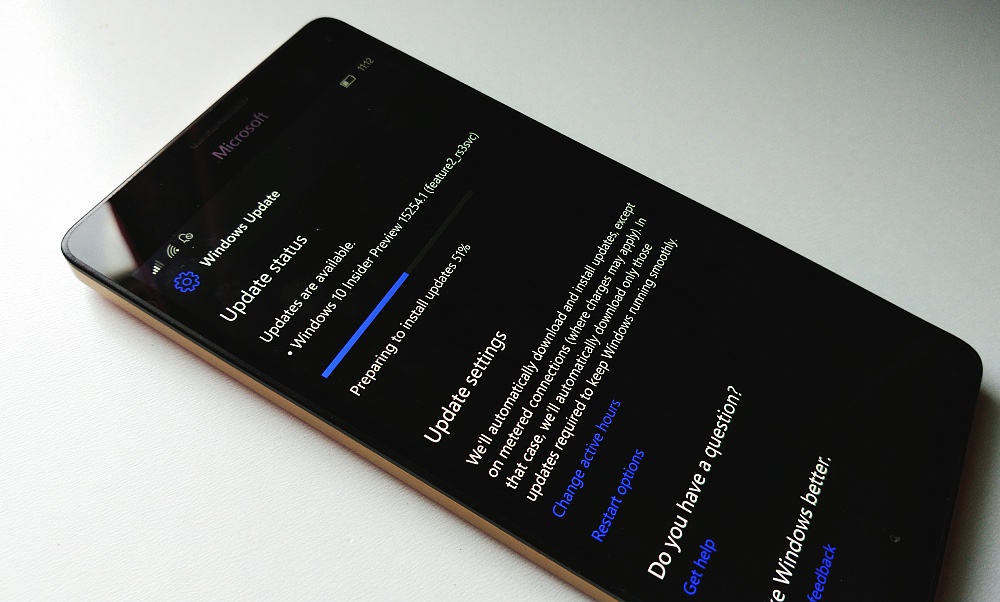 Anyone with an existing phone that's officially deemed Windows 10 Mobile CU-compatible by Microsoft can join in the fun - in theory. In each case:
Head into Settings/Update & Security/Windows Insider Programme.
Join the Insiders programme and choose the 'Fast' (or, in this case, 'Slow') level in the pick list.
Within a few hours your phone should be seeing the build mentioned above and you'll be running the Fall Creators Update for Mobile...
Note that the popular Lumia 830, 930 and 1520 are limited to Creators Update, see my separate story on this yesterday.
Anyone with a Lumia 640, 650, 950/XL, Alcatel IDOL 4 Pro, 4S or Elite x3 (not a definitive list) is good to go though, with the maximum smoothness, maximum bug fixes, maximum stability. Let us know how you get on in the comments.
I do wonder about doing all this upgrading in place though. Cycle after cycle with no reset to clear things out. I've recommended a 'Refresh procedure' in the past and this probably needs looking at again in the near future. In summery, if things seem a bit kooky then do the refresh/restore.
Many enthusiasts had been wondering just how official the 'push' to Fall Creators Update (FCU) was going to be on Mobile. Today's update makes it clear that it will be 100% official and almost certainly to the same handset range that got the Creators Update (Redstone 2, 1703 branch).
Will this be the last ever major branch for 'Windows 10 Mobile'? Probably - by Spring 2018, Microsoft's Windows Core OS project (Andromeda) will be much more in focus and we do expect new hardware, even if it's not a 'consumer phone', my bet is still on a folding tablet/phablet that effectively runs a UI in single screen/folded mode that's not dissimilar to Windows 10 Mobile and then the UI/shell presents a more expansive view for your UWP (and even emulated Win32 apps) when in unfolded 'tablet' mode.
PS. If all this OS activity and the new branch/build has caught you by surprise after last weekend's Twitter storm, then you haven't been paying attention. Windows 10 Mobile has still got two years of updates and fixes, starting now, Autumn 2017. Taking us to Autumn 2019.