Review:
Lumia 800 Part 4 - Office Hub and File Management
Score:
70%
Last time, in part 3 of our continuing review, we looked at the Lumia 800's communication and personal information management applications. Now we turn our attention to another area of productivity – the Office Hub. Here, Windows Phone 7 offers a mobile office experience via the cloud, whether you're using SkyDrive, Office365 or SharePoint. Mobile versions of Microsoft Word, Excel, PowerPointand OneNote are built into every device, adding significant value for mobile workers. Finally, we'll look at how file management is or isn't(!) handled in Windows Phone 7.
Version Reviewed: 7.10.8107.79 (12070)
Introduction
Windows Phone 7 groups key types of applications into 'Hubs', such as 'Pictures' and 'Music & Video'. The Office Hub stands apart in that it is a fixed set composed of Microsoft's mobile incarnations of its Office suite. Usually, only flagship smartphones come furnished with an editing-capable office suite; however, the Office Hub is part of every Windows Phone 7 device, including the Nokia Lumia 800.
Office Hub Layout
The Office Hub has a three step panorama; "locations" gives access to documents stored on your device or in the cloud, "notes" shows tiles for recently opened OneNote notes, and "documents" displays tiles for recently opened documents.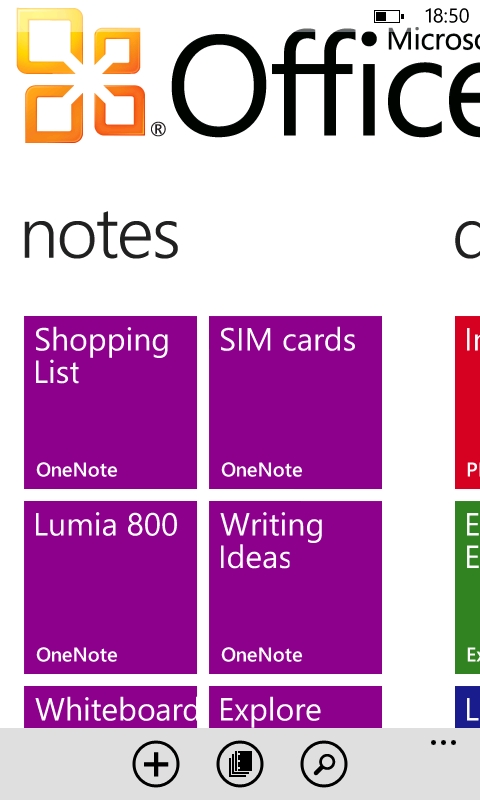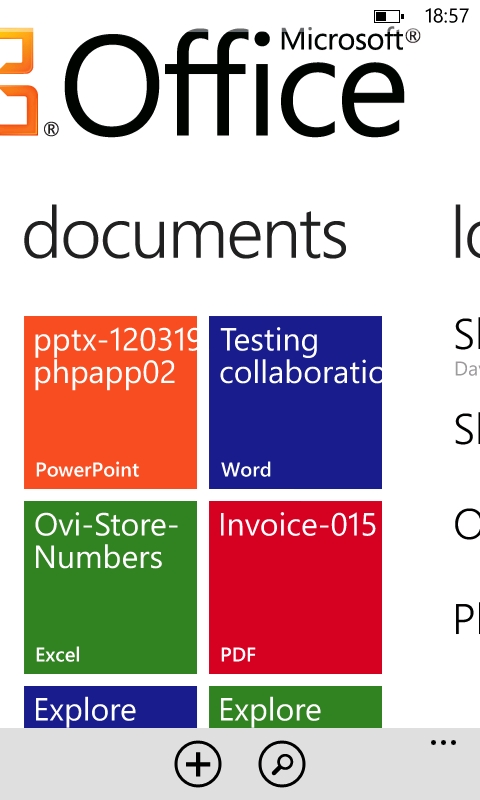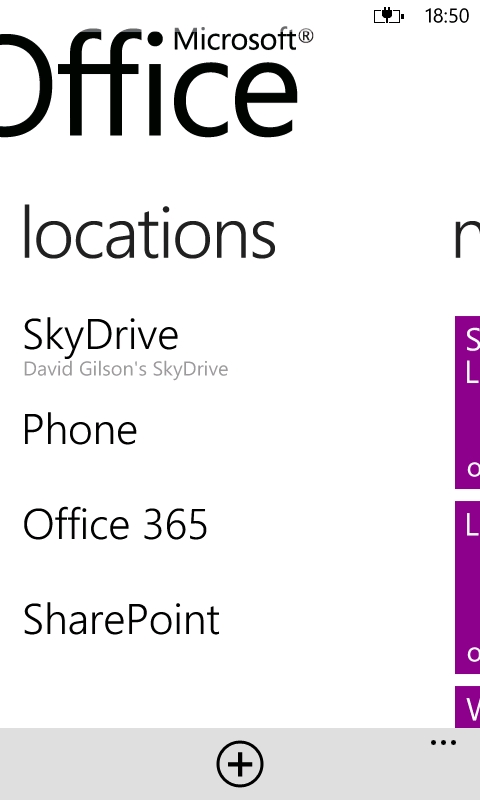 The Office Hub Panorama
Locations
There are nominally four items listed here: Phone (i.e. local storage), SkyDrive, Office 365, and SharePoint. Any of these locations can be pinned to the Start screen.
SkyDrive is Microsoft's consumer focused cloud storage solution, which includes web based versions of Microsoft Office applications. Since the introduction of its desktop sync application and its generous free storage limits this, SkyDrive has become a competitor to DropBox. This section of the Office Hub has a two-part panorama. The first part allows you to browse the file structure (as you would with the SkyDrive application), while the second part lets you view files that other users have shared with you.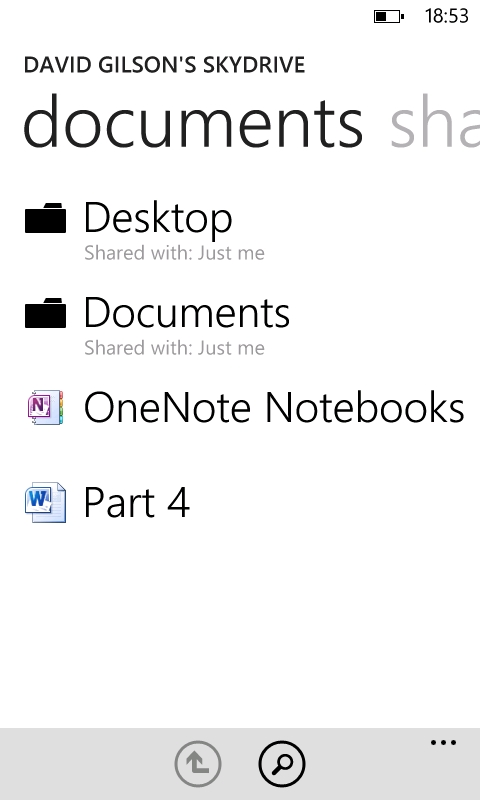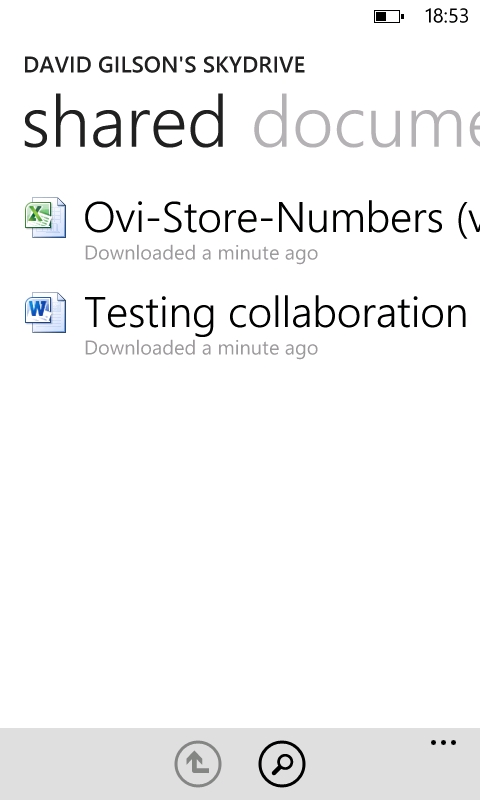 The SkyDrive Panorama
Alternatively, the Office Hub can also connect to SharePoint servers, which provide document storage, management and collaboration services. Essentially, SharePoint is the enterprise equivalent of the consumer-focused SkyDrive. In terms of functionality on a Windows Phone 7 handset, the differences between these services would not be apparent.
There's also an Office 365 entry in the locations page of Office Hub. This is a reference to Microsoft's subscription-based software plus services offering, which provides hosted versions of its enterprise server software: SharePoint (documents), Exchange (mail, calendar, contacts) and Lync (conferencing and messaging). Its presence in the Office hub acts as both a promotional tool and an easy way to set up a connection to the SharePoint server portion of the Office 365 offering.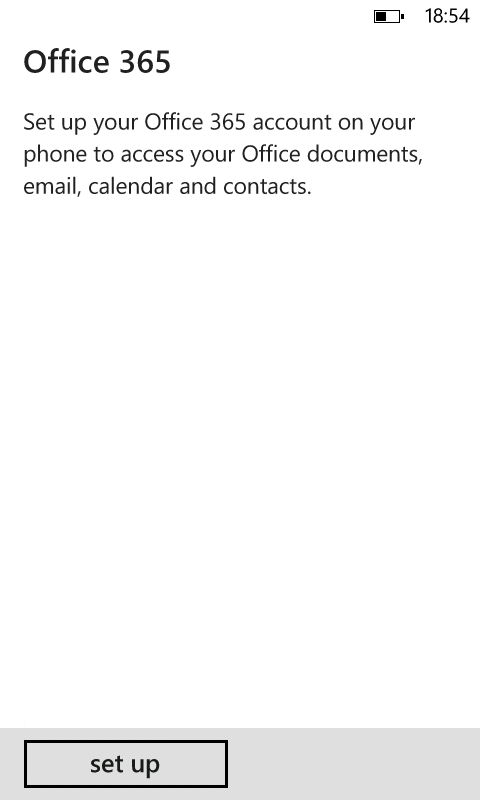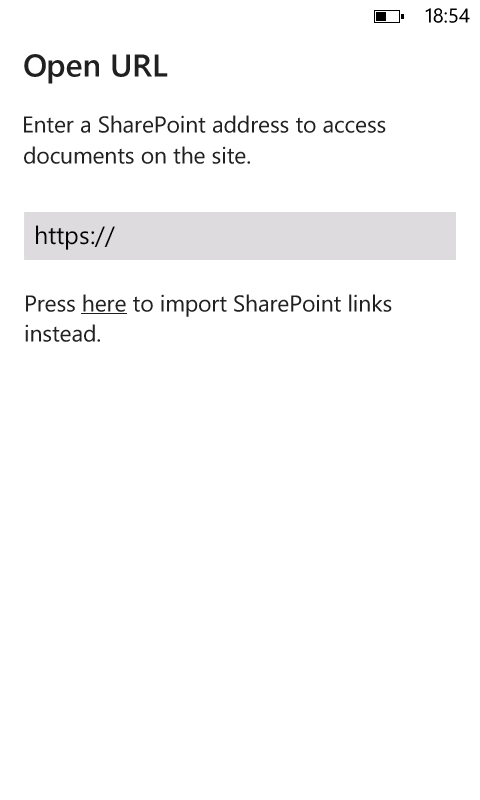 Connecting to SharePoint and Office 365
Recent documents
If you've just set up your phone, Office will populate this section with the first few files it finds stored on any of the aforementioned 'locations'. Tiles are colour coded according to file type: blue for text documents, green for spreadsheets, orange for presentation files, and red for PDF files – if you have Adobe's PDF reader installed. Long pressing any of these tiles presents the option to pin to the Start screen.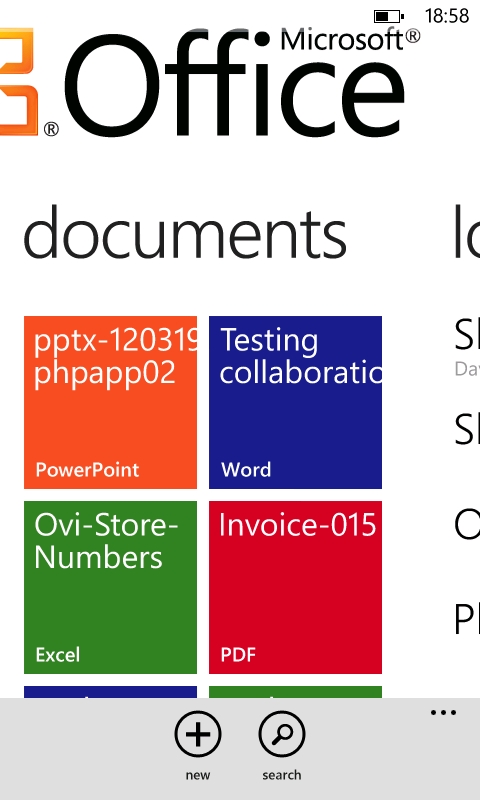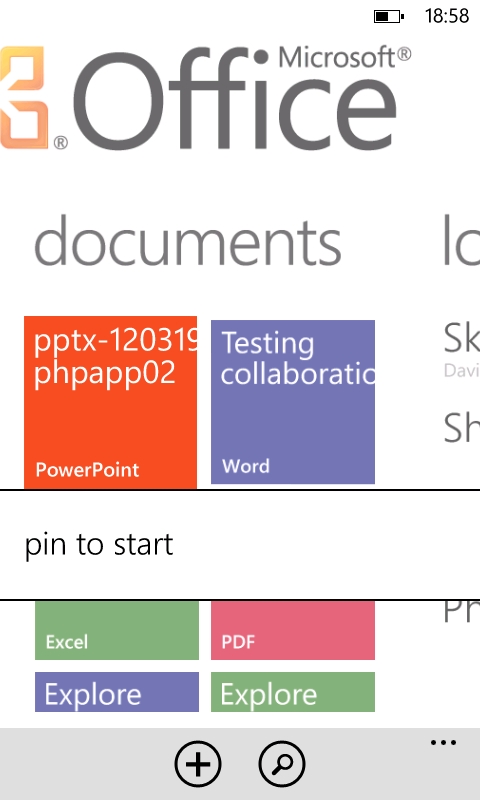 Browsing recent documents
Notes
As will be discussed later in this review part, WP7 OneNote only accesses notebooks stored in the cloud. Local notebooks are not supported.
The notes part of the panorama presents a group of purple tiles for recently viewed notes. However, the toolbar presents several useful features. In addition to search and 'create new', you can browse all of the OneNote notebooks found in your cloud locations. Furthermore, expanding the toolbar reveals an option to create a live tile that will create a new note, to save going back into the Office Hub whenever you need to capture new information.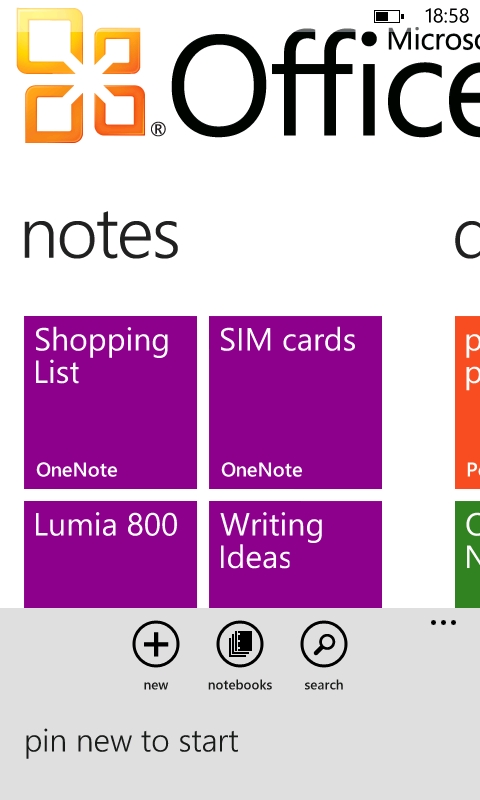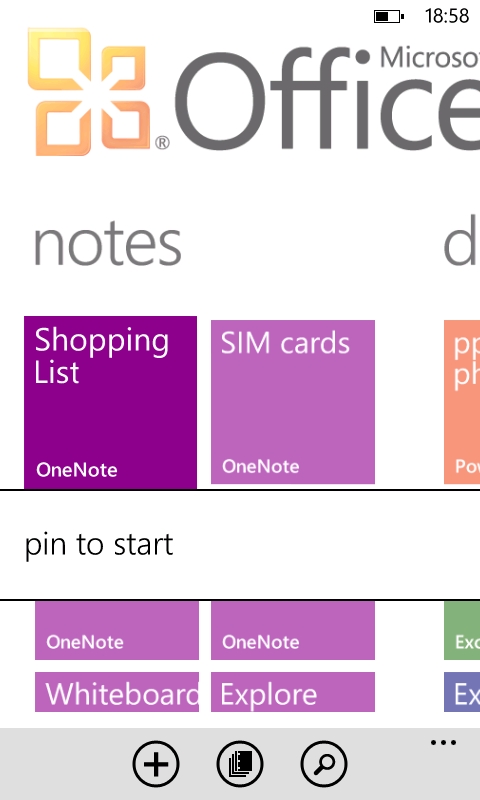 The notes area
Office Applications
Word
Word will probably be the most used Office application on your handset, and as such it has been made much more functional than Excel or PowerPoint on Windows Phone 7. With Word you can create and edit files and the Lumia 800 (and all other devices) comes complete with a set of templates – which may or may not be helpful to you.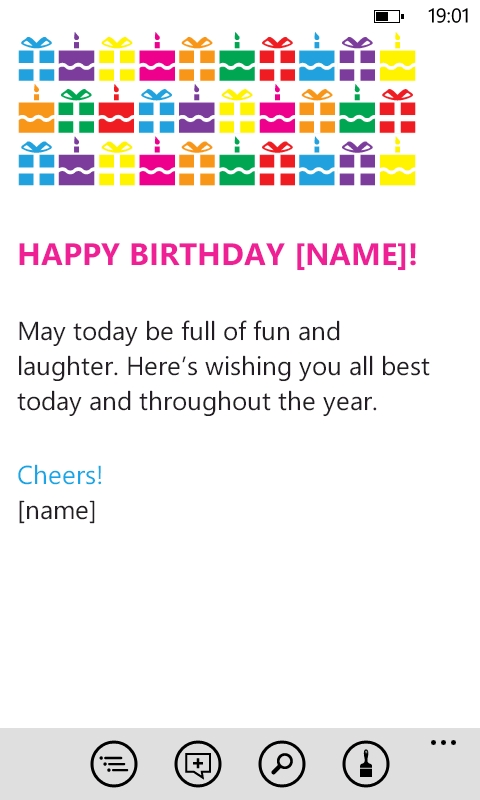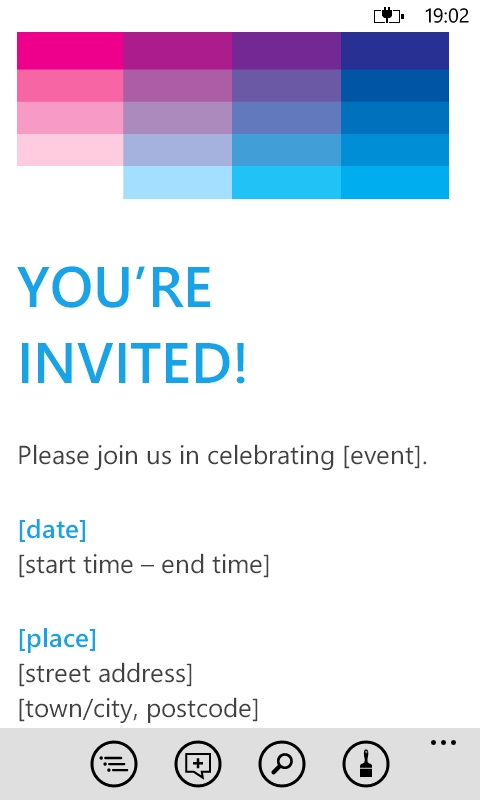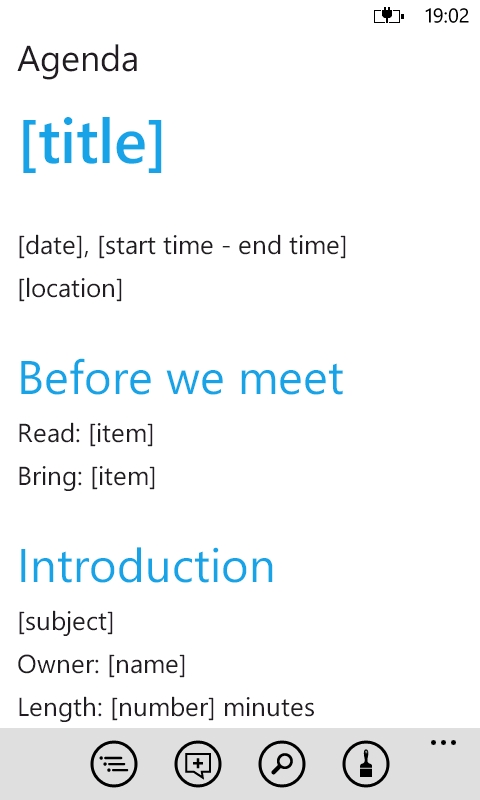 Examples of the supplied Word templates
The user interface is pleasingly stripped down, which serves to understate the application's functionality. The only user interface (UI) element visible is the toolbar with buttons for viewing outlines, comments, search, and enabling edit mode. In edit mode, the latter changes into an icon which accesses formatting options. In edit mode, you can also add comments to the document.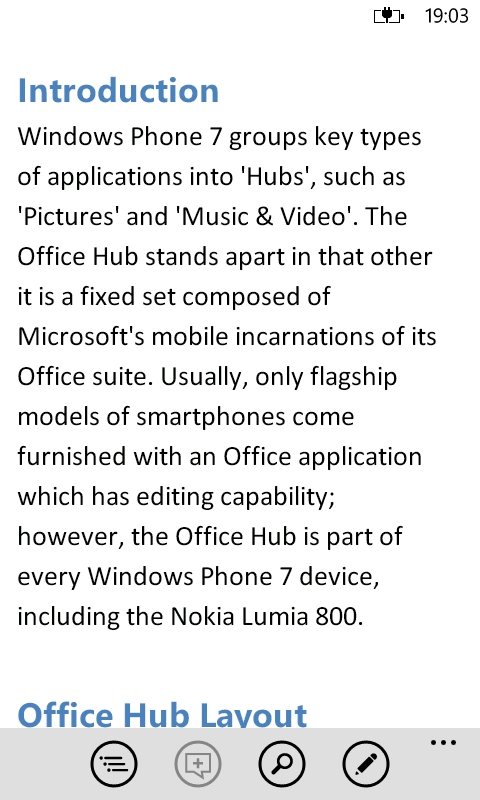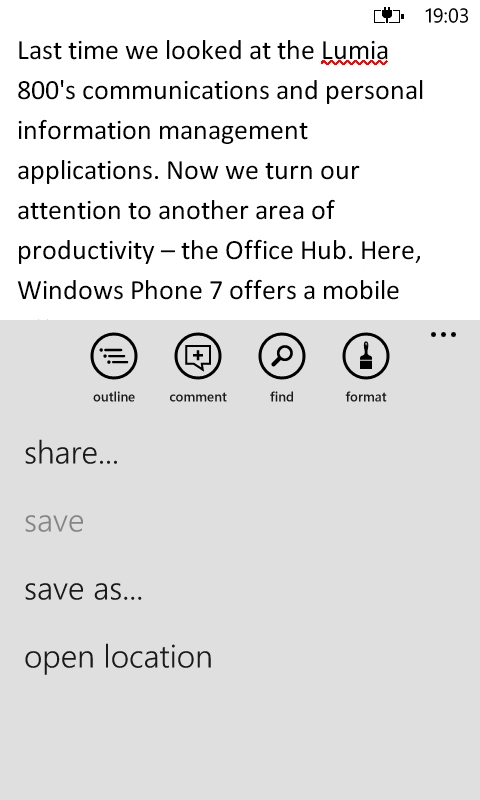 Viewing and editing Word documents
Speaking of formatting options, there aren't that many, but there are enough for a mobile client. The available options are focused on character formatting, and these are, bold, underline, strikethrough, superscript, subscript, font colour, and highlight colour. The latter two only have three colour options.
There are, inevitably, many functions from the desktop version of Word not present in the mobile version. There is no paragraph formatting, and there's no way to insert images or tables – all of which are features I've found in other mobile office suites. There's no explicit spelling or grammar checker, however the built-in text correction system suffices by underlining misspelt words and offering corrections.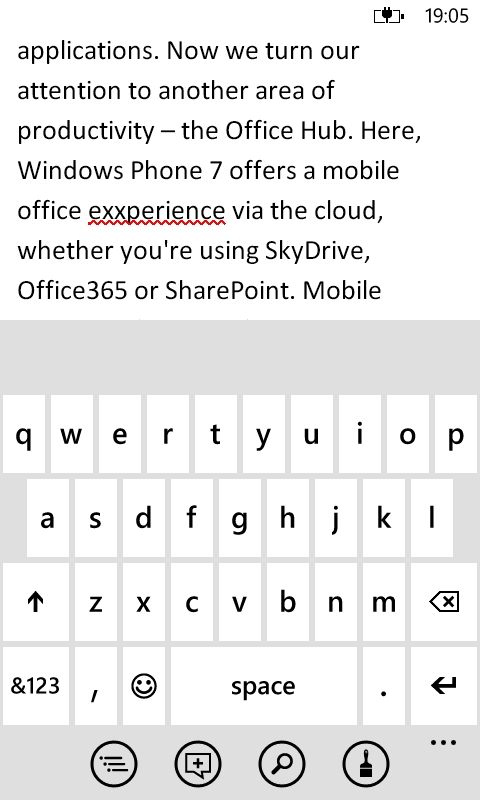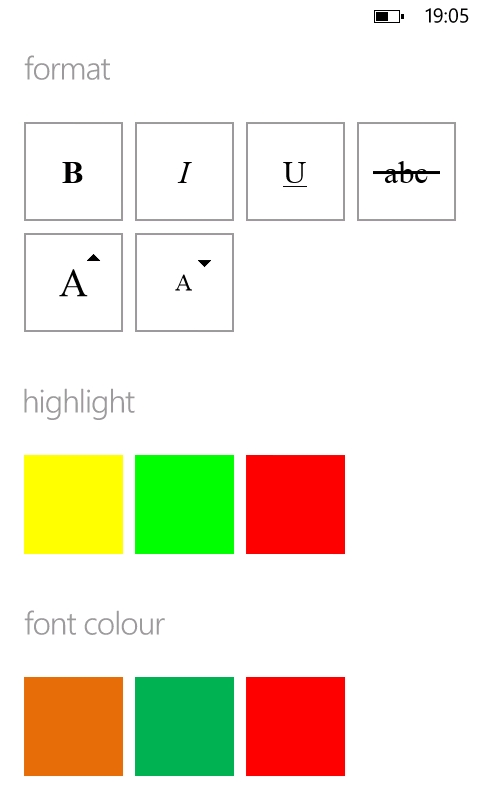 Text correction and formatting options
Talking of keyboards, Word works in landscape and portrait so you can use your preferred form of keyboard.
As one might expect for a Microsoft product, file compatibility with legacy Word formats is spot-on. We did round-trip testing with a batch consisting of Word 97 to Word 2010 and all formatting was preserved.
Overall, the mobile version of Word is an eminently usable implementation of the standard desktop word processor, despite the features it lacks compared to similar products on other platforms.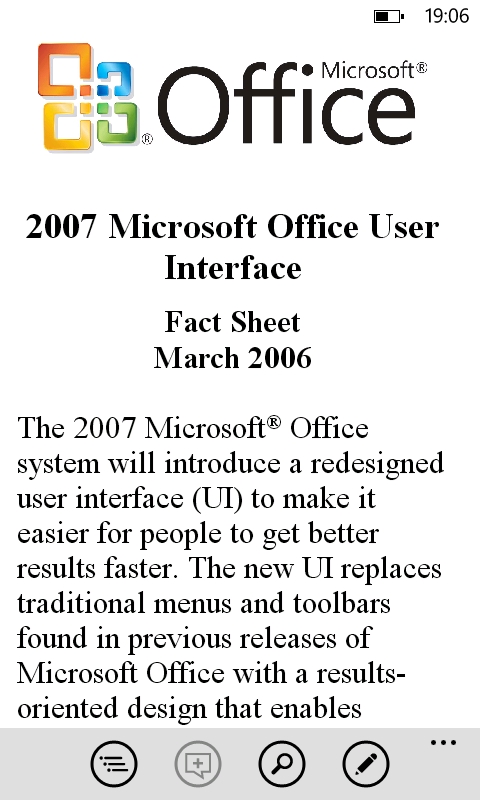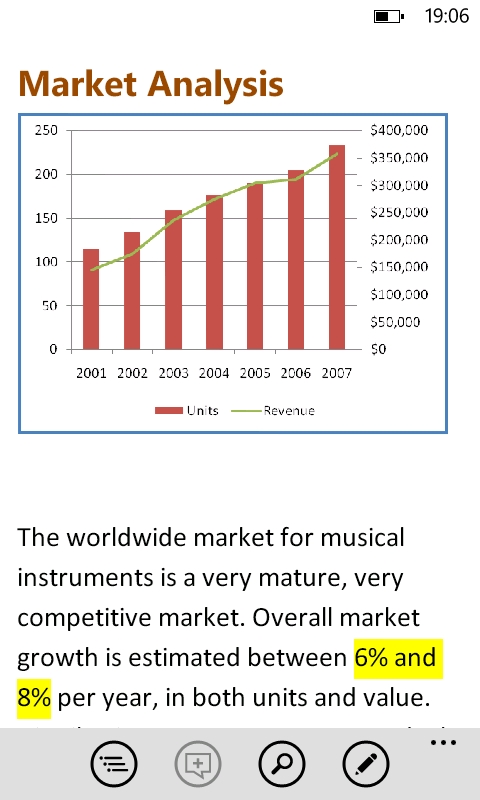 Viewing legacy files in Word
Excel
The UI of mobile Excel is, necessarily, not as minimalist as that of Word, but provides enough to get you started. Besides the standard grid and headings, you'll find a cell editing field, formula catalogue icon, and toolbar. The latter accesses the outline view, which gives you a list of sheets, charts, and named ranges within the file. There are also icons to view comments, search, and perform an 'auto-sum'.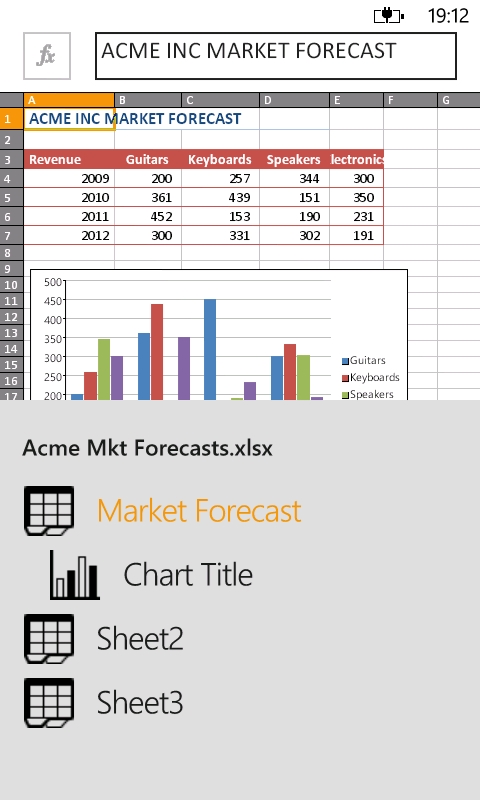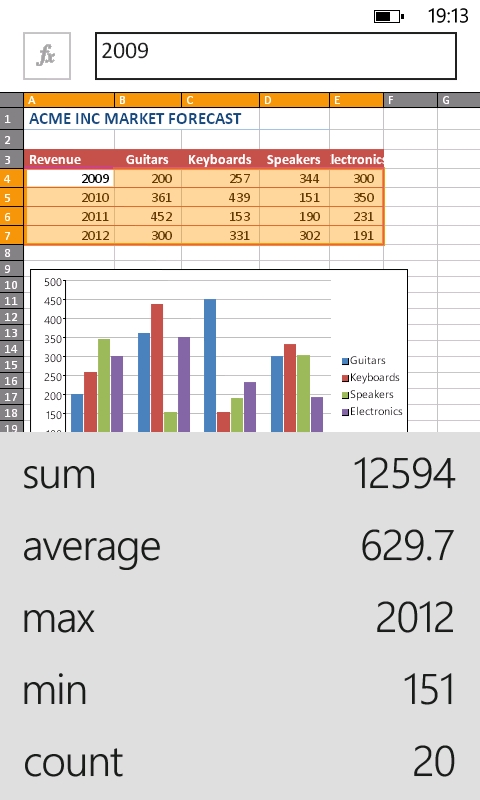 Outline and auto-sum views
Just as with Word, you can create and edit files, and there are a range of templates, which as mentioned above, may or may not be helpful to you.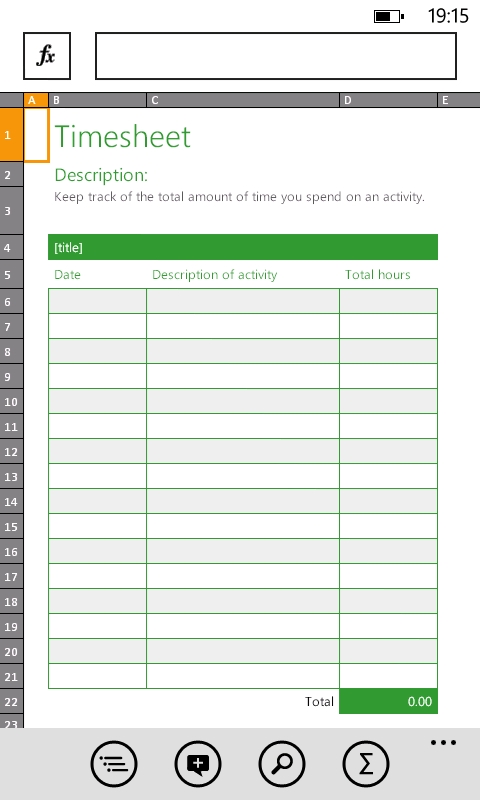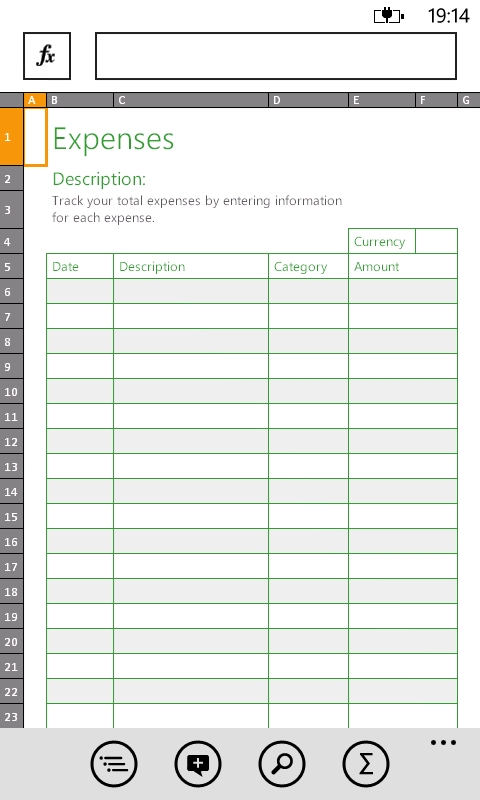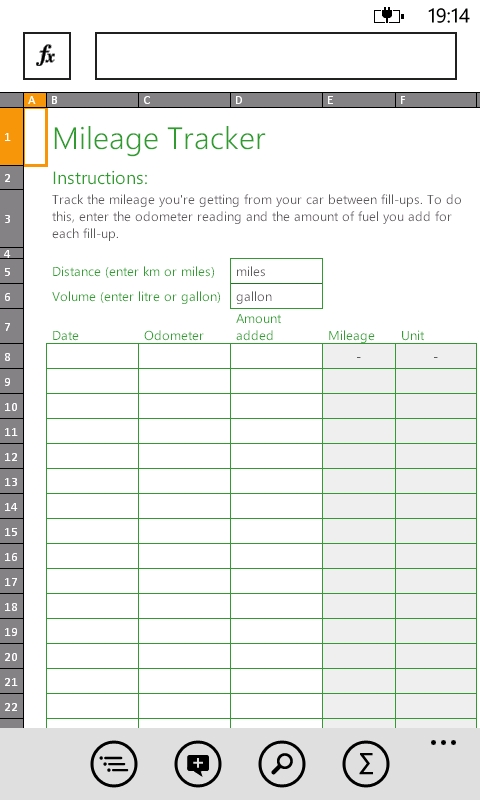 Examples of the supplied Excel templates
When entering formulae, you can do so manually or select from the extensive function catalogue. You can also resize rows and columns, and size optimisation is available via a double tap. Given the small dimensions on the Lumia 800's screen, I was sceptical as to whether resizing would work well. However, resizing can be done reliably as long as you don't think about it too much – the software does a good job of interpreting your actions if you just touch and swipe in roughly the right area.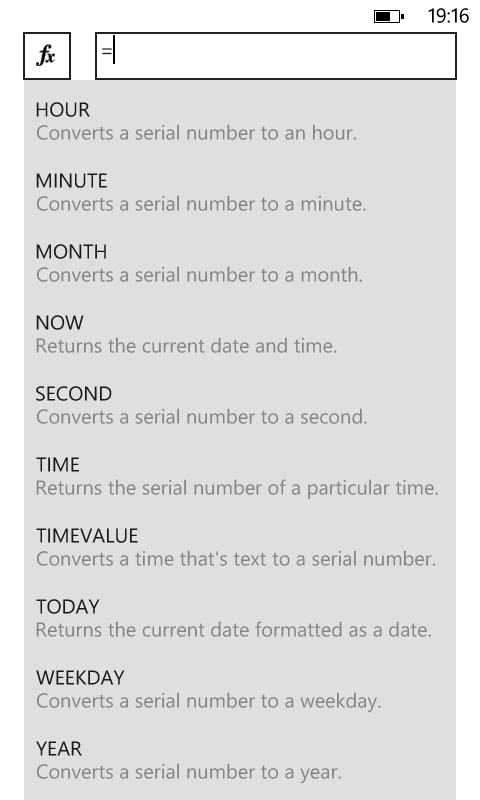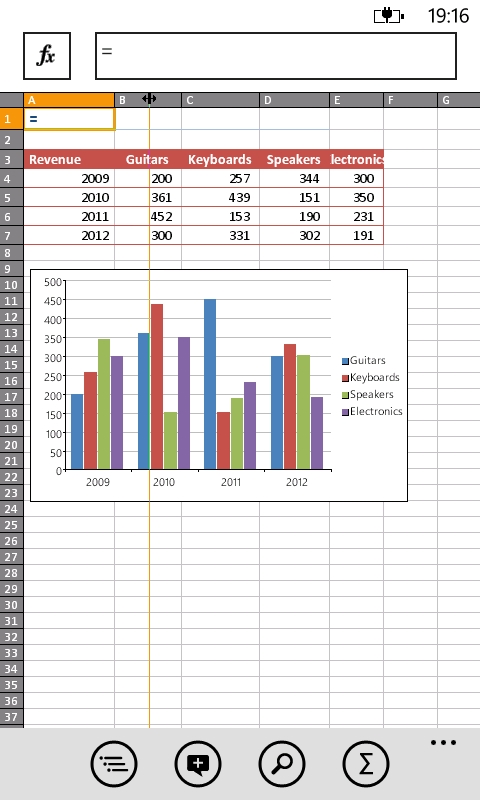 Browsing formulae and resizing columns
For presentation sake, you can make cell contents bold, italic, or underlined; and you can set the font and fill colour. Just as with Word, the colour options are limited to three each. Other editing options include sorting data by multiple column criteria and adding comments.
You can change number formats to date, currency, or percentage. However, you cannot configure these formats. The only way to go back to the 'General' number format is to select more than one cell and use the "Clear all formatting" menu option; thus wiping out any other formatting you still wanted. This makes number formatting in mobile Excel something to avoid rather than utilise. Fortunately, there is an undo option!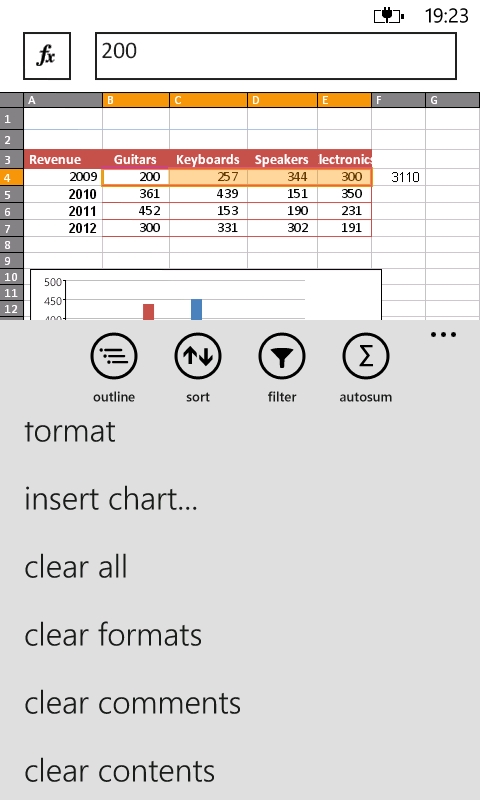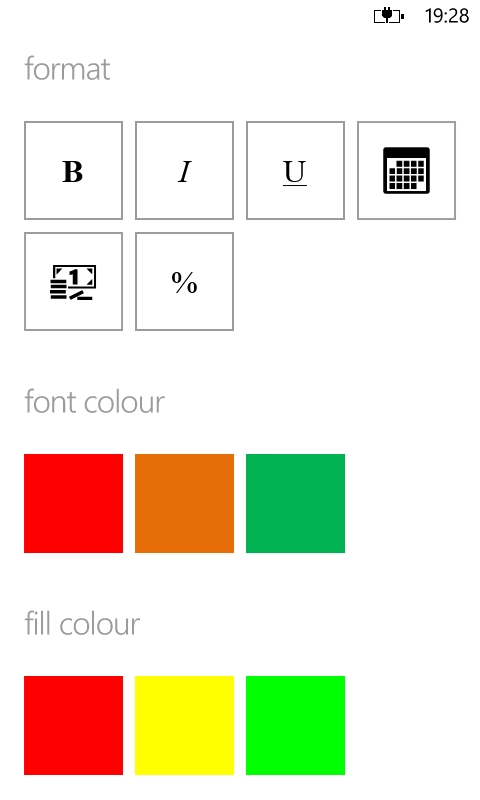 Formatting options
As mentioned, there is support for entering ready-made formulae, but there is an omission with formula handling that seriously impedes Excel's usefulness. That is, formulae cannot be pasted at a cell level, so as to maintain relative cell references. Of course, you can copy and paste the contents of a cell, but this will lose the relative references.
Repeating formulae is a fundamental part of any spreadsheet, and so Microsoft earns a serious reprimand from me for limiting its Windows Phone implementation so badly. I've seen Microsoft staff excuse this on support forums on the grounds that mobile clients are always limited. However, EVERY other mobile spreadsheet application I've used since the 1990's could do this. There's no excuse for an oversight which (as good as) makes mobile Excel worthless for serious use.
Mobile Excel allows you to create charts, but you cannot embed them into a sheet; nor can you resize or move already embedded charts. Fortunately, you can edit their source data and see the chart reflect the change in real-time.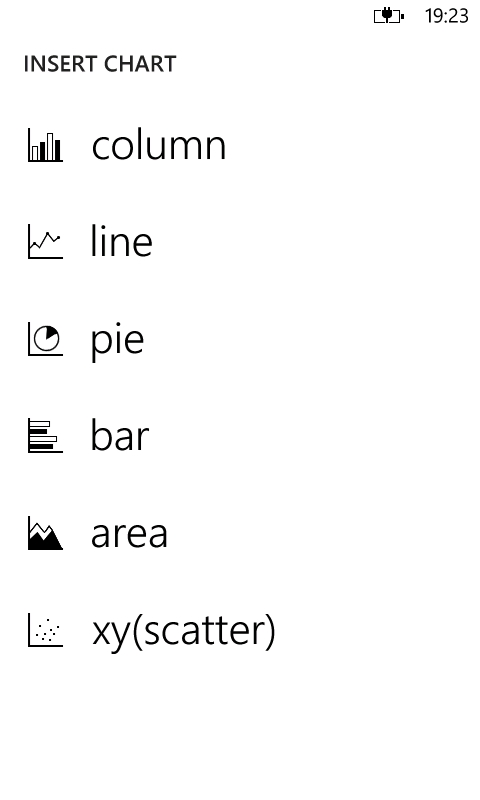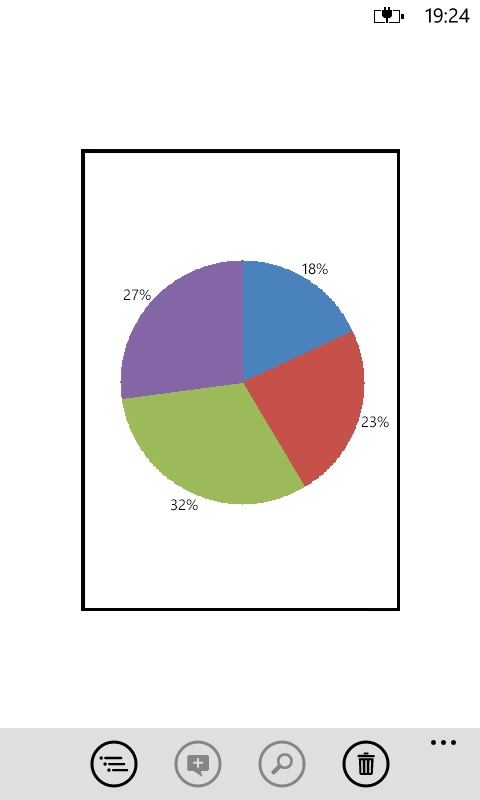 Creating a pie chart
We had no complaints on legacy file support though. We tried everything from Excel 97-2003 up today's Excel 2010 formats, and all files were intact after our round-trip testing.
PowerPoint
The Windows Phone 7 implementation of PowerPoint is the odd-one-out among the three oldest titles in that it is not possible to create new files. When you tap the "+" icon in the Office Hub, only Word and Excel options are presented. Also, the application is understandably fixed into landscape orientation.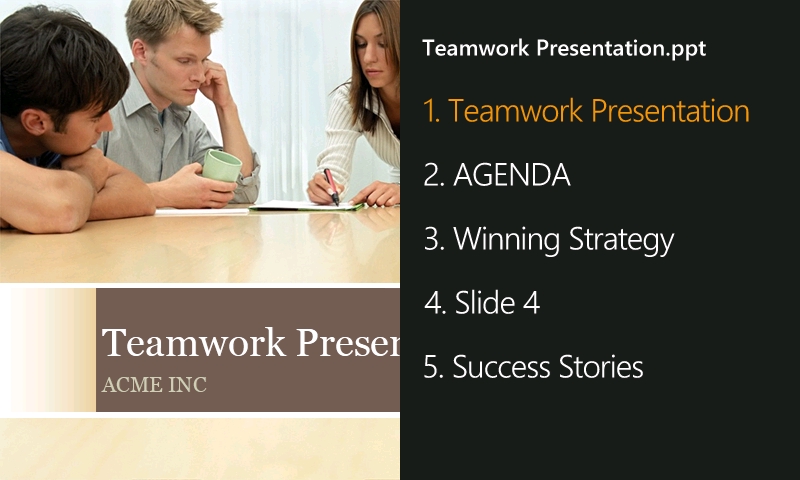 Browsing a presentation outline
Fortunately, it is possible to edit files, but the only supported actions are editing the contents of text boxes, editing notes, and reordering slides. There's far more that cannot be done: adding or deleting slides, moving text boxes and graphics, adding or removing text boxes and graphics, and changing slide backgrounds.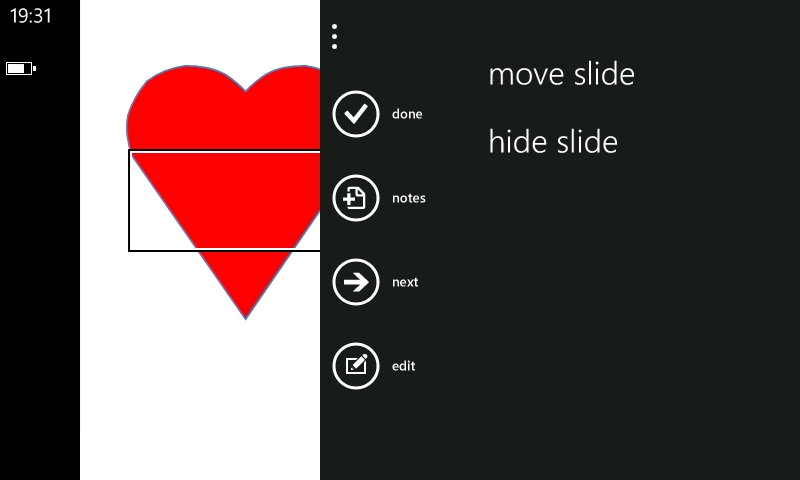 PowerPoint editing options
Legacy file support is limited too. While older PowerPoint files (.ppt) files can be viewed, only the newer .pptx and .pptm file formats can be edited.
In its favour, the viewing capabilities of PowerPoint mobile are excellent. Slide transitions (e.g. side-slide, fade, etc.) are supported, as well as animations of individual elements. This is certainly more than sufficient, given that the Lumia 800 (and other contemporary devices) do not have any form of TV-Out with which to publicly display presentations. Therefore, mobile PowerPoint only really caters for personal viewing.
Overall, PowerPoint is the weakest of the Windows Phone 7 Office Hub, only offering the ability to make slight tweaks to files. It's also limited by the platform's lack of TV-Out. On the whole, this isn't a disaster for the Office Hub as heavy PowerPoint use probably only corresponds to a minority of users – which will be of little comfort to you if it is something you need.
OneNote
OneNote is the newest addition to the Microsoft Office suite. Its function is to provide rich note taking facilities, allowing you to embed images and audio in addition to formatted text. Its key feature, though, is tight integration with SkyDrive. While OneNote files can be kept on the desktop, the application comes into its own when it is synchronised via the cloud, allowing for viewing and editing of notes not just on your desktop computer, but on any web browser (via the web app) and on virtually any mobile device; clients are available for Android, iOS, selected Symbian devices, in addition to Windows Phone 7. As such, it becomes a strong competitor to Evernote, which is the incumbent of online note taking services.
While it isn't possible to create a new OneNote file on a Windows Phone 7 device, a file called "Personal (Web)" is created by default. It's likely that you will be using a different file, though, because files created with the desktop client have the default name of "OneNote Notes".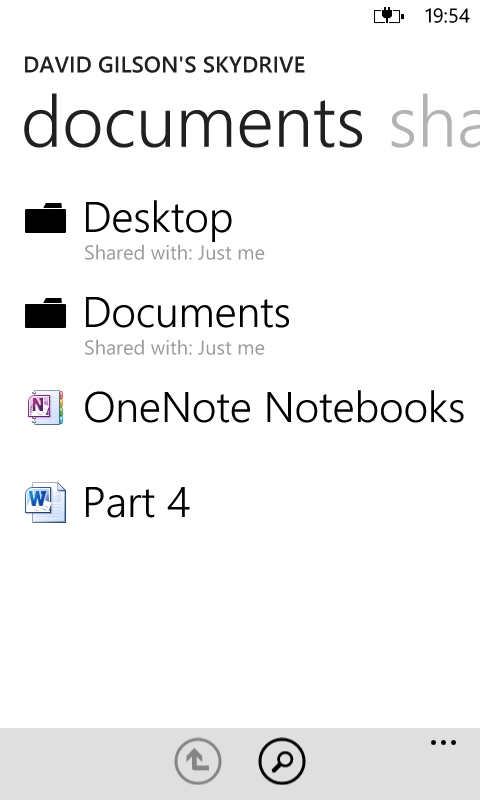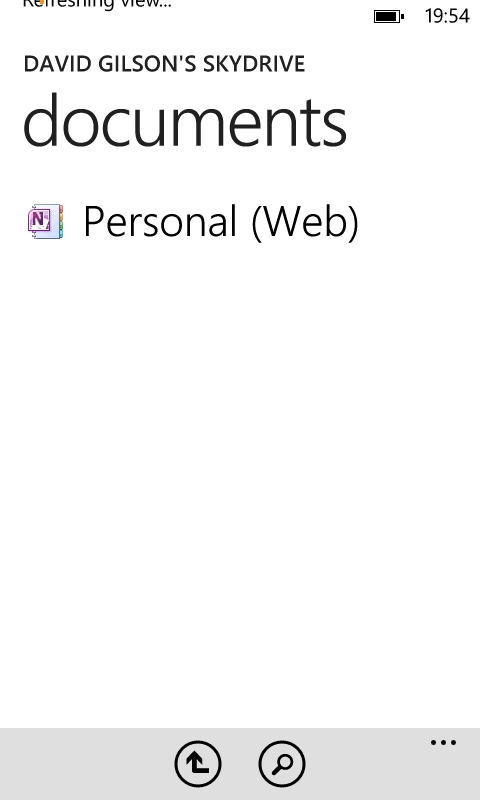 OneNote files stored on SkyDrive
OneNote files can be divided into sections, which notes are then saved in. The Windows Phone 7 version of OneNote, fortunately, allows you to set any section from any file as the default location for new notes to be saved.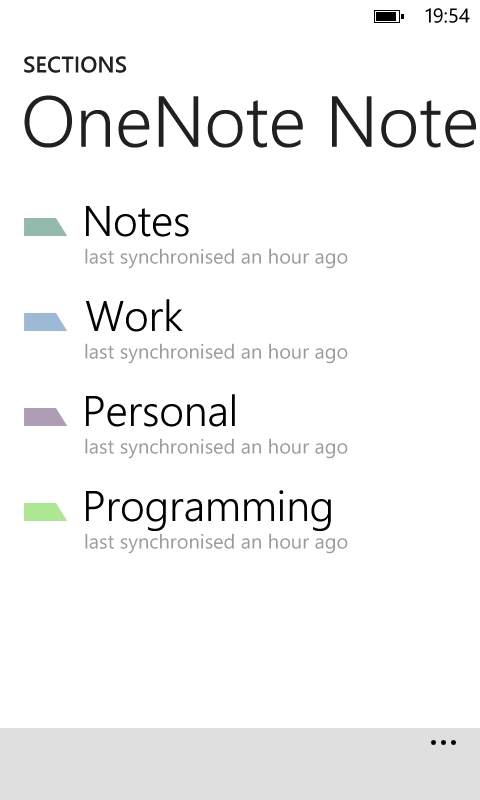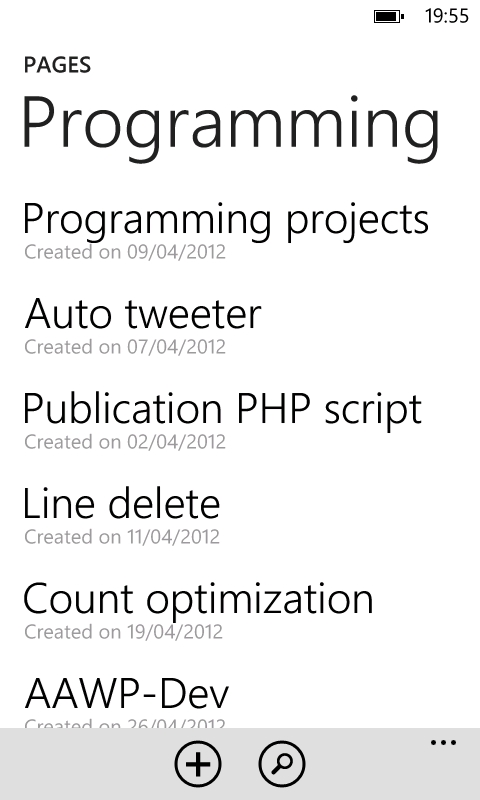 Browsing sections and the notes within
Of all the Office Hub applications, OneNote has the most parity, in terms of practical functions, with its desktop cousin. Even audio clips and images can be added to notes in the Windows Phone 7 version of OneNote. There is also full control over lists – you can have bulleted or numbered lists (or none at all), add tick boxes for tasks, and you can adjust the indentation of each item. Considering all those abilities, it seems quite petty to complain that text formatting is limited to bold, italic, underline, and yellow highlighting.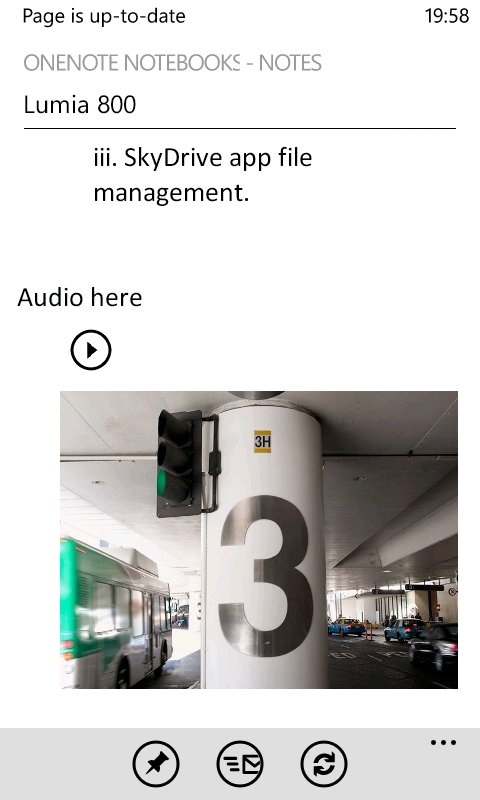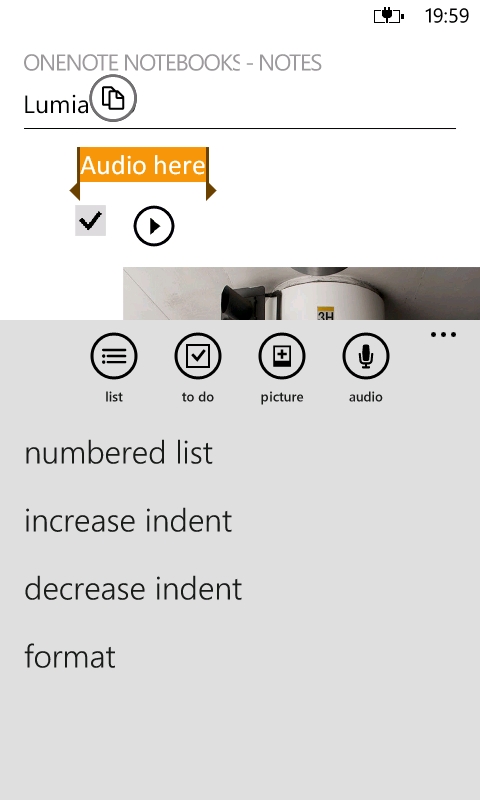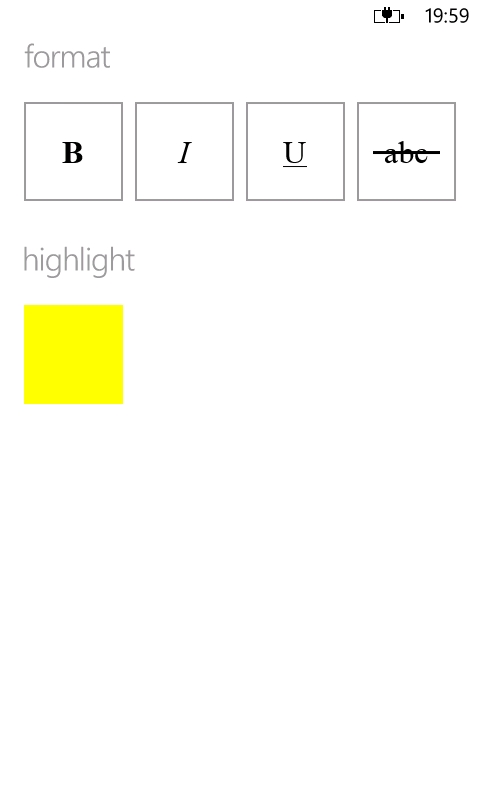 Embedding rich content and all of the available formatting options
Overall, OneNote is the jewel in the Office Hub crown – which is appropriate given that smartphones are more suited to grabbing impromptu notes rather than typing full documents. Its status is knowingly reflected by having been given a section of its own in the Office Hub. It is also the best mobile implementation of OneNote that I've come across. For example, the Android version lacks the ability to indent items and has zero text formatting functions.
Sharing and collaboration
All of the Office Hub applications have an option to share a document, by means of emailing a SkyDrive (or SharePoint) link. The Windows Phone 7 clients are not advanced enough to provide real time collaboration though. While you can view a cloud file that someone is editing, if you try to save any changes, an error will notify you that someone else is editing the file, and so you'll need to save a new copy or abort.
For the desktop web-based applications; Word will notify you that someone else is editing the file while you are, but you won't see their changes until you save the document. In this case, only the section of the document being worked on becomes locked to avoid conflicts. However, online editing of Excel and PowerPoint files does allow for real time multi-user editing in both SkyDrive and SharePoint.
File Management
Somewhat infamously, Windows Phone 7 has no file system to speak of, as far as users are concerned. Thus, there's no USB mass storage mode to manage files via a PC. This presents a challenge to those used to having file system access – here is a summary of the tools at your disposal for managing and transferring files with Windows Phone 7 and the Lumia 800.
The primary way that consumers will manage content stored on their Windows Phone 7 device is currently via the Zune Desktop application (or the equivalent Windows Phone 7 Connector on the Mac). We'll focus more closely on this in a latter part of the review. For now, we'll just acknowledge that the Zune software manages synchronisation of multimedia content and firmware updates on Windows Phone 7. Whether you want to add or remove photos, videos, or podcasts, you have to do so through Zune. While Zune presents a drag and drop interface, it introduces an added layer of complexity as you cannot drag files from Explorer into Zune and onto your device. Instead, all content has to be catalogued by Zune (by placing in 'watch folders') before it appears in the various 'Collections', before you can drag it onto your device.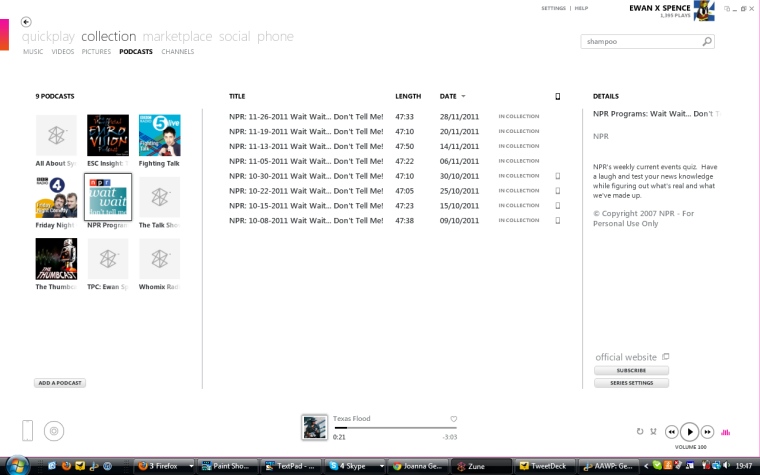 Zune Desktop
In terms of connection method, the most straightforward way is to connect your Lumia 800 to a PC via a USB cable. However, it is also possible to set up wireless sync. With this method, once your Lumia 800 has been connected to an external power source for ten minutes, it will connect to your PC via your WiFi network and changes on both devices will be synchronised.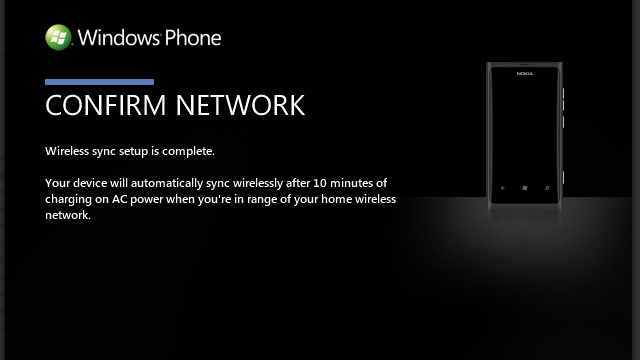 Setting up WiFi Sync
There are some issues with this method though. Router compatibility can be an issue, and so the caveat of "your mileage may vary" applies here. In my case, with a Netgear DG834G router, I found that I had to manually reserve an IP address for my Lumia 800 before WiFi sync would work. The other issue is that there is no apparent way to manually trigger synchronisation – most of the time you have to just trust that it's working. At least with USB you can disconnect and reconnect to force a sync of the latest file updates.
When it comes to transferring documents, there is no desktop to phone solution, everything has to be done through the cloud. We've already discussed how the Office Hub gives access to your SkyDrive storage (and enterprise versions). Therefore, one has to regard 'the cloud' as main file storage when it comes to Windows Phone 7 and Microsoft's official SkyDrive application should be thought of as the de facto file manager. Unfortunately, this isn't pre-installed on the Lumia 800, but you can easily add it to your device via our link.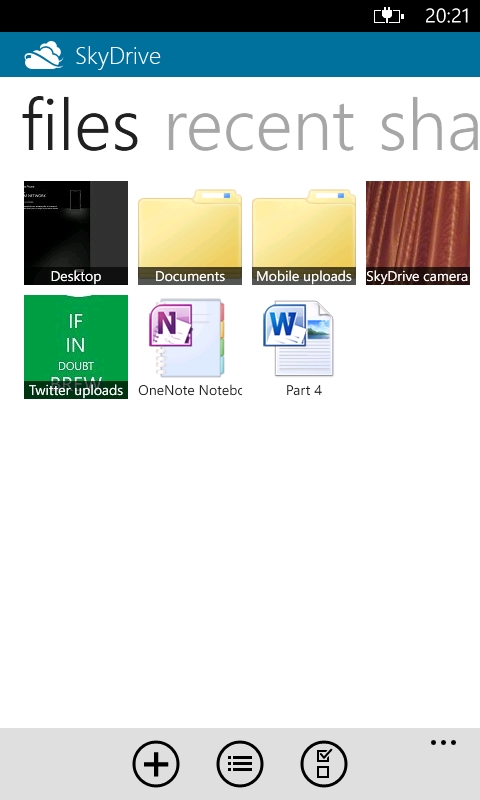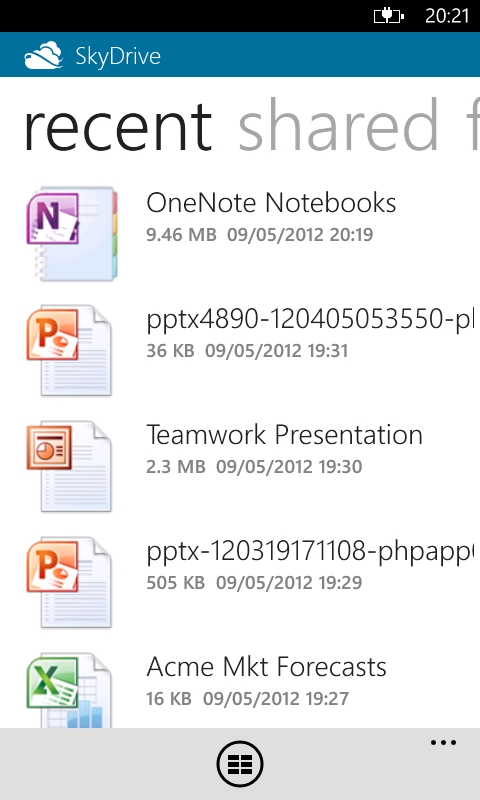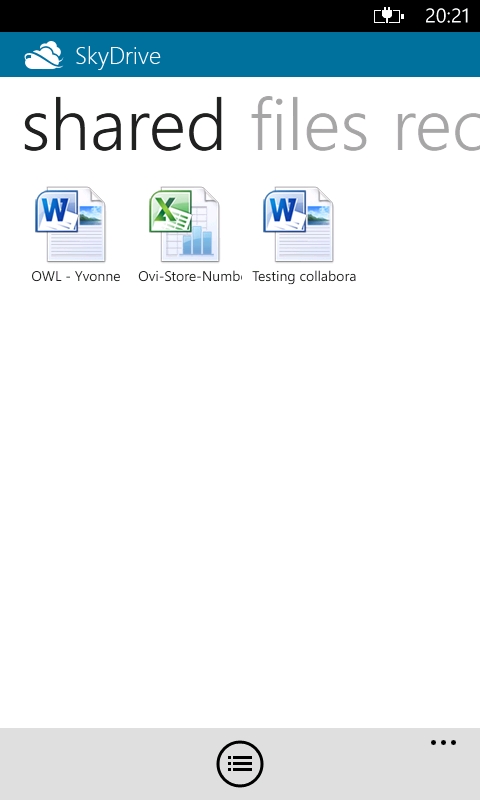 The official SkyDrive application and its panorama
As of SkyDrive version 2.0, the ability to select multiple files for copying, moving, and deleting made mass file management on Windows Phone 7 a realistic possibility. The application also offers the ability to view thumbnail galleries, share files and manage permissions.
Given how multimedia is restricted to Zune, and documents are restricted to 'the cloud', it begs the question "why wasn't the functionality of SkyDrive built into the Office Hub?"
---
That wraps up our Office and File Management section. In the next, and penultimate, part of our Lumia 800 review, we'll be leaving the device, and looking at the web based services from Microsoft to complement your device.
David Gilson, 10th May 2012

Reviewed by David Gilson at