Review:
Nokia DT-601 Wireless Charging Plate
Score:
90%
The DT-601 Wireless Charging Plate is the most recent addition to Nokia's line-up of Qi compatible charging accessories. There are now a decent number of Qi wireless charging pads on the market, and the technology, while not exactly mainstream, does feel more established than a year ago. So, for this review, the key question is what makes the DT-601 different and who should look at buying this accessory?
Version Reviewed: PR 1.0
Along with the bigger Nokia DC-50 Portable Wireless Charging Plate, the DT-601 makes up the second generation of Nokia's Qi accessory line up. However, both the DC-50 and DT-601 are intended to complement the existing DT-900 (Desktop Pad), DT-910 (Desktop Stand), and CR-200 (Car) accessories, rather than replace them.
As with other recent Nokia accessories, the DT-601 is available in multiple colours (black, white, yellow, cyan, and red), providing a visual match with some of the most popular colours used in Nokia's Lumia devices. Of course, the accessory can be used with any Qi compatible devices. The Wireless Power Consortium say there are more than 60 different phones with Qi charging built in, with combined sales of around 40 million units. That's a lot of potential DT-601 owners!

The box contains a DT-601 unit, a small user guide/warranty leaflet, and a standard Nokia AC-60 USB wall charger. The charging pad has a permanently attached, colour matched cable, ending in a standard USB male type A connector. The charging pad is made up of three pieces of polycarbonate plastic, fitted together into a single round puck, that contains the various electronics, including the all-important Qi charging coil. The cable is covered with a rubbery material that adds extra grip and that should stand up well during day-to-day usage. A cable tie is also included in the box, making it easy to keep the cable in a neat bundle when not in use.
The DT-601's charging pad is significantly smaller than that of Nokia's first generation DT-900 accessory. With less than half the overall volume, and almost half the weight, the newer accessory is more portable, but the smaller size does mean it's a little more finickity about the placement of devices for charging. The smaller size also means a charging device is more likely to be accidentally knocked off the pad by an inadvertent bump - or a wandering cat.
| | | |
| --- | --- | --- |
| | Nokia DT-601 | Nokia DT-900 |
| Size | 65mm (round) | 60mm x 120mm |
| Thickness | 9mm | 11mm |
| Weight | 55g | 93g |
| Volume | 30cc | 62cc |
| Charging Indicator | Yes (LED) | Yes (LED) |
| Power | USB or wallplug (AC-60) | Wallplug (AC-301) |
| Charger standby consumption | < 150 mW | < 30 mW |
| Charger input current | 1700 mA | 750 mA |

The DT-601's USB connector can be plugged into either the wall charger or a standard (powered) USB port on a PC, laptop, or other consumer electronic device, offering greater flexibility than all of Nokia's earlier Qi accessories, which used a proprietary 2.5mm pin.
The AC-60 USB wall charger included with the DT-601 is also much smaller than the AC-301 wall charger provided with the earlier accessories. Nokia also quotes a higher charger input current for the DT-601 (1700 mA) versus the DT-900 (750 mA), although in practice we didn't notice much difference in charging times. However, the charging input will, in part, be determined by the USB charging source. There is no issue if you're plugged into a wall via the AC-60 unit, but it's worth noting the power output from some USB plugs and USB ports on hubs, PCs and laptops can vary (e.g. many laptops have only one or two "powered" USB ports).
Another artefact with using USB-based charging is that the charger standby consumption (i.e. when no charging is taking place) is higher for the DT-601 (150 mW) than the DT-900 (30 mW) due to the need to keep the electronics "awake" to detect when a Qi compatible device is placed on the charging pad. This does mean the DT-601 is less environmentally friendly that the DT-900 and arguably less suited to an always-on usage scenario, though if this is a major concern then you're probably better off sticking with a wired charging solution.
Like all Qi charging accessories, the DT-601 is less efficient at charging than a wired connection. The difference isn't as big as you might think, but it does mean it will take slightly longer to charge wirelessly than using a wired connection. Honestly though, it's not really something we notice in day-to-day usage, especially as a lot of our wireless charging is of the top-up-and-go variety.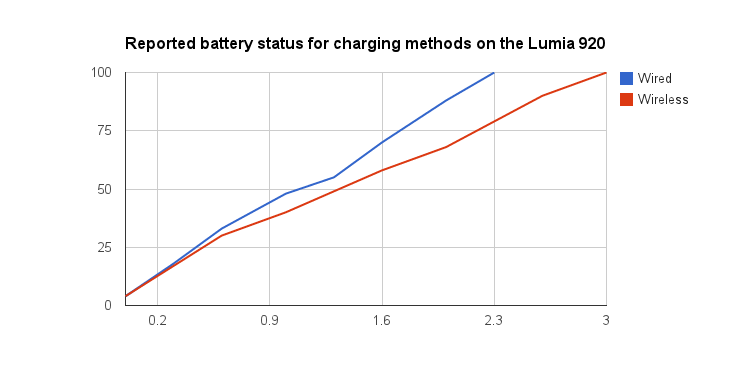 So, the two key selling points of the DT-601 are its relatively small size and the ability to draw charger from a standard USB port. This makes it a great choice as a Qi charger to take on the road, or for use with a laptop. Its size and standby power consumption means it is arguably less well suited to life as the primary Qi charging pad in the home or office, when compared to the larger alternatives. To our minds, this makes the DT-601 ideal as a second Qi charging accessory for someone who has already discovered the joy of wireless charging.
The Nokia DT-601 can be purchased from a variety of retailers, including Amazon UK and Amazon US, with pricing starting from just over £30 / $50, though it may be possible to find a better deal by shopping around.
It is also possible to find similar no-name brand Qi charging accessories at a lower cost, such as this £16.99 product from XCSource. There's very definitely an element of paying a premium for the Nokia name and design, but our experience with other accessories does suggest that Nokia's products are better able to stand up to day-to-day usage and that a cheaper option may be a false economy. You may also be able to find Nokia's first generation of Qi accessories available more cheaply than the DT-601 (e.g. DT-900 for $30 on Amazon US), which may make them a better buy if size and portability is not an issue.
With that said, we would expect a number of potential DT-601 purchasers to be in a similar position to our own personal experience. Already using (and really appreciating) one or more of Nokia's first generation of Qi charging products, but looking to extend your wireless charging options, ideally with something a bit more portable, that can be slipped inside a laptop bag. If that sounds familiar, or even if you're looking for a minimal space Qi charging pad, then the DT-601 Charging Plate is the ideal accessory for you.
Reviewed by Rafe Blandford at