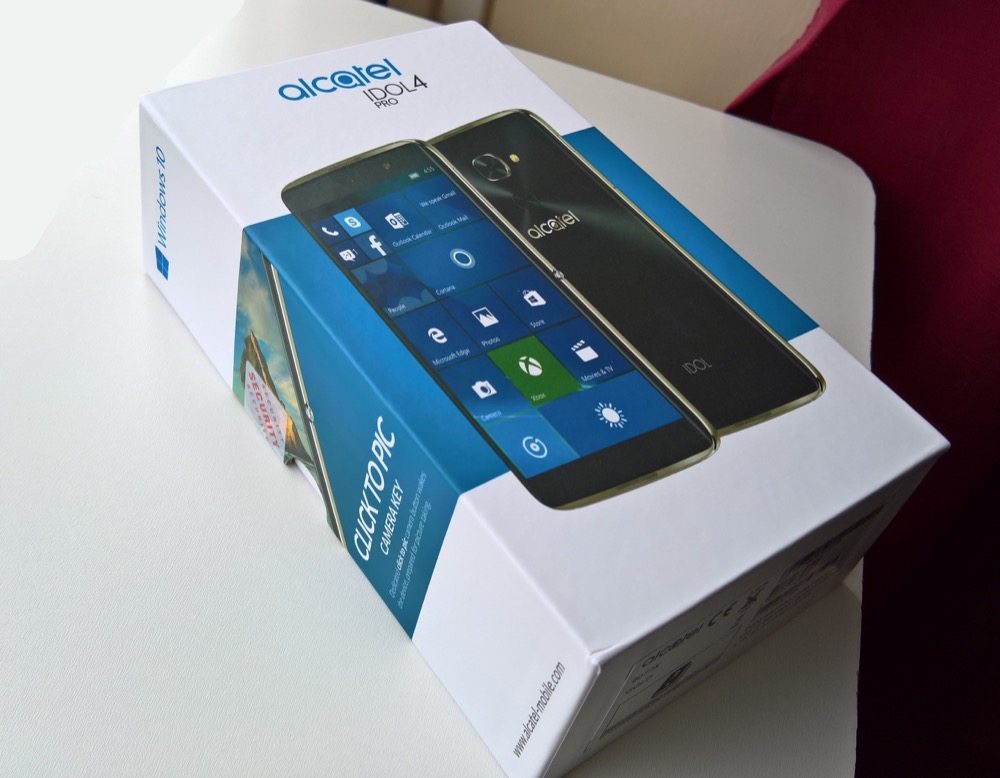 By the way, the 'IDOL 4S with Windows 10', essentially the same hardware, was released in the USA first and only then did we get a wider worldwide release with the IDOL 4 Pro. Apart from supporting slightly different phone frequencies, I believe the hardware is identical. Infamously, some badgering was needed by me to get the IDOL 4 Pro fully supported for Windows 10 Mobile 'Creators Update' and 'Fall Creators Update' (Alcatel essentially forgot about the phone after release, they have a terrible record on phone updates across the board, so unless I'd intervened the IDOL 4 Pro would have ended life on the 'Anniversary Update'!), but the phone is still 'good to go', even out of the box and once updates are done. No hacking needed (though I can't vouch for the state of the American IDOL 4S etc.)
Why bother with the IDOL 4 Pro here? Because it remains one of my favourite Windows-powered phones, helped by amazing JBL-tuned stereo speakers, a superb DAC for delivering audio through headphones, and a Snapdragon 820 chipset, the fastest on a Windows phone - ever (an honour shared with the HP Elite x3).
OS and updates
As mentioned above, the IDOL 4 Pro should be bang up to date on the latest Windows 10 Mobile FCU build, last updated in January 2020. If it's not then something's wrong, perhaps you were on the Insiders programme while it was live in 2017? In which case, you may have left it too late to 'leave' the programme and you'll want to undergo my infamous 'refresh' procedure, to sort things out.
Yes, January 2020 is now a while ago, but I wouldn't worry. Windows 10 Mobile is miniscule as an attack target and your phone security is just fine.
Biometrics
One of the biggest bugbears for some people with the IDOL 4 Pro has been poor fingerprint sensor performance. There are/were three issues here:
Buggy sensor code - this was fixed up in updates some time ago, so shouldn't be a problem now.
Sub-optimal fingerprint registration. In other words, add your fingerprint again and take a bit more care over positioning - the more biometric points the software has to match, the better.
Delays due to Windows Hello, i.e. the fingerprint is recognised quickly, but then there's the Windows login process and animation on screen - this has gotten faster with OS updates, but could still be faster. Still, there's not much we can do about this now.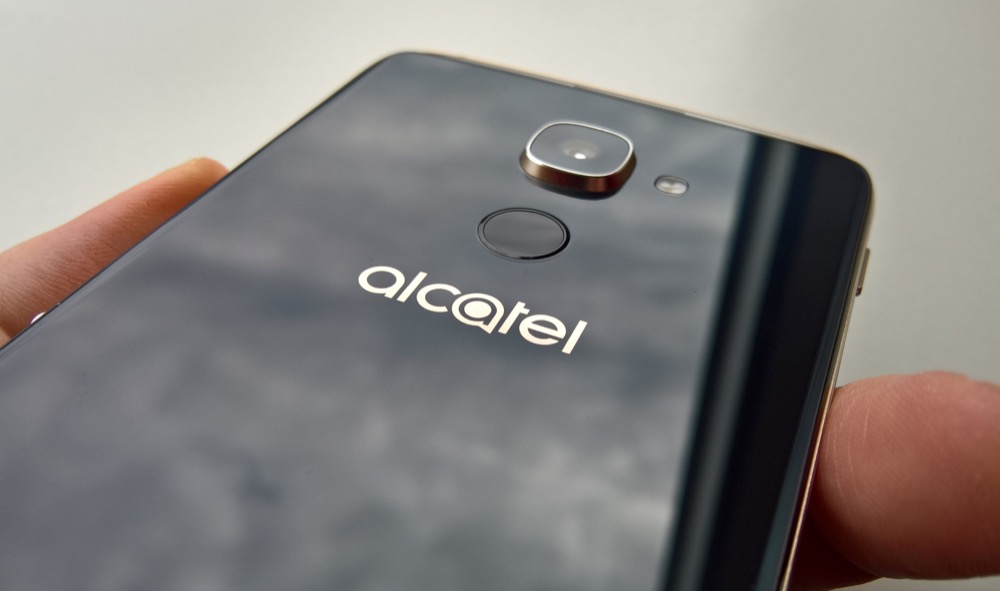 Display
The IDOL 4 Pro actually has an excellent AMOLED display, though if you want it to really compete with the latest 'super bright' Android and iOS flagships then have a play with the brightness control in Action Center - at least when set to 'Brightest' you'll get a feel for what the panel is capable of and can scale down from there. If you've been using a screen protector, which dims the contrast, I have to ask 'Why?' Why do people cover an ultra hard, scratch proof (Dragontrail) glass surface with a soft plastic layer which adds very little protection and looks like cr*p within days? Just... why? Remove a protector and see and feel the glass like it was meant to be used. It's oleophobic too, so your swipes and gestures will be smoother.
And it goes without saying, but if you have Settings/Personalisation/Colours set to 'Light' then change it to 'Dark'. You can still play with colours and mood, but the dark foundation will save you masses of battery power in daily life.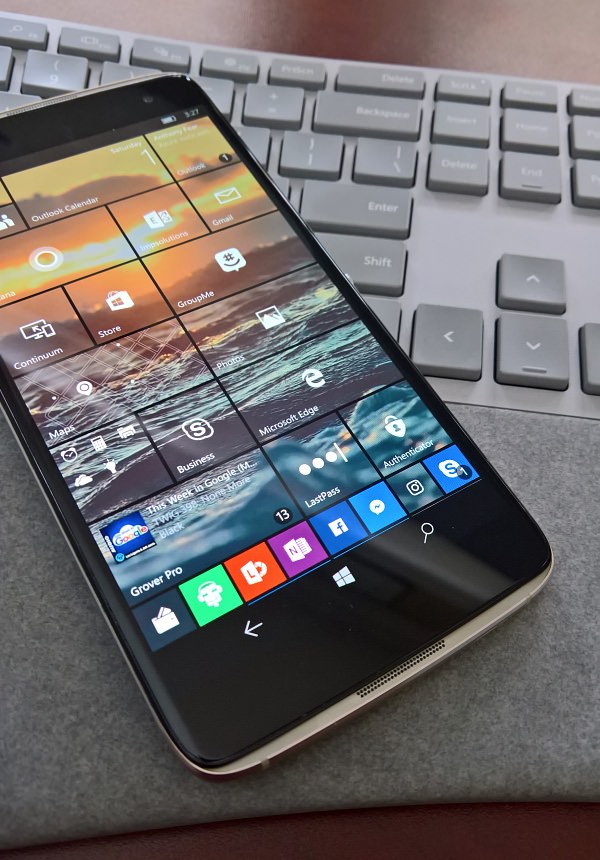 Casing it
I did a round up of Alcatel IDOL 4 Pro cases a while back and the last two items reviewed are still valid (and the best - and also cheap now) - a new case can often help a phone feel fresh. And, as noted in the article, cases you come across for the Blackberry DTEK 60 do (largely) fit, so your pool of options is larger than you think.
Charging matters
The default mains charger that comes with the IDOL 4 Pro is Quick Charge 3.0 (i.e. uses up to 12V) and works brilliantly, of course, though if you're anything like me then you lost it some time ago. But that QC3.0 rating is worth remembering. The Nokia/Microsoft Lumias max out at 3A/5V (for the Lumia 950), but if you're sourcing wall chargers or power banks and wondering what to look for then you can charge the IDOL 4 Pro faster from anything that's Quick Charge 3.0 rated (or above). On power banks, if you're not sure, seek out a green USB-A port, in particular.
Doing more with the camera
The IDOL 4 Pro's camera is so-so by modern standards, 21MP, f/2.2, with PDAF, it's distinctly mid-range. But it's fine for casual shots - and it's even better if you use a different app than Windows 10 Camera. This is very much coded for the Lumias and extra functions and options appear in the interface on the likes of the Lumia 950. But you can get better performance on the IDOL 4 Pro and better photos by switching to a third party camera application like ProShot, shown here. HDR which is fast(ish) and which works every time, absolute control of exposure, colours, sharpening, and so on. True all this shouldn't be needed if the camera itself was better, but with a little skill and set up you can now take some stunning photos even on this average hardware.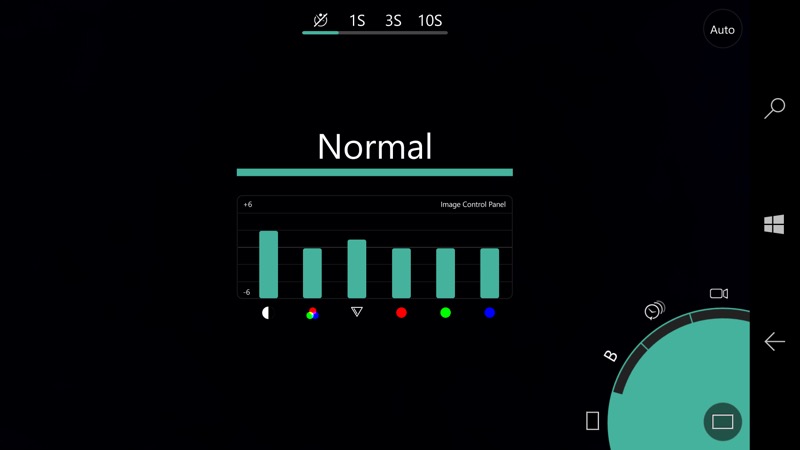 Even more music
The Windows 10-powered Alcatel IDOL 4 Pro is a music monster:
the superb JBL-tuned speakers
the 3.5mm audio jack (now a rarity on phones above £500 in 2020, sadly - I deplore manufacturers getting rid of it for no good reason)
the extraordinary DAC and power amp (which gets little credit, but it's the equal of the very best industry-leading LG 'quad DAC' phones) that drive high volume into even high impedance headphones
In terms of software, Groove Music is a competent player. But the phone doesn't have the Lumia's system-wide Equaliser, so it's worth looking at options, not least Neutron Player (one of whose control screens is shown below), which adds an extra audio processing layer (on steroids) to your music. Pre-amps, multiple EQs, the works.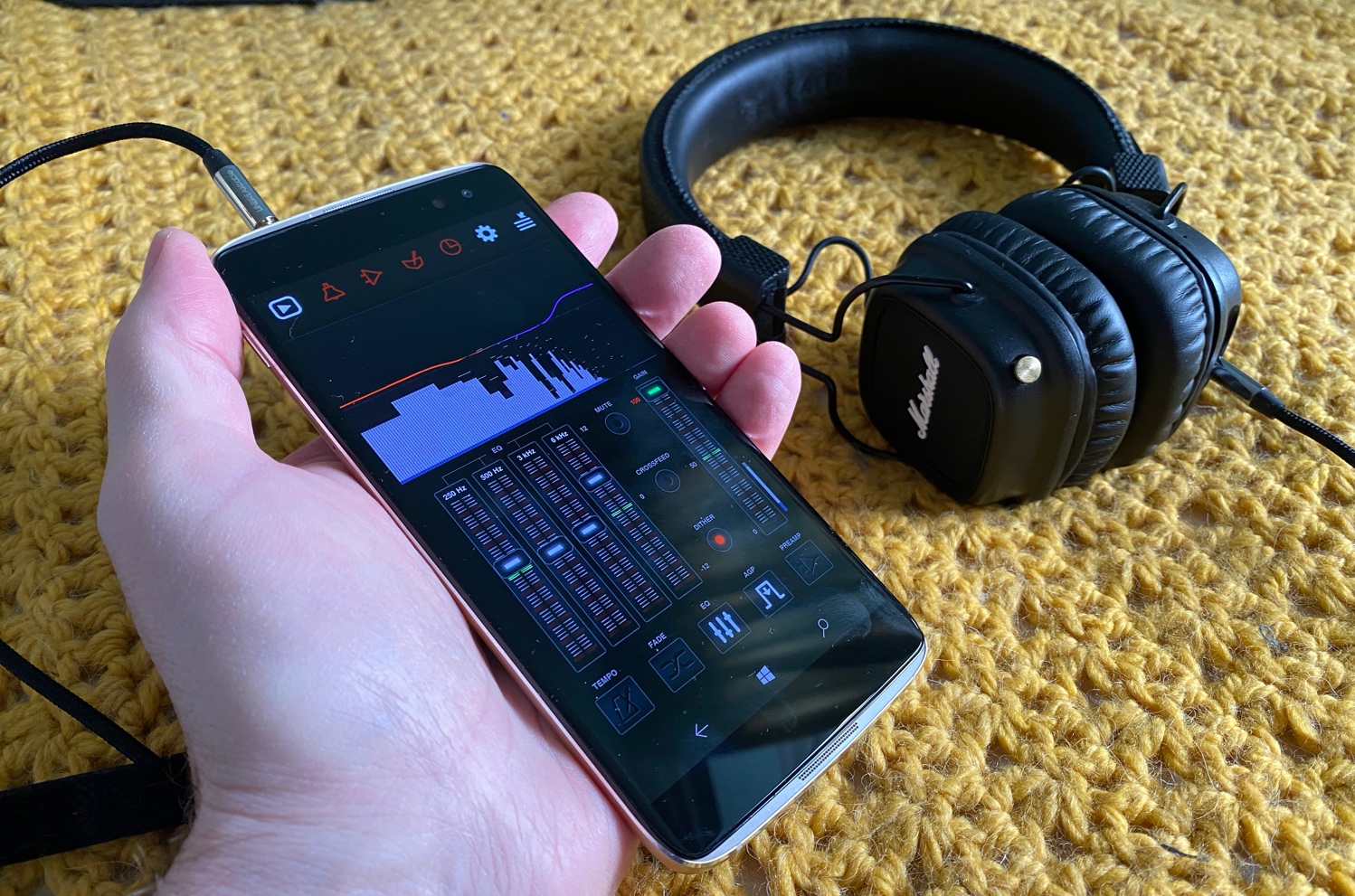 Demoing the speakers
It's worth reminding yourself just how good the stereo speakers on the IDOL 4 Pro are - I rate them up with the best in the Android phone world. You may well have your own 'speaker demo' favourites, but I'd recommend this Jean Michel Jarre cover on YouTube. Stick this on, crank up the volume and be impressed. Or impress others!
Better video
Microsoft's 'Films & TV' is OK as a general local MP4 player, but it's limited in features, not least not remembering where you got to in each (possibly long) file. Instead, go for Video X Player Pro (it's cheap at £1.50 or so), which not only has more functions, but also does a great job of remembering status.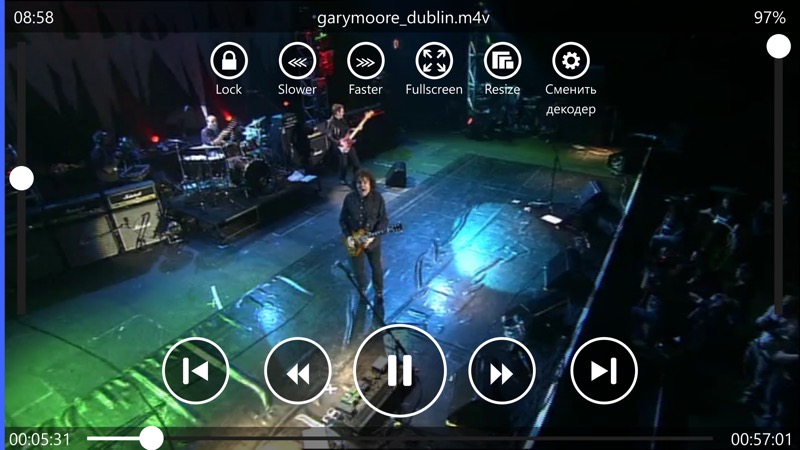 Also, with there being no official YouTube client on Windows Phone or Windows 10 Mobile these days, it's much better to use a third party client than slum it with YouTube in Edge. There are several, but start with Awesome Tube.
Better social
Thinking back, I'm pretty sure that a Facebook client was included with W10M back in the day - but uninstall it, as it's a bloated monster under Windows 10 Mobile these days. Instead, try out SlimSocial, which scrapes Facebook and gets rid of the rubbish, delivering just the stuff you want in a largely dark themed environment. For Twitter, stick with the official UWP client in the Store here - there are no DM notifications, but it's still as good as you can get under Windows 10 Mobile these days. For instagram, try out the always improving Winsta.
Play with Continuum
OK, so the IDOL 4 Pro doesn't come with a HDMI cable or a dock - but it works perfectly with existing docks and adapter cables (covered most recently here), so give it a try. Your IDOL 4 Pro can become a workstation when away from base, if you so choose.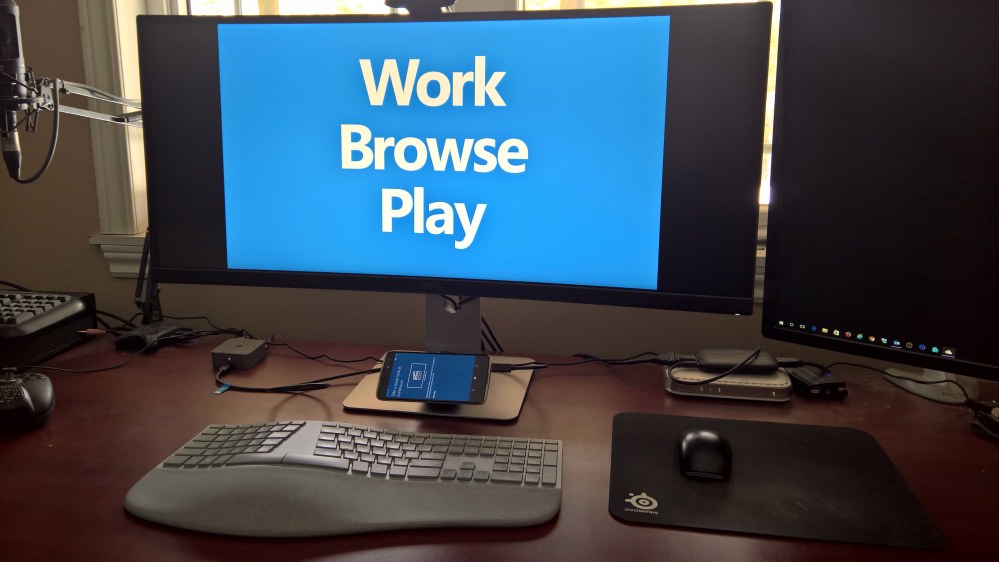 _______
Put all the above into practice and your IDOL 4 Pro just got pimped and is hopefully smoother and more functional - it may not fulfil all the smartphone roles you need in 2020, but it does some things extraordinarily well and these are worth celebrating. And it's definitely worth you hanging onto your niche classic phone, I contend!