Nokia Counters
Nokia Counter lets users track their phone (calling minutes), messaging (SMS sent) and data usage (MB used). The app also allows you to specify a usage allowance (i.e. what's included in your monthly tariff). This is combined with usage data to show you how much of your allowance is remaining at any given moment. This helps users avoid overage charges for data and other services.
The app also keeps track of who you are calling and shows information about your top contacts, together with the amount of time you spent talking to them and the number of messages you sent them.

Counters will be available, via the Nokia collection in the Windows Phone Marketplace, for the US and China by June 22nd. Global availability will follow in July.

Contact Share
Contact Share lets users share contact information, drawn from the People Hub, with friends, via SMS or email. It fills a hole in Windows Phone functionality, which currently does not allow you to easily share third party contact information. The app keeps track of both sent and received contact cards. Received contacts cards can optionally be added the the People Hub.

PlayTo
PlayTo is a DLNA server application to stream content from a device to DLNA capable devices (e.g. TVs, computers, photo frames) across a WiFi network. DLNA is a standard that is built into increasing number of TVs and set top boxes. PlayTo has been ported from Nokia's original Symbian version and is currently available for Nokia's Windows Phone devices via Nokia Beta Labs.
The first beta release allows you to share photos and videos from your phone to DLNA capable devices. In future releases the PlayTo development team is planning to add music sharing support and planning functionality that will allow a Lumia handset to act as a DLNA Media server. This second addition will let other DLNA devices (e.g. games consoles like the XBox 360 and Playstation 3) discover, browse and play content from your device (i.e. no need to manually share from phone).

Camera Extras
The most significant software update comes in the form of Camera Extras app, the features of which include a self-timer mode, action shot mode, panorama creation mode and smart group shot mode. This will greatly expand the functionality of the built-in camera app (HTC has done something similar). The Camera Extras app has been developed by Scalado, which also created the Nokia Creative Studio app. Last week Nokia announced that it planned to acquire assets (software technology, patents and employees) from Scalado. While Camera Extras has been under development for some time, it is easier to see why Nokia might want to bring the team in house, given the importance the company places on mobile imaging as a differentiator.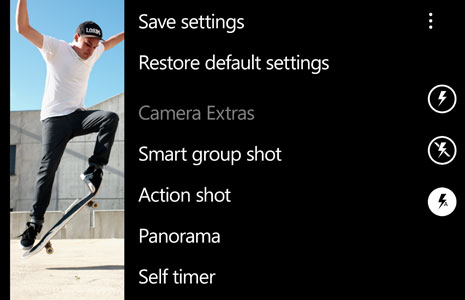 The self-timer mode lets you specify a time delay before a photo is taken, which is ideal for self portraits or for when you want to everyone in a group shot. The action shot, also known as burst mode functionality, lets you take a series of photos in sequence, over just a few seconds. This allows you to "freeze" an action (e.g. throwing a ball) in a series of still images, which can then be combined together into a collage or turned into a short animation.
Smart Group shot functionality offers the ability to take multiple photos of a group of people, and select the best facial expressions from each photo to create one complete (and hopefully pleasing) group portrait. Smart Group Shot is an implementation of the Smart Rewind concept that has been demoed by Scalado on a number of devices.
Camera Extras will be available, via the Nokia collection in the Windows Phone Marketplace, for the US and China by June 22nd. Global availability will follow in July.

Updates to Nokia Music, Nokia Drive, Nokia Maps and Nokia Transport
Nokia's existing core exclusive apps will be receiving a number of updates over the summer months.
Nokia Music 3.0 will deliver improved algorithms for compiling mix radio, with the aim to include live performance tracks in addition to studio recorded tracks.
Nokia Drive 3.0 includes support for live traffic information and is able to offer re-routing options in the case of serious delays. It also has a "my commute" feature, which offers alternative routes on regularly driven routes (Nokia refers to this as "learning" your driving style). The app will also automatically switch between day and night mode depending on the time of day and will add support for favourites.
Nokia Maps 2.0, which has already been released, adds support for syncing favourites (saved) places to maps.nokia.com, enables the pinning of routes to the Start screen and adds the ability to submit reviews and photos of places directly from the app.
Nokia Transport 2.0, which is currently available in Beta, adds support for multiple live tile destinations, improvements in the search engine algorithm, and better information on routes as you travel.
Zynga - Words with Friends and Draw Something
Nokia Lumia devices will also have limited exclusivity on two games from Zynga: Words with Friends and Draw Something.
From Nokia's press release.
Nokia and Zynga announce a new partnership to bring Zynga's hit games to Nokia Lumia smartphones and Windows Phones during autumn 2012, including Words With Friends and Draw Something.

For a two-month period following launch, the titles will be available only through 'Nokia Collection' to Nokia consumers, after which both games will be made available to all Windows Phone consumers via Marketplace.

The announcement underlines Nokia's focus on delivering great, exclusive app and gaming experiences to Nokia Lumia consumers around the world. With 100,000 apps available today in Windows Phone Marketplace, Zynga's Words With Friends and Draw Something will join other great mobile gaming experiences available on the Windows Phone platform.