Review:
Microsoft Lumia 640: no apologies needed
Score:
80%
Even though we reviewed the more unusual and unique Lumia 640 XL first, don't be deceived - it's the vanilla 640 that will receive the lion's share of Microsoft's marketing and the lion's share of the resulting sales. It's cheaper, more normally sized, yet still has decent components and is just about everyone's idea of a "'my first smartphone' that doesn't suck". Which sounds rather dismissive of the 4xx and 5xx series of Lumias, but the 640 is a cut above these devices for not that much more money on the High Street.
The 4xx and 5xx series of Microsoft Lumias are aimed squarely at the bottom and budget ends of the smartphone market, while the 6xx series has always been about providing some serious technology but while keeping the price as low as possible. The 620 and 630 both did that job admirably and I know of many regular users who are still happy with both devices. Yet time marches on and Windows 10, in this case, looms, as an update for all. And as I've speculated before, this will work best when there's 8GB of internal space and 1GB of RAM as minimums. Which is why the 435/535/532/540 had to appear, and also why the 512MB-RAM Lumia 630 had to be superceded, with the result being the new 640 LTE.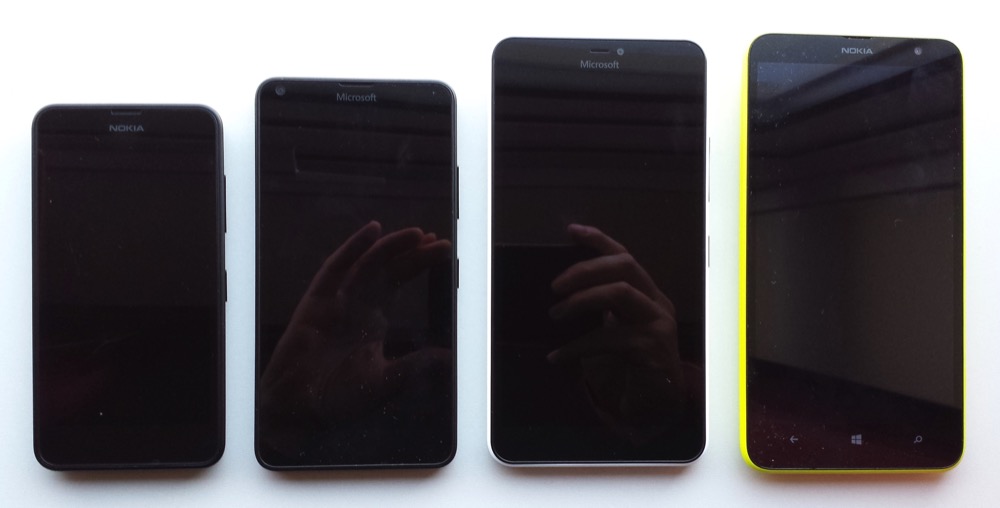 If it seems like it's getting hard to keep track of the new entrants in this range then I do sympathise. What's important to bear in mind is that all the old 512MB RAM devices are being wound down as fast as possible, and that not all phones are pushed as hard - or even available - in all countries. The newest entrant, the 540, has very limited availability world-wide, for example, with the 640 being expected to be the main stalwart for 2015 at the £100 (approx) mark on pay as you go in the UK.
Here's a spec comparison::
| | | | | |
| --- | --- | --- | --- | --- |
| | Lumia 540 | Lumia 630 | Lumia 640 LTE | Lumia 640 XL |
| Price, comment | Brand new low end champion, but only in some markets? Rough starting point is $150 SIM-free. | The established go-to lower mid-tier Windows Phone, now outdated, soon to be in clearance sales. | Hot off the press, the device reviewed here is £99 on pay as you go in the UK, though may go slightly lower. Bargain! | The sister device, and reviewed here. A typical pay as you go price is £180. |
| Display | 5", 720p | 4.5", WVGA, CBD 'Lite' | 5", 720p, CBD 'Lite' and Glance | 5.7", 720p, full CBD polarisers and Glance |
| Cellular connectivity | Dual SIM (limited availability) | up to 3G | up to 3G dual SIM, LTE | up to 3G dual SIM, LTE version too |
| Processor | Snapdragon 200, quad core, 1.2GHz | Snapdragon 400, quad core, 1.2GHz | Snapdragon 400, quad core, 1.2GHz | Snapdragon 400, quad core, 1.2GHz |
| RAM, storage | 1GB, 8GB, microSD | 512MB, 8GB, microSD | 1GB, 8GB, microSD | 1GB, 8GB, microSD |
| Rear camera | 8MP, 480p video capture | 5MP, 720p video capture | 8MP, 1080p video capture | 13MP with ZEISS optics, 1080p video capture |
| Front camera | 5MP | none | 1MP | 5MP |
| Battery capacity | Replaceable 2200mAh | Replaceable 1830mAh | Replaceable 2500mAh | Replaceable 3000mAh |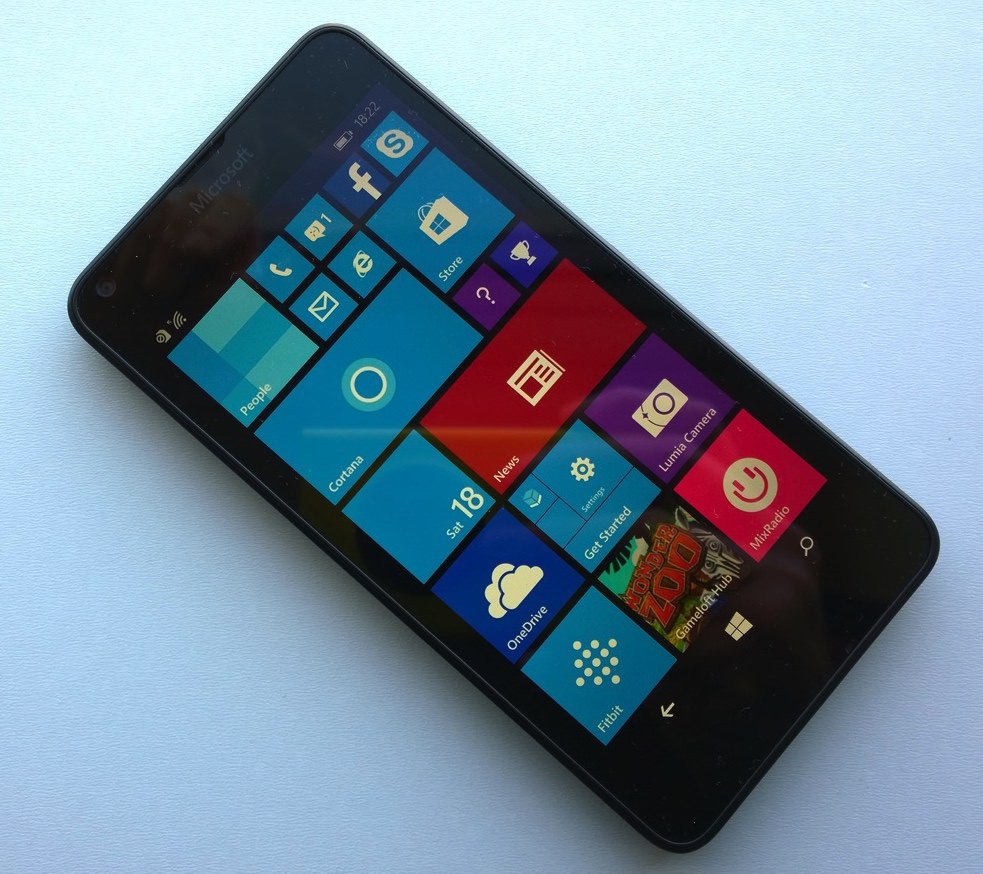 Hardware
Unsurprisingly, the Lumia 640 is remarkably similar in design language and materials to the 630 from last year, reviewed here. There are slightly chamfered slab sides and gently pillowed contours on the back, plus a slight bump for protection for the camera glass, all stretched slightly to accommodate the 5" screen (rather than the 630's 4.5"). Nothing earth shattering, with the Microsoft logo stand out proudly on the back cover, along with a repeat of the name on the front in much more understated shade just below the phone's earpiece. The side buttons don't include one for the camera, as you'd traditionally find on the higher end Lumias, but they're easy to find without looking and are positive in action.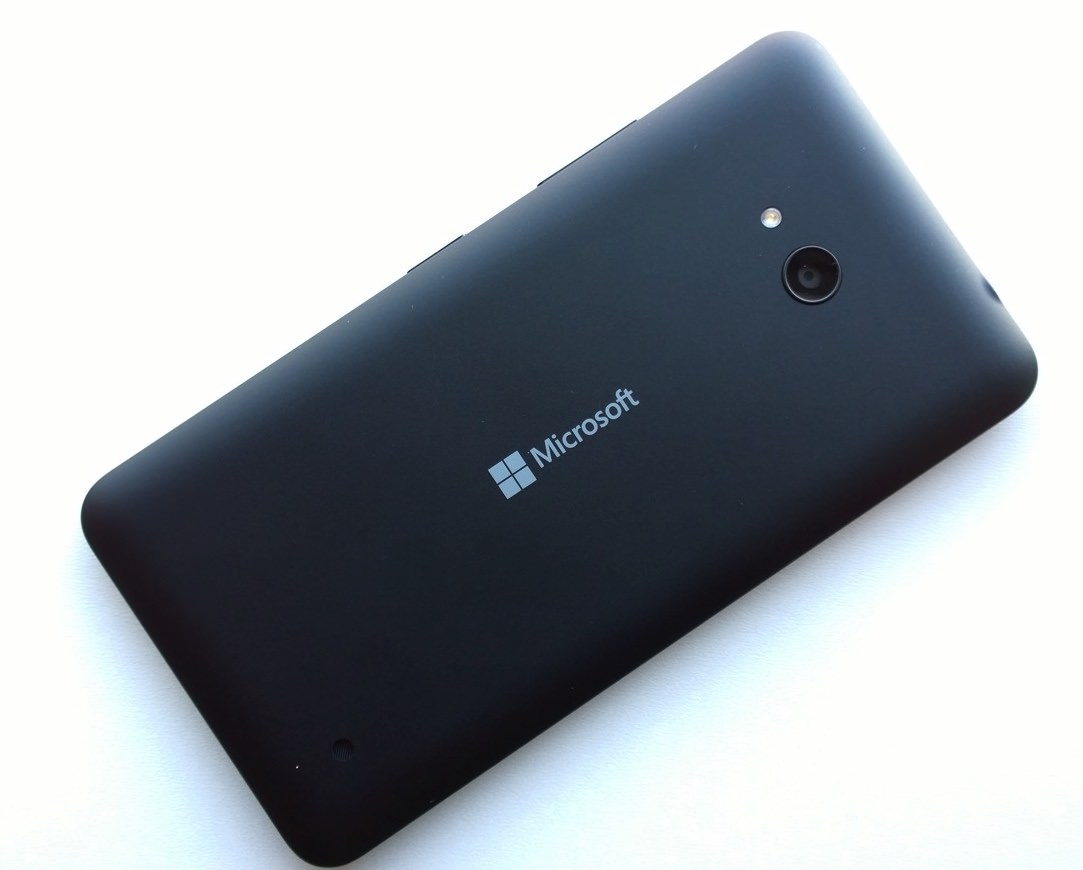 A single hole (just about visible above, near the bottom corner) serves for the mono speaker, but it's nice and loud and I had no complaints. It's probably the same component as in the likes of the Lumia 630 and 620.... It's easily blocked, the tiny camera surround holds the back surface away from obstructions only to a miniscule degree and users won't want to leave the phone face up while playing media. It's fine when in the hand as long as a stray finger doesn't block the hole. It's a shame front-facing speakers haven't come to Windows Phone yet, given that Motorola uses them (in stereo) on the 2nd gen Moto G, though admittedly this is another £30 or more.
The concept of the form factor is the same as on the 630, mind you, the back/sides/shell pop off, revealing a meaty 2500mAh replaceable battery (vital at the low end of the market, where phones are expected to do duty in the family for years) and.... very little else. There are slots to insert a micro SIM and microSD card, but that's your lot. No Qi charging at this price point, no battery contacts for adding a wireless charging shell, but you do get a NFC aerial, which the 630 lacked.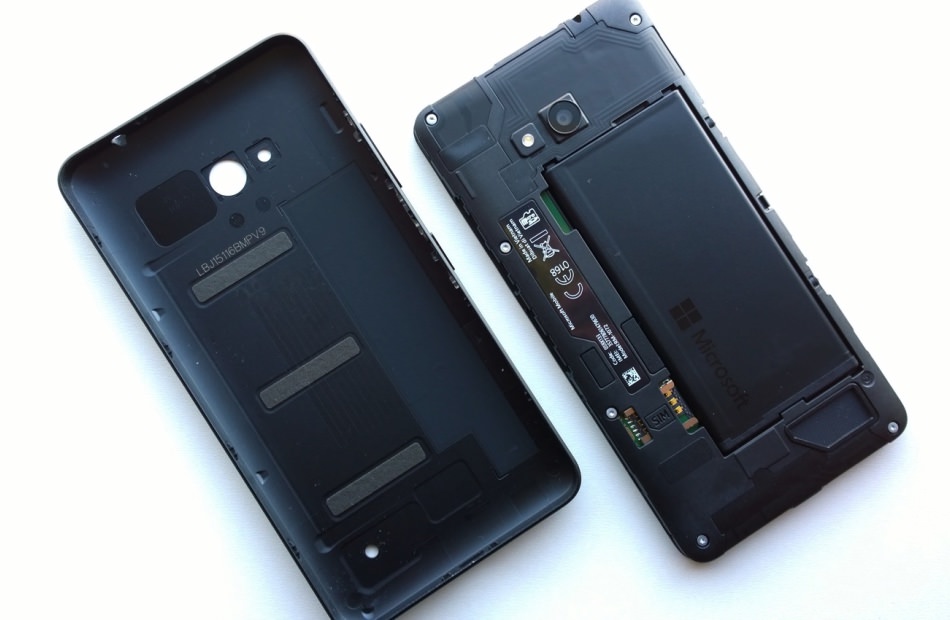 The pads inside the back cover on the 640 are to stop creaks and seem to do a good job - when the cover's on, there are no extraneous noises and the phone feels like a unibody design, even though the screen/back boundary gives away that it isn't.
The battery is relatively huge (for the market segment) at 2500mAh and easily lasted two days on a charge in my testing, so target users who habitually forget to charge overnight shouldn't be left stranded - very good to see.
Also visible with the back off are the two SIM slots (though only one was available on the review sample - this will vary according to market) and the microSD slot, capable of raising storage by up to 128GB. Connectivity is again up to LTE, but market/variant-dependent, so it may be different in your country.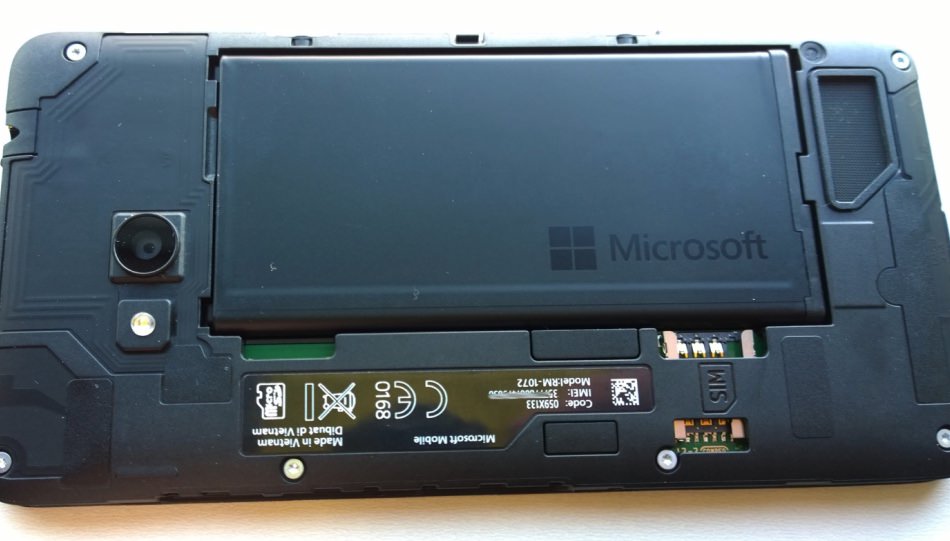 A recent move in the smartphone world generally has been to go to 'virtual' controls (e.g. for back, home) and this is now firmly rolled out in the middle of the Lumia range too, with both the 640 and 640 XL having Windows Phone controls that can be dismissed (or brought back) with a small swipe upwards from the bottom of the display. The system works better than you might think (you get used to it very quickly), saves a little on build cost and offers the chance to have a larger usable display for a given form factor. Potentially, anyway - there's still a good centimetre of bezel above and below the screen on the Lumia 640. Wasted space or valuable gripping area? A subjective call!

The controls disappear automatically when needed, too. For example, when playing back a video or video stream online. They're certainly a big improvement on glaringly backlit physical controls that refuse to dim down on higher end phones and ruin the video experience.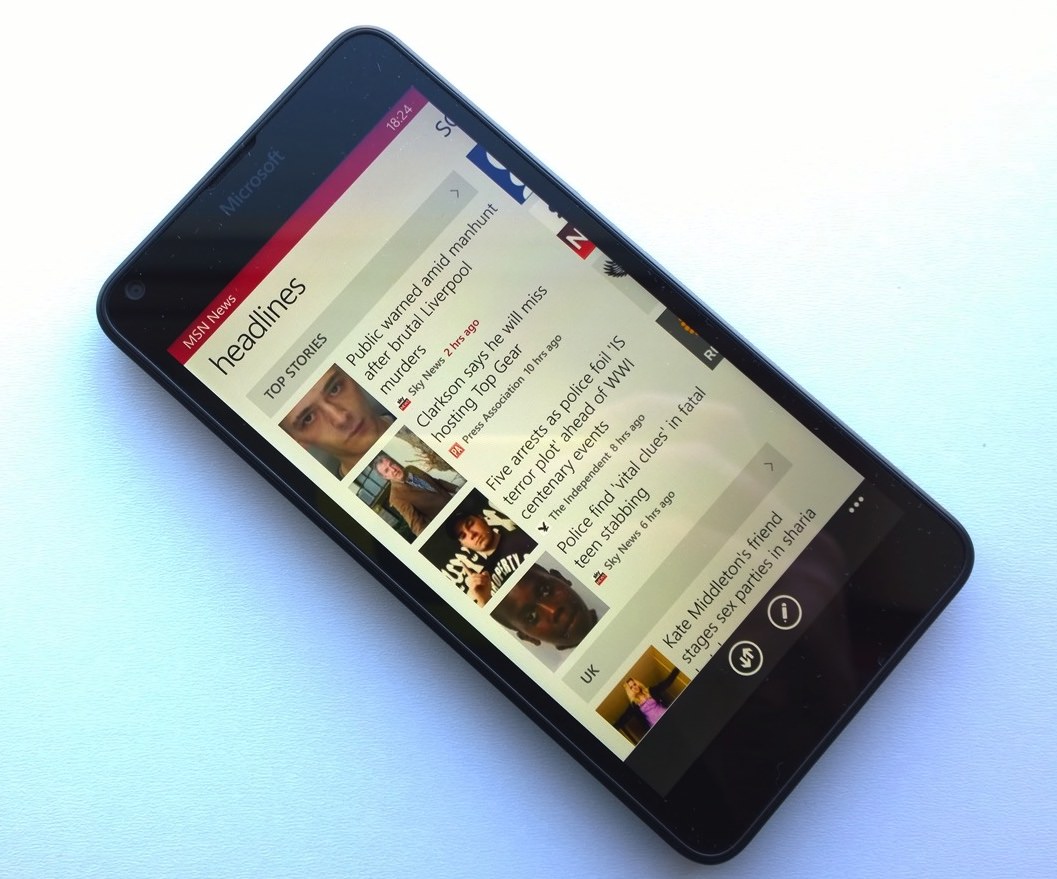 The 720p display is full RGB, being LCD, so you don't lose half the horizontal resolution, as on AMOLED pentile screens. On the 5" display it's admirably crisp, especially considering the price point, it does seem that if you're prepared to pay £100 or so then you never need to 'see' pixels again in the smartphone world in 2015. And this rather belies the craziness that is Quad HD screens creeping into flagships - often with similar sized displays. The Snapdragon 400 chipset and 720p screen here are well matched, and help the 640 reach the intended price point without major compromise.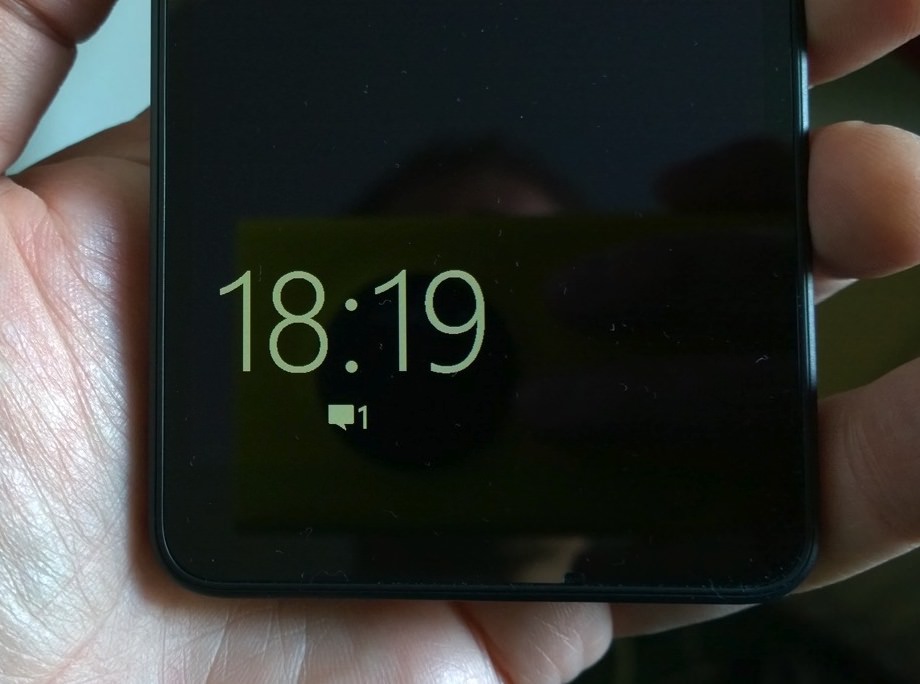 Glance screen is a welcome surprise here, with the slight caveats that its on an LCD base, so if you enable it at night then you'll see some glow from the whole screen and its backlight, plus the display memory used seems more limited than that on the top end Lumias, so you're restricted here to just time and notification icons. Still, it's a 'nice to have' feature, and I also liked the relatively recent addition of 'interval' to the Glance screen options list, representing the best compromise between usefulness and battery saving for Glance on LCD.
One slight disappointment was that the full ClearBlack Display polarisers aren't used. As with the 630 before it, we have here the half-baked 'Lite' single-plane polariser system - it's better than nothing and a cut above much of the competition in the budget realm, but when the sun's out I'd much rather have a 735 or 830 or even a 640XL.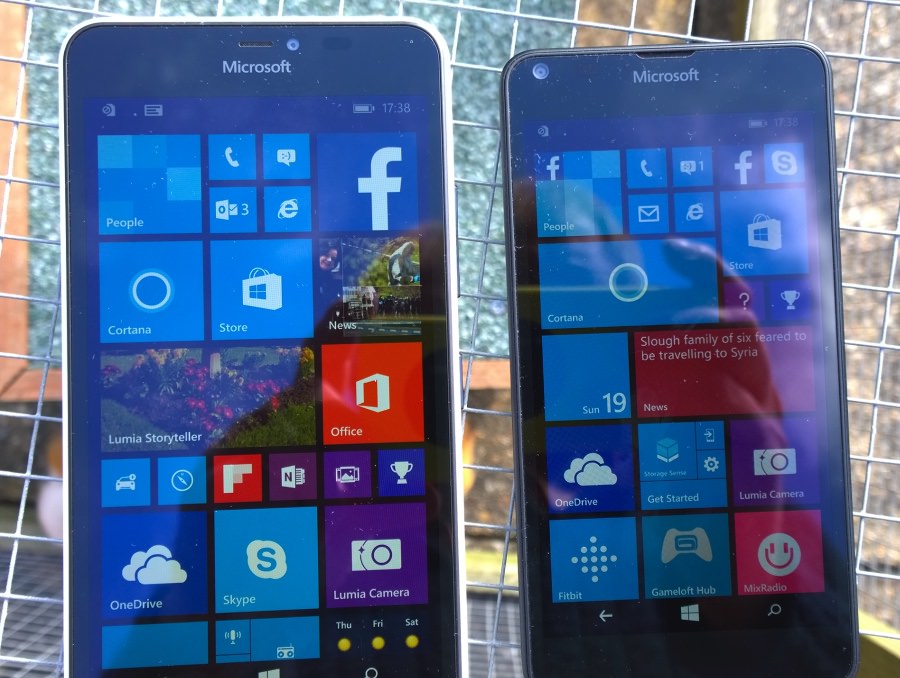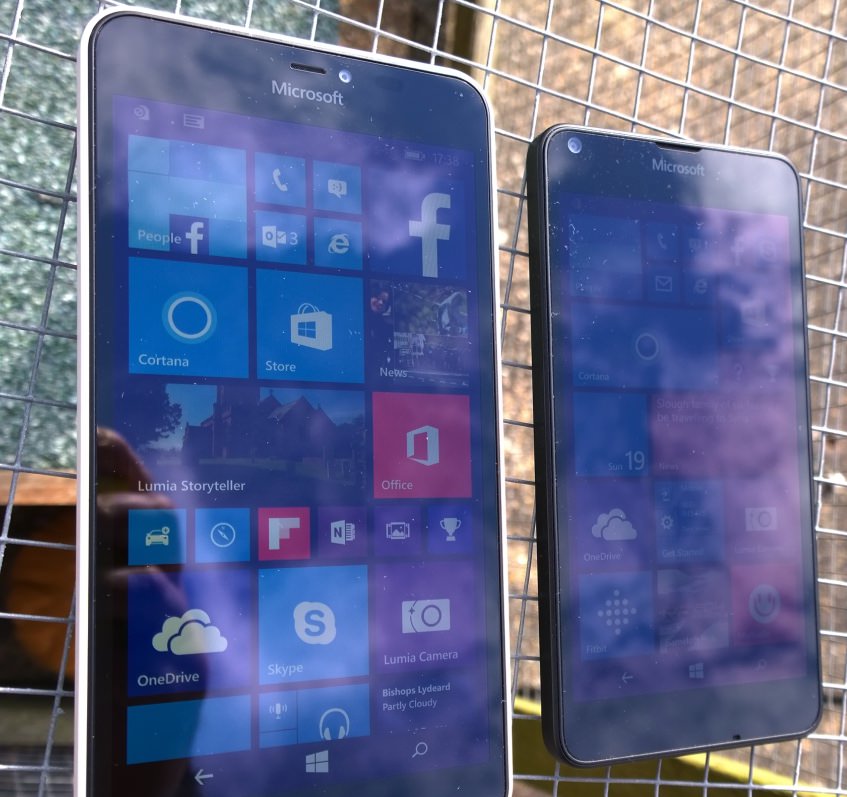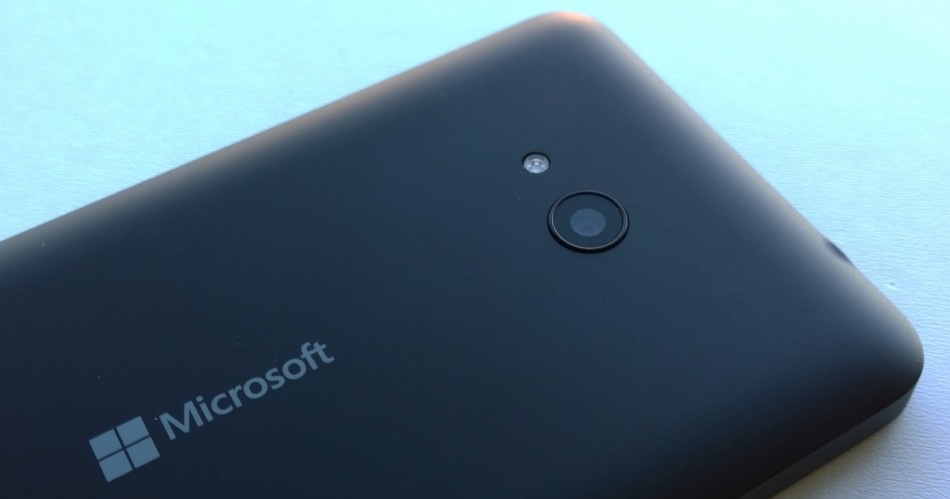 Imaging
Impressive, at least within the price point of £100 (on pay as you go), is the camera here. It's an 8MP sensor in 4:3 aspect ratio, by default producing 6MP images in 16:9, see the assorted samples below. Lumia Camera 5 is supplied out of the box, which is good to see, complete with Rich Capture (HDR) and all the other LC5 innovations. With the launch firmware, there's a delay (in the background) of ten seconds or more per shot while the images are combined. The average user won't notice the resolution drop or indeed the background processing unless they try and shoot several rich captures very quickly after the other, in which case a 'Saving...' message is popped up, advising they wait. Which is fair enough, and the 640 isn't supposed to be an imaging powerhouse...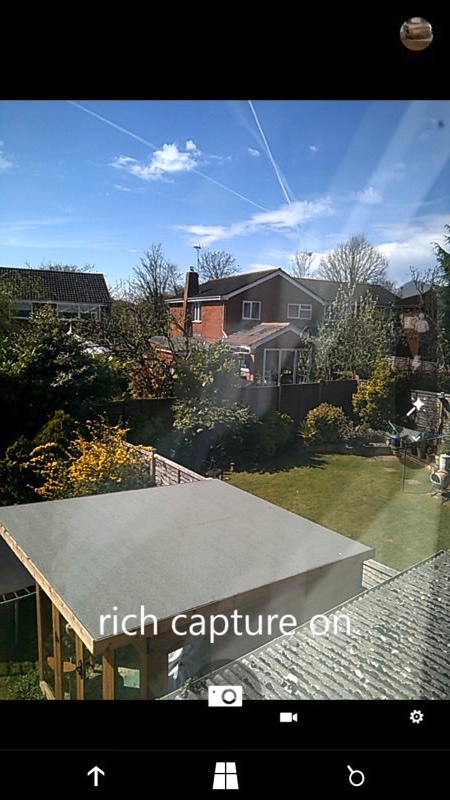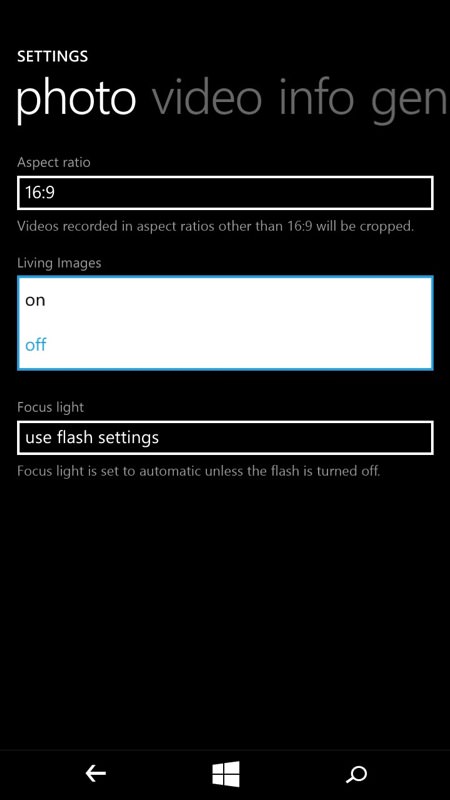 Unlike on the more expensive devices like the 830, there's no OIS to help out, so a little more care needs to be taken in low light in order to get decent shots, but yet again OIS would have added another £10 or £20 to the build cost - the 640 series is all about putting in as much as possible while keeping the cost reasonable.
Here are some example photos, taken in a variety of light conditions, click on each thumbnail to open up or download the full JPG for further inspection:
Video capture is at a maximum of 1080p and with only mono capture (plus, again, no OIS), but this is again quite reasonable at the price. In fact, I was very impressed that this resolution was possible, at both capture and playback time, with the Snapdragon 400 chipset used here - not every such device manages this performance. The Lumia Camera 5 'Select Moment' feature worked well, if slowly, letting 2MP photos be grabbed from the 1080p footage.
OS, interface and apps
Running Windows Phone 8.1 Update 2, there are a few tweaks here which we haven't seen before on the platform, the most obvious of which is the reorganisation (at last) of the Settings menus. All settings are now grouped thematically and tapping on any of the section headings brings up a pick list so that you can jump to another section. Much better than the old way of doing things, though I do worry that it'll all get changed again when Windows 10 arrives?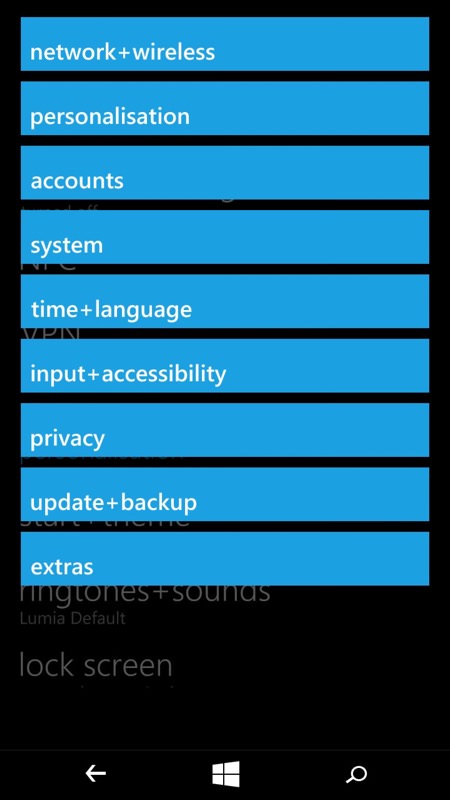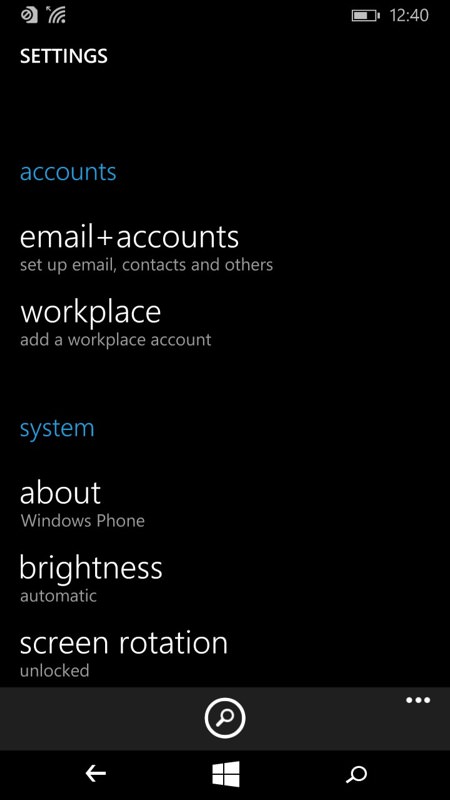 You can also pin any individual setting to your Start screen, which is handy if you're in the habit of toggling something. Aside from this, we're mainly talking under the hood improvements, especially in terms of Bluetooth and especially in terms of device management, with 'find my phone' now allowing remote locking and erasing, should the worst happen and you get separated from your smartphone (this addition was required by new USA regulations, by the way, for sales in that region, but will be useful everywhere).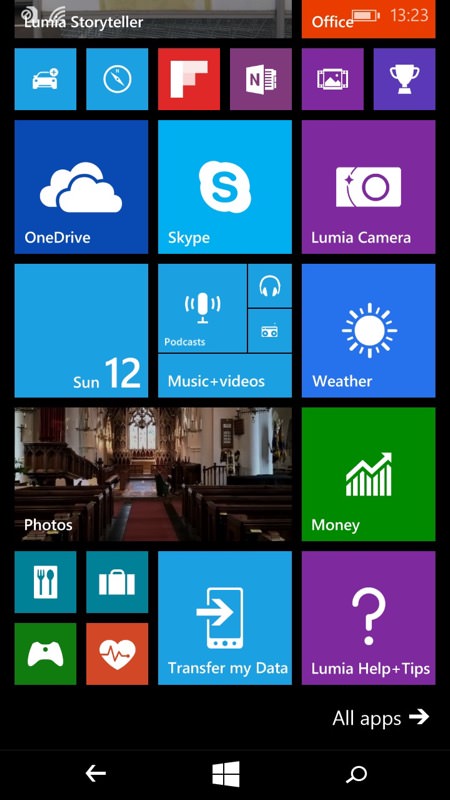 Of note in the main application list is that:
'Camera' has now gone, it's just 'Lumia Camera', which is fine. Windows 10's Insiders 'Camera' app seems to be based on Lumia Camera 5, so you shouldn't notice any difference when the big '10' hits the 640 in about six months time.

Both Lumia Storyteller and Photos are included, though only the latter is put on the Start screen, implying that the 640's final software design predates that of the 640 XL, unsurprisingly. See my thoughts on Storyteller being phased in as a replacement.

The official Fitbit client is preinstalled, the accessory will come with some 640 units, depending on market (it wasn't in ours, in physical or voucher form).

The full MSN (Bing) application suite is here, of course.

MixRadio is still here, though I'd expect that to disappear from firmware when Windows 10 hits.

Barclay's Pingit is preinstalled - on our UK review device, though as usual local applications of interest will be supplied with 640s sold around the world - another reason why there are so many firmware builds for Windows Phones - Nokia and now Microsoft love to customise their device loadouts for each market.
So nothing earth shattering, but a solid update and a pretty mature platform, even if not all the third party applications that everyone wants are available for Windows Phone in every region (hint: social, banking).
There's Office too, included here (as with the 640 XL) is a year's worth of Office 365 Personal, i.e. including the facility to also use Office on two other devices (e.g. your tablet and laptop) that you're signed into: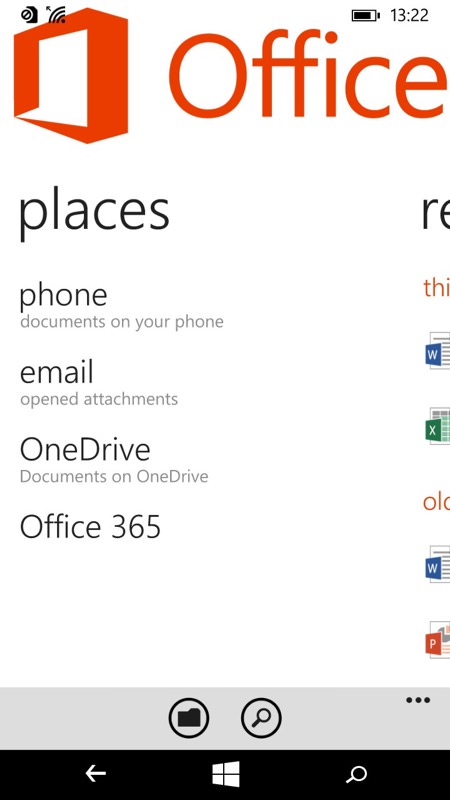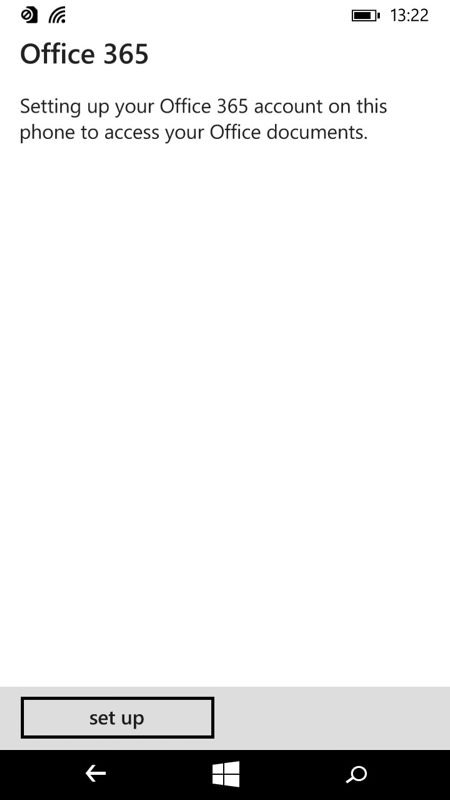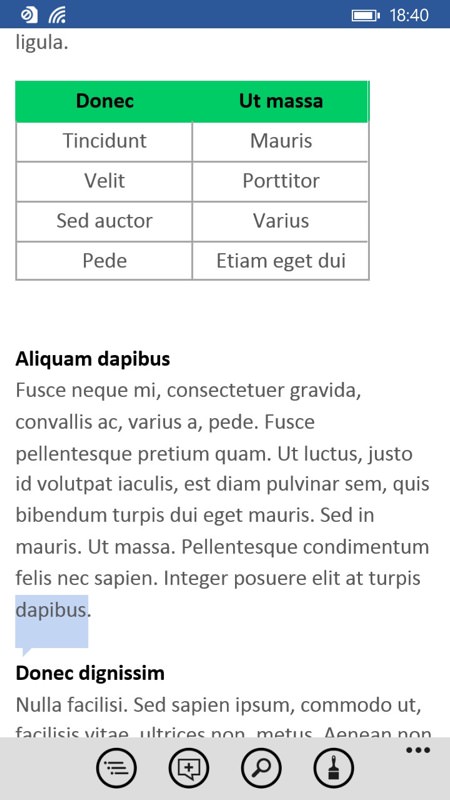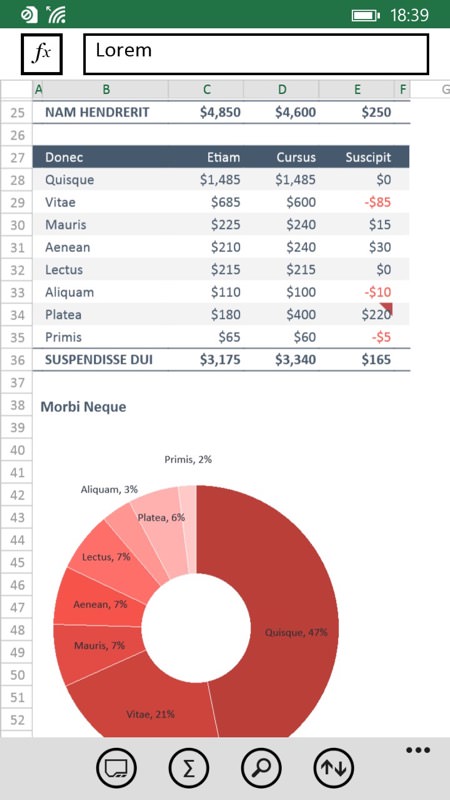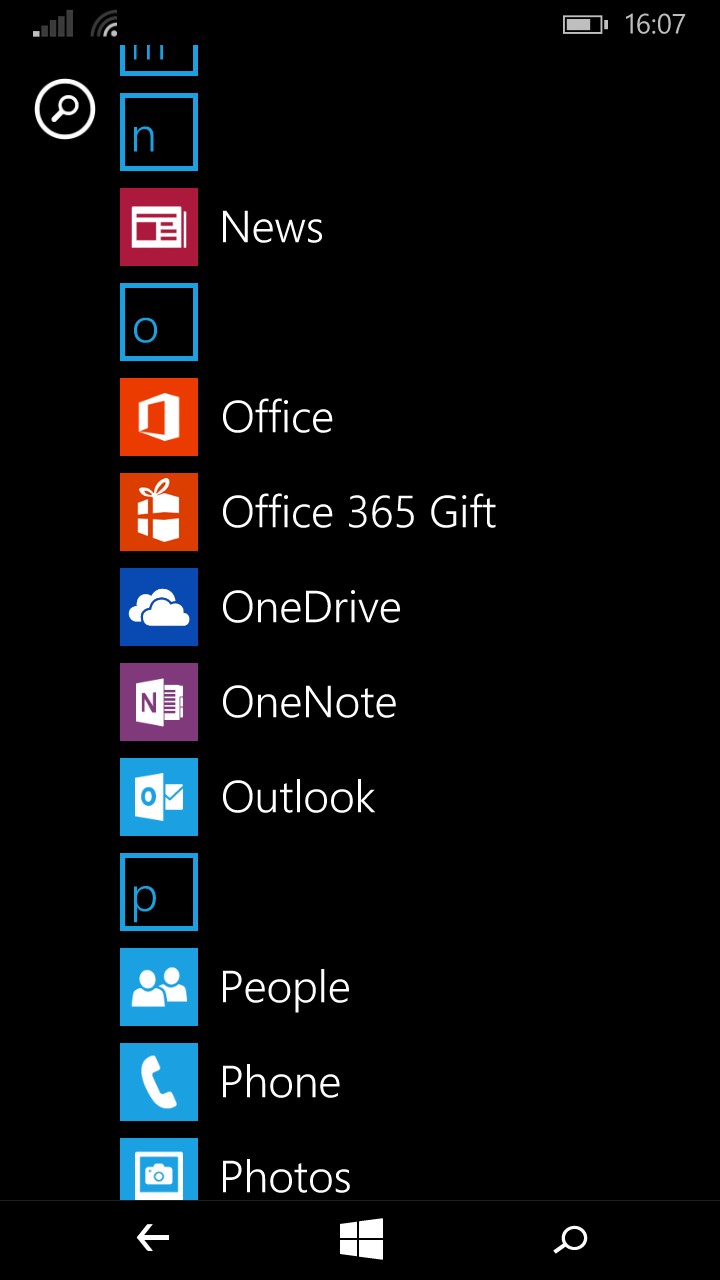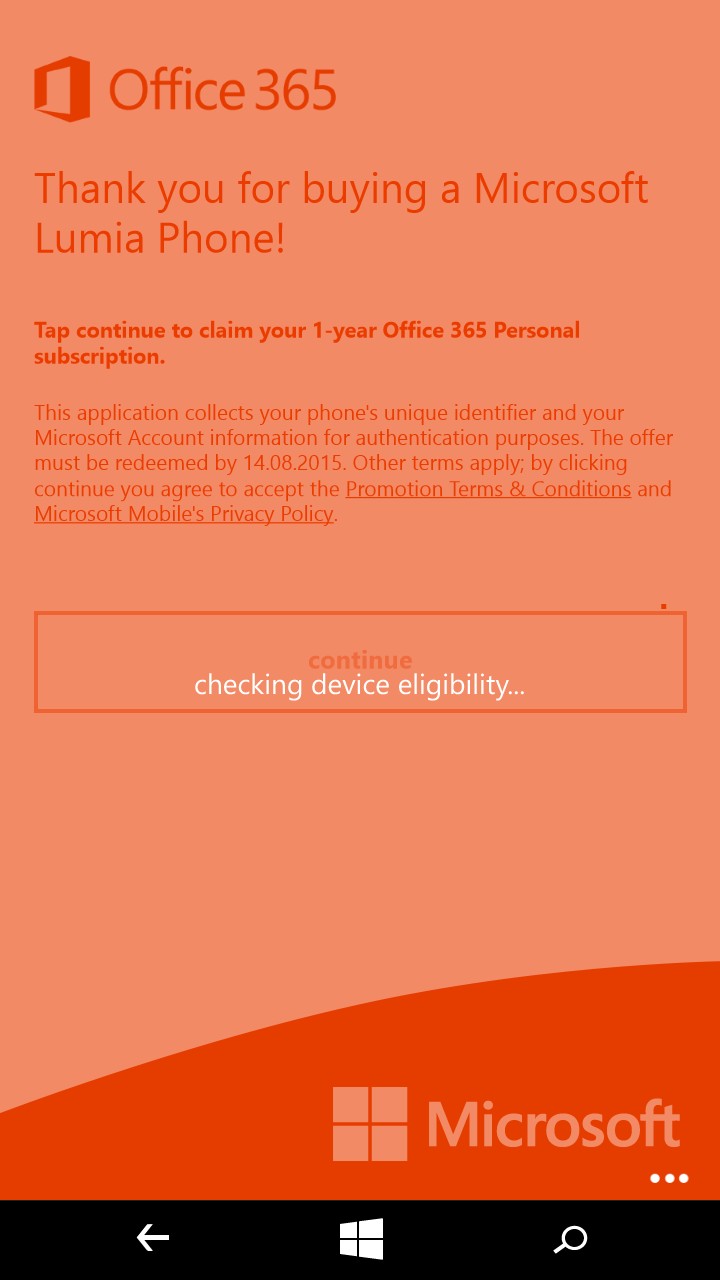 As shown above, the secret to setting up the free year of Office 365 is that you have to know to search for, find and install a special 'Gift' app - this then checks eligibility and provides you with an Office code via email 'on a PC or Mac' - you can't complete activation on a smartphone, it seems. It's a tiny bit convoluted, pasting in each part of a lengthy product key, bit by bit, but it did work in the end. I presume that retail 640s sold on the High Street will come with a paper voucher explaining about the existence of the 'Office 365 Gift' app and hopefully with a QR code link. (How will the new user know how to scan a QR code in Windows Phone? Good question. Microsoft needs to copy this function across from an obscure camera 'lens' to Cortana ASAP.)
Of course, the target market for the Lumia 640 may not even activate this free year of Office - the applications on the phone will work just fine if someone sends them a document, etc. And Microsoft doesn't even include Office as an icon on the Start screen, so there are somewhat mixed messages coming out of the 640 team - just how much is the Office 365 angle being pushed?
Verdict
Taking my cue from the review title, the Lumia 640 is perhaps the first budget Windows Phone for which no apology is needed, no caveat required, when recommending it to a friend or relative. Previous devices always had to have some rider attached:
"It's a bit small..." or "the screen isn't brilliant..." or, of course, "It's Windows Phone..."(!), all followed swiftly by "...but it's very affordable!"
With the Lumia 640, the specification is good enough, the form factor competitive enough and the price often still within typical 'budget' bounds - as with the Lumia 640 XL already reviewed, this would be an easy recommendation to anyone wanting a responsive smartphone with a shallow learning curve and which still had a good display, camera and speaker, with potentially killer battery life. As I say, no apology needed.
The 630 and 635 were big sellers, at least within the Windows Phone ecosystem, and recognisable in people's hands in the UK, Italy and other hotspots around the globe. The 640 should do even better, if there's any justice in the world. Its fate will probably be tied to some degree with Windows 10, for which it'll get the update in the Autumn.
PS. See also our additional photo gallery for the Lumia 640.
Reviewed by Steve Litchfield at