My series 'Anatomy of a Lumia photo' (here's #1) has proved popular, even though I cheated with the HP Elite x3 instead for #2. #3 had a lovely clock, #4 was all about framing, in #5, I got down and dirty with nature, in #6 I had a rosy dilemma to solve, and in #7 I took a satisfying low light snap in appalling weather. In #8, I got extremely close to an impressive moth, in #9 Andrew Elliott was in Budapest at night, in #10, I was shooting in early morning sun, in #11, I shot 'wide', with a little help from Panorama mode, in #12 I kept repositioning and zooming until I got a water fountain just right and in #13, Jeff Appleton got a good look at The Northern Lights. Then, rounding off the series for its previous run (in 2017) was #14, looking at a glowing tower.
Resuming in 2019 and widening the series out to photos from any smartphone, here's #15, looking at framing a waterfall and pond, #16, steaming to the seaside with angles and perspectives, #17, 'Remembrance', creatively shooting a Remembrance Day display at night, in #18 I returned to the graveyard featured in #18, but this time with oodles of December fog to add atmosphere, in #19 I went walking in a Bluebell wood, in #20 I used a lens trick to overcome shallow DoF, and in #21 I played with healing a cinematic zoom(!)
In this feature, I was out with family at Waddesdon Manor at their annual Christmas bash, with the main building lit up moodily, and noted that it took several tries to capture the character of the rather impressive building. There's just so much detail on its frontage - very impressive. But how best to capture it in a single image? (I know, I know, the answer is to capture lots of photos, but the example here does hopefully make for an interesting tutorial feature.)
I had with me the iPhone 12 Pro Max and Pixel 6 Pro, and took a roughly equal number of photos with each. See the in-line notes on the latter below where appropriate.
Obviously, we were visiting late in the day, in low light, with a 'light trail' to go round when it was a bit darker still. Here's the building in question, and my first snap, viewed from about 100m (i.e. it's big!) and taken on the Pixel: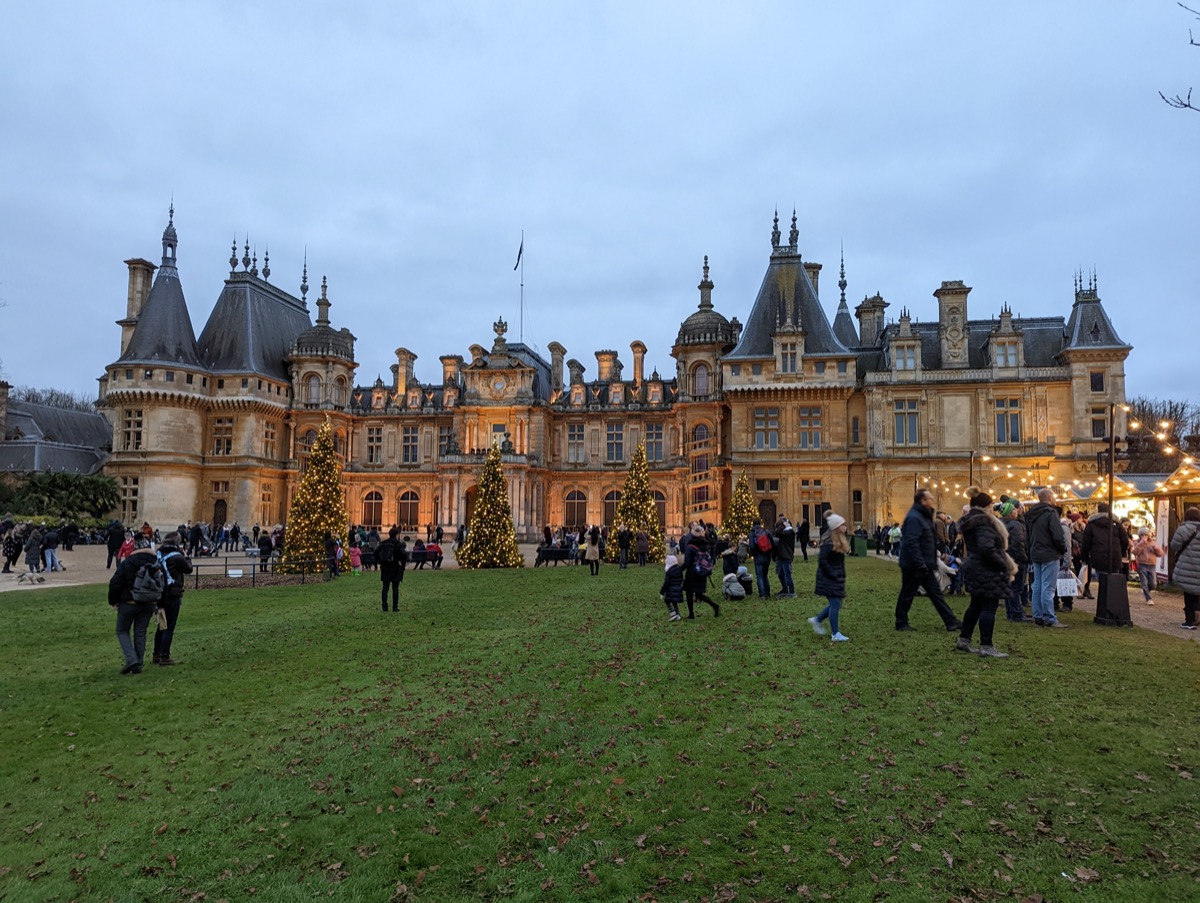 Now, although this is a perfectly fine snap to show someone, there's actually a huge amount of fine and interesting detail on the building and I'd like my 'single photo' to show more of it. Somehow.
My first try and getting closer was to move to the edge of the grass and try the iPhone's wide-angle camera: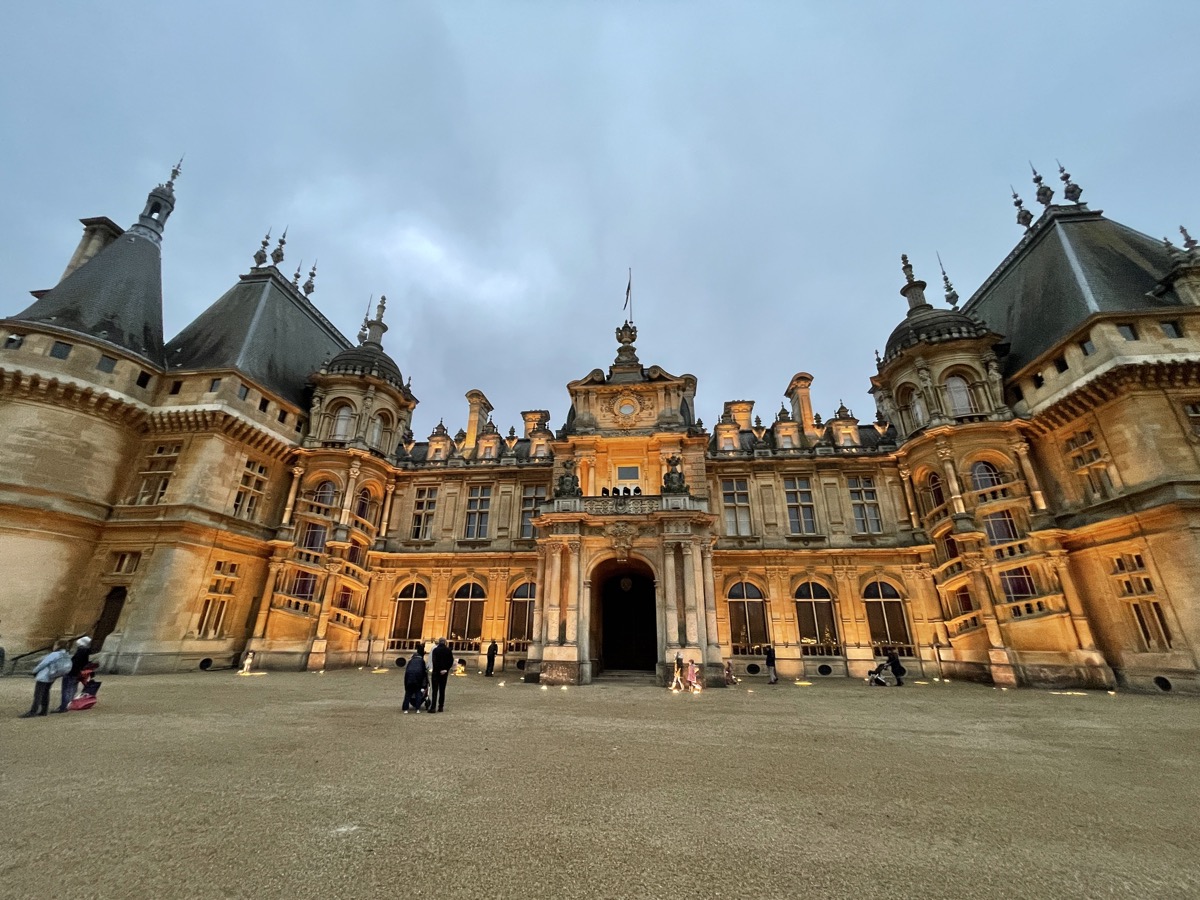 Despite the general Internet's fondness for 'ultra-wide' cameras, I do find them a bit of a gimmick - verticals are always a problem, despite software attempts to fix them. You'll get the idea from the attempt above.
The other trick when faced with something really, really large (other than moving further away, as in the first shot above) is to use the 'pano' (rama) function on any given smartphone. In fact, the iPhone generally takes wonderful panoramas, but while landscapes might look OK, the necessary optical distortion that doesn't show up in grassy fields, hills, and mountains, shows up all too obviously if the subject is closer than a few hundred metres. As is the case here: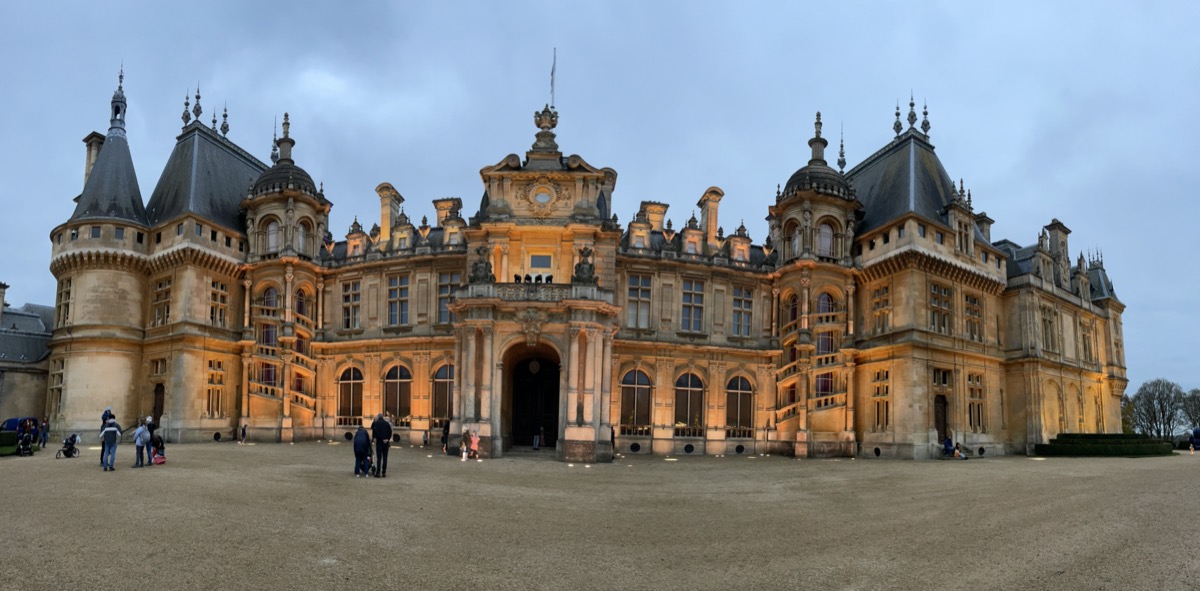 My final trick is to try and shoot at an oblique angle, again on the iPhone, getting more of the frontage in for a given shooting angle. I was hampered in this case by people milling around, so was restricted in where I stood. But you'll get the idea from this extra snap: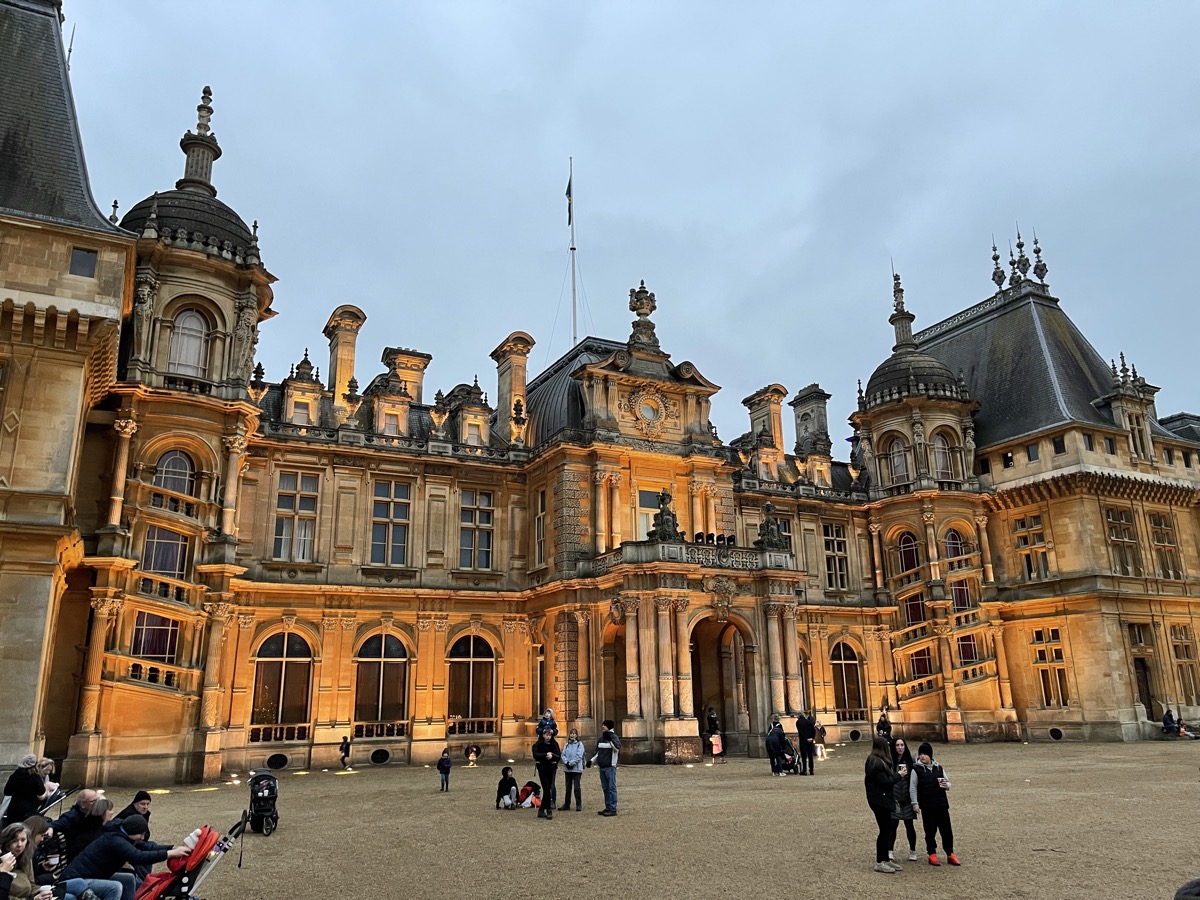 Pretty atmospheric and with good detail, the iPhone 12 Pro Max is a terrific low light shooter, but there's still no way to get everything in. Which is the titular decision - do I step back and back in order to get an overview or do I try to get the character of the building by capturing the incredible masonry detail?
You've seen the overall shot, right at the top, but while the building looks impressive, you'd have to view the photo on a giant screen in order to actually see the fancy stonework. I switched back to the Pixel 6 Pro and snapped again just off to the centre point: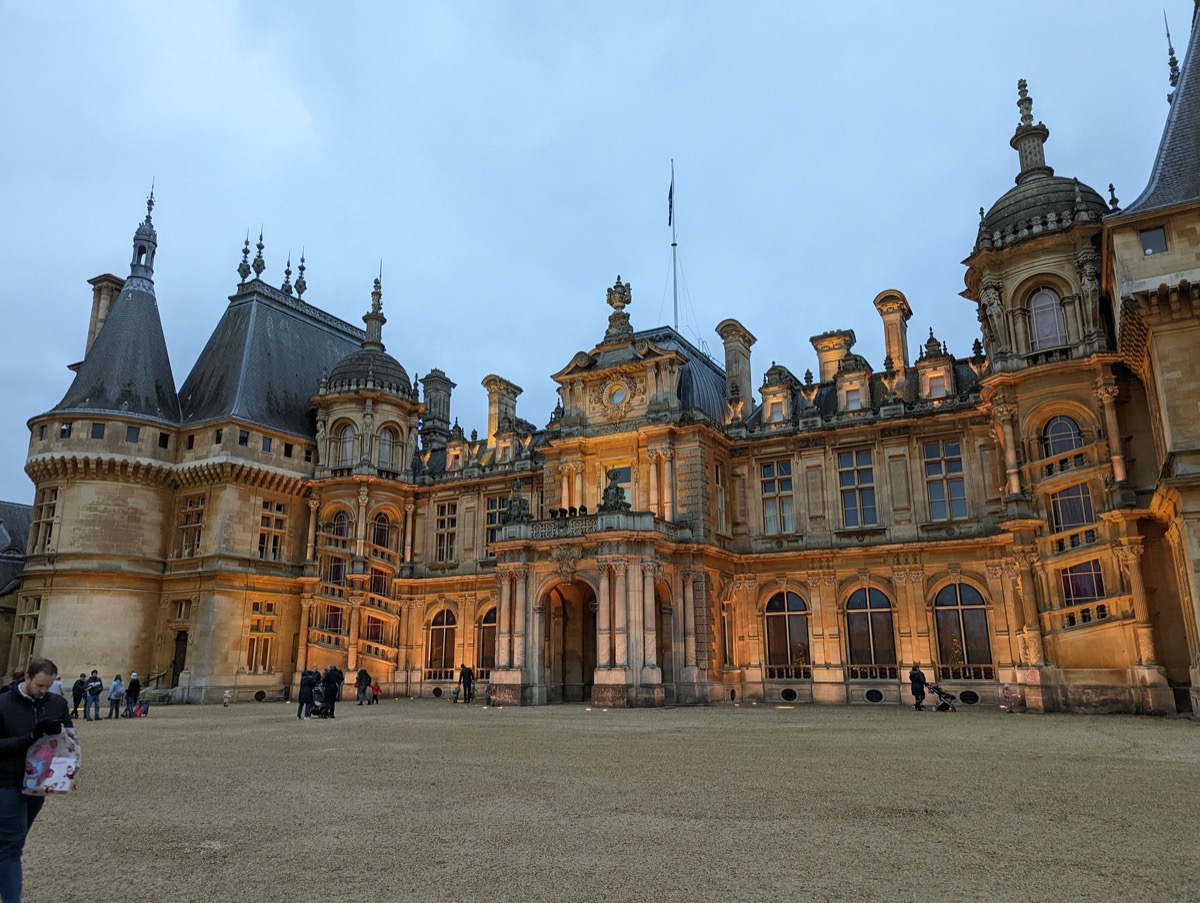 Similar in feel to the iPhone's oblique attempt. So let's take advantage of the Pixel's excellent 4x telephoto and see how much detail is in the frame: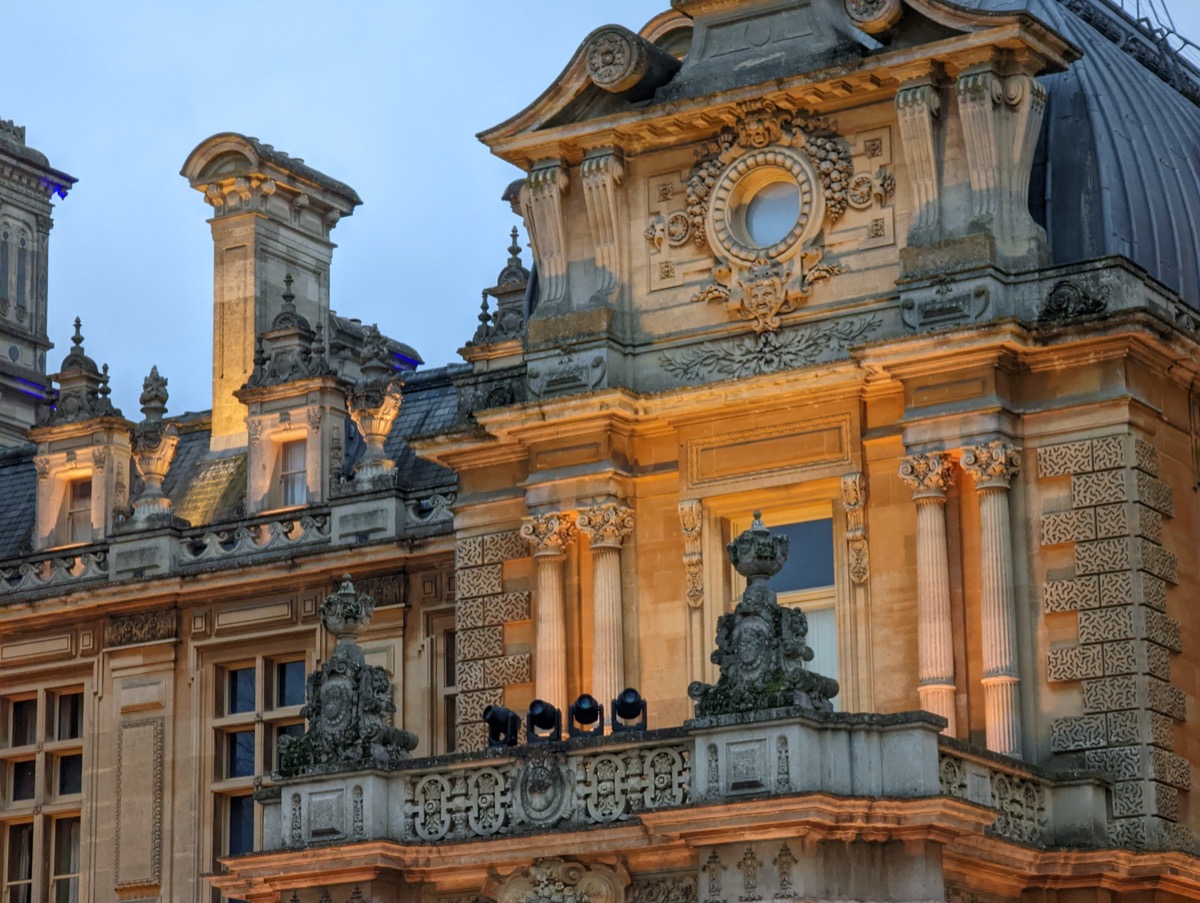 Pretty decent detail considering the low light levels, but the problem here is that 4x zoom is just too much, you're optically too close. This is something I keep ranting about when smartphones come with 5x or 10x telephoto lenses. All very impressive for snapping a squirrel at 50m or a church tower at 250m, but very impractical for every day snaps. Like this one.
OK, let's try the Pixel 6 Pro's '2x' preset, using cropping on the main sensor*: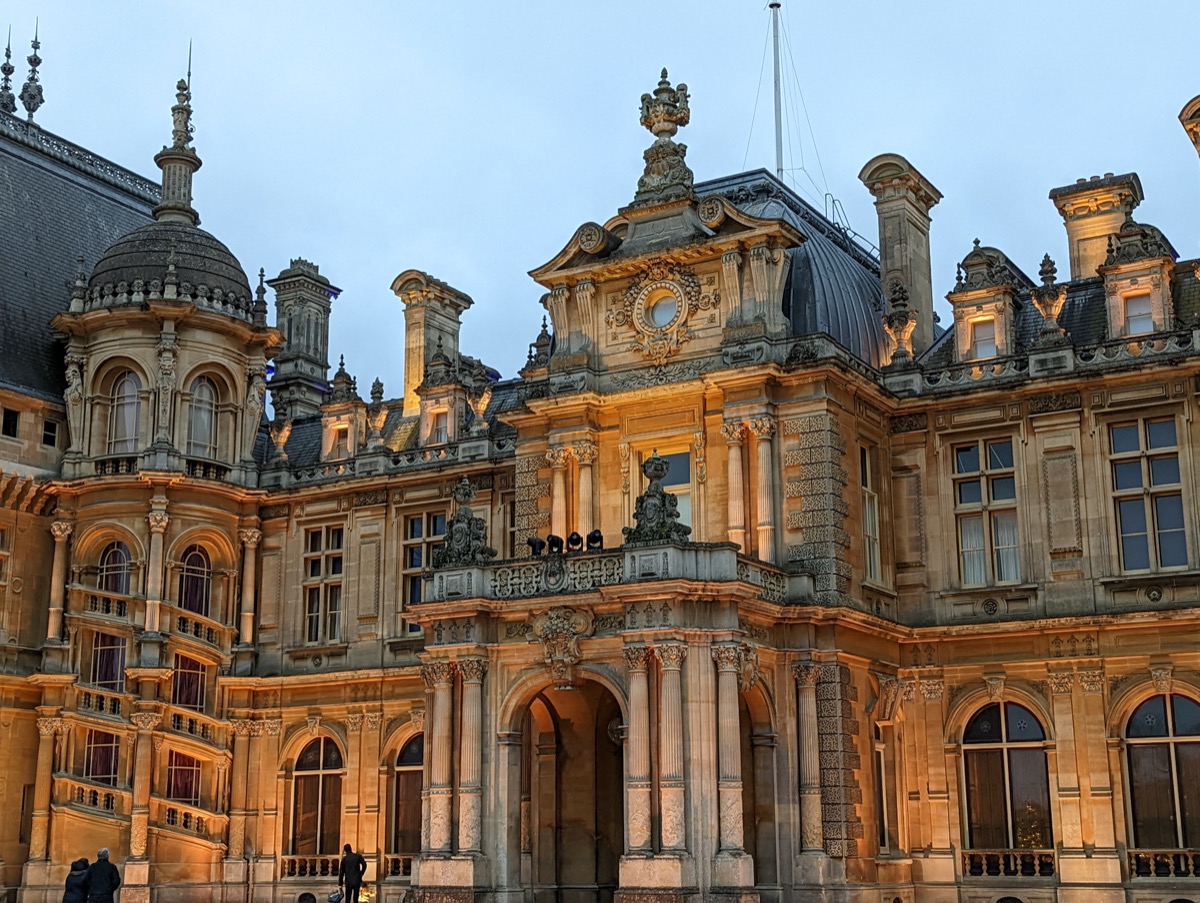 * The asterisk is because this was at the start of my Pixel 6 Pro review period and I didn't yet know that Google's Super Res Zoom system (multiple frames all nudged to one side by fractions of a sensor pixel) didn't work on it, or at least not yet... I'm waiting on updates! Having said that, the result at 2x isn't too terrible - it's anything over 2x and less than 3.9x that's a disaster.
Now this works really well, I contend. There's enough of the building to get a sense of size and majesty, yet we're close enough to look across the frame and think "Whoa, those textures and carvings!"
If this sequence of examples has been a little 'train of thought', it's because this is what I was thinking during the couple of minutes when I took the photos. If there's a takeaway it's not that you don't always have to 'get everything in' if it means losing so much detail that the subject ceases to become interesting.
Or maybe you do. It's very subjective and comments are most welcome!
PS. Note that the original image is available online here, Pixel zoom-warts and all, if you're interested.