Best device
Steve: Nokia Lumia 1020. Of course. This, after two years of the Nokia 808 on Symbian, with the large sensor, oversampling and Xenon flash, was the device many people had been waiting for, the pinnacle of Nokia's camera expertise allied to a much newer OS. The 1020 will carry on getting updates through 2014, of course, with significant improvements to the camera, too. It's a no-brainer pick from me here. A special device and one (like the 808) that I will probably take to my grave.
Ewan: Nokia Lumia 620. While the Lumia 520 (and now the Lumia 525) continue to do sterling service in the lower-end smartphone market, the Lumia 620 is my device of the year. Not because of a maxed out specification sheet, or because of the low price and high volume of sales, which are admirably covered by other devices, but because the Lumia 620 just feels like a fun device. It goes for the bathtub design, it has the interchangeable covers, and it fits nicely in my hand.
I'm a sucker for powerful smartphones in small packages, and the tweaks that the 620 has over the 520 design (notably in terms of screen quality, camera hardware, and external sensors) are enough for me to grab this over the hipster's favourite budget Windows Phone. It's my leisure machine, with the Xbox Music Pass, all my Xbox Games, and a bundle of ebooks. If I'm grabbing a phone to have fun with, it's the 620... naturally with the shockingly yellow case.
Rafe: Nokia Lumia 925. My current Windows Phone device of choice and arguably the first of Nokia's high-end Lumia devices to really stand shoulder to shoulder with competing devices running iOS and Android. It benefited from being the first device to run the Lumia Amber software update and GDR2 Windows Phone release, but what really stood out was a slimmed downed profile (compared to the Lumia 920) and the competitive price point (around £450 at launch, now around £300).
The Lumia 520 also merits a mention here as the best selling Windows Phone device of the year. It really is amazing value, especially in its UK PAYG pricing of £60 (similar deals available in other markets too).

Best general app
Steve: HERE Drive+. Yes, yes, a cop out and something of an obvious pick, but I thought I'd get in first. The speed, accuracy and interface of Nokia's navigation application is still industry-leading, following a decade of development over on Symbian. Not least because there's no data lag, all maps being capable of being stored locally, on the phone. In addition, the clarity of Nokia's displays outdoors and in the car help enormously, where some competitors on other platforms would be showing glare or washout.
Ewan: Legimi e-book Reader. Windows Phone does not receive strong backing from the e-book publishers in the world. Amazon's Kindle app misses some key features, including the ability to use personal documents or read your own e-book files, Nook and Kobo do not have Windows Phone apps, and let's not even think about trying to bring Google Play's Book Store over to Microsoft's platform. Where can an eBook fan go on Windows Phone? Legimi.
This third-party app can download books from online libraries, direct from a URL, or from a folder in your SkyDrive. It allows you to configure pretty much every viewing option from font size and justification to page turning controls and various colour themes. Yes, it takes a bit of effort to set it up so your e-books are displayed how you want them, but once it is set up its open nature means that if you can find the book online, if you can edit your own text, if you are a big user of apps like Calibre on your desktop, then Legimi will let you read all those books (and more) on your Windows Phone. Invaluable.
Rafe: WhatsApp. Like Steve's choice, this feels like a bit of a cop out, but this year has seen social messaging apps figure big in the public consciousness, so it feels appropriate to give WhatsApp some attention here. In all honesty, I really struggled to pick out a single app for this category, but in the end gave WhatsApp the nod because of the apps newly pinned to my Start screen this year, it is the one that has got closest to the top.
Other apps that have made it on to my Start screen this year include the updated version of the official Twitter app (replacing a couple of third party clients), Microsoft's Bing News app (the other Bing apps are good too), Fitbit Tracker, and Listen Again. I suspect everyone will have a different list here and perhaps the more relevant point is that there's more choice than ever (now over 200,000 apps). An increasing number of high profile releases arrived in the second half of the year, best exemplified by the much anticipated Instagram.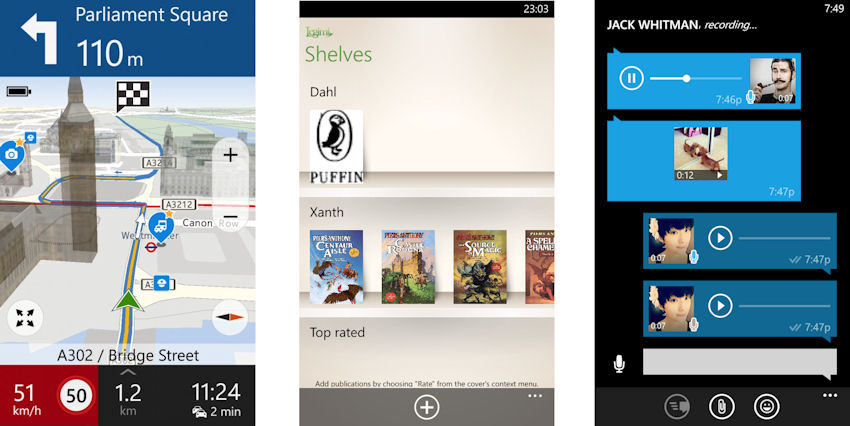 Best media app
Steve: Netflix. Leaving aside that the WP version doesn't yet have 'profiles' (e.g. one for each family member who uses the Netflix account), it's simply wonderful to have several TV series and movies on the go and dip into them when I have a spare moment or while doing chores. Yes, this is also available on iOS and Android, of course, but as someone coming from Symbian, the very availability of Netflix on the phone was a really pleasant surprise.
Ewan: 6Tag. While the mainstream press wondered where the official Instagram client was, everyone else was already snapping, sharing, filtering, and favouriting, thanks to Rudy Huyn's third party client for the service. 6tag offers everything that the official apps on iOS and Android offered, but with a Windows Phone feel. It is fast, smooth and user friendly.
Probably the biggest testament to the app is that when the official client was released, everyone looked at Instagram's efforts and decided that 6tag offered more features, a better experience, and integrated with the Windows Phone environment more successfully. When you're doing it better, faster, and with more acclaim than the service that really should have a vested interest in the platform, you know you've got it right.
Rafe: Nokia MixRadio. If only all services could be as easy to set up and use as Nokia MixRadio. It's free for Lumia device owners, with no registration required, and no ads to assault your ears. The recent introduction of the Play Me feature puts a personalised music stream one tap (or one voice command) away and puts the service one step closer to being the perfect entry level music service.
Looking for a third party app recommendation? In this category I'd probably plump for Podcast Lounge, especially after the GDR2 update (API fix for unattended downloads). My other runner up would have to be Nokia's new Nokia Camera app, thoroughly deserving of all the praise it received for its refined UI and reframing feature. It's certainly given renewed impetus to my own personal use of camera settings.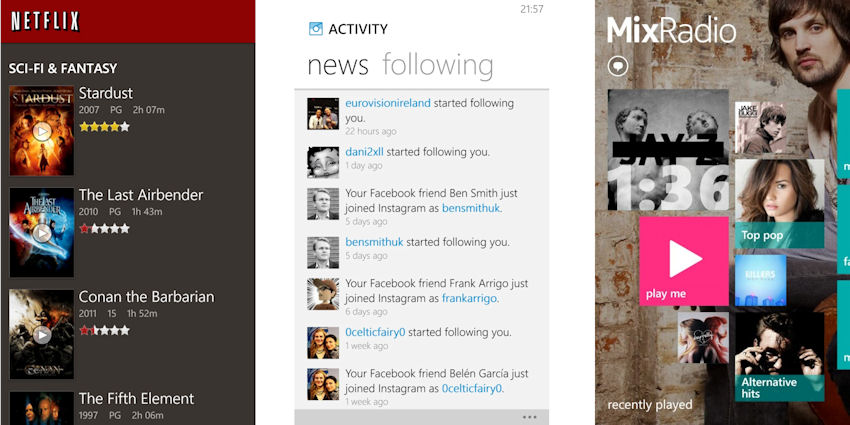 Best game
Steve: International Snooker. Something of a connoisseur of pool and snooker games, I'm stunned by how playable, realistic and addictive this title is - the interface and physics are, quite simply, perfect. As a result, I go through several frames of snooker each day, with an AI that gets progressively harder to beat.
Ewan: Halo: Spartan Assault. Really, is there any other choice than the arrival (finally) of the biggest Xbox franchise to Microsoft's mobile platform? Neither did it disappoint, even though liberties were taken with the Halo franchise's key points. The first person perspective was dropped, making way for the isometric 'high above' camera previously seen in some of the Halo tactical spin-offs. The levels were much smaller, with less exploring and more obvious routes through to the finish, and you were restricted to the touchscreen for precise controls.
But that didn't matter - in fact I'd argue that these restrictions have actually forced the designers of the game to work with them, and not against them, and that has resulted in a better game. It's small but perfectly formed... it runs happily on the 512MB devices, Microsoft released a "lite' version with the first missions available for free, and the game received critical and commercial acclaim. If you ever wanted to know if Windows Phone could handle a blockbuster game, here was the proof.
Rafe: Unity gaming engine. For me, this year hasn't been about any one game, but rather the arrival of the Unity gaming engine on the Windows Phone platform, which has resulted in the release of a whole raft of high profile gaming titles. Unity, together with other middleware software like Marmalade and Havok, have made it easier for developers to port existing titles to Windows Phone and include the platform in their plans for new cross platform titles. As a result the Windows Phone gaming scene, while still behind iOS and Android, feels much healthier than it did a year ago.
If you're looking for some specific game recommendations, some of the titles that I've enjoyed playing in the past year include Trouserheart, Drift Mania Championship 2, and Hill Climb Racing.
Best accessory
Steve: Amzer Double Layer Hybrid Case with Kickstand. Available for both the Lumia 920 and 1020, this black monster of a case serves both the purposes of ultimate ruggedised protection and also adds a kickstand for media watching. All while turning your Lumia into "Darth Vader's phone"...!
Ewan: Nokia DC-50. Continuing the promise of a wire-free life with your smartphone is Nokia's portable wireless charging plate. Coupling the almost magical charging technology of 'just put your phone down on a surface' with the need for a portable charging solution (thanks to the industry's turn towards sealed batteries), the accessory has a 2400mAh battery, attached to a Qi charging plate. When you need to recharge, just pop your Qi enabled Lumia onto the plate, and the power will flow.
Wireless charging is not yet a mature technology, and you can probably spot the inefficiencies in this system (charge a battery, battery discharges over wireless, which charges another battery), but you should be able to refill about 1600-1700 mAh while on the road through the wireless plate. That's worth it to live in the future, even if only for a little while.
Rafe: Nokia DC-19. It's a sad fact of smartphone life that at some point you'll run out of battery power when out and about. The DC-19 Universal Portable USB Charger, an upgraded version of the DC-16, is your best friend in these circumstances. Despite being small enough (9cm x 2.5cm) to slip virtually unnoticed into a pocket or bag, the accessory has a surprisingly high capacity (3200mAh). The 1.2A rating of the output also means the DC-19 is able to charge a greater range of devices than other portable chargers (and will do so more quickly).
Runner up for me in the accessory department? The PD-95G Camera Grip for the Lumia 1020, which makes your smartphone feel more like a traditional camera and, as a bonus, adds a battery boost.

What about you, AAWP readers? Anything else we should have given a shout out to? Comments welcome!