Review:
Nokia Lumia 735
Launched at IFA 2014, the Lumia 735 is the new lower-mid-range handset from Nokia (actually Microsoft Mobile now, of course), with the marketing tag of being all about 'taking better selfies'. Regardless of this specific angle, it's a very capable Windows Phone that could be picked up quite inexpensively. And yes, the camera's pretty good (for the money). Following on from Ewan's first impressions, here's my more detailed review.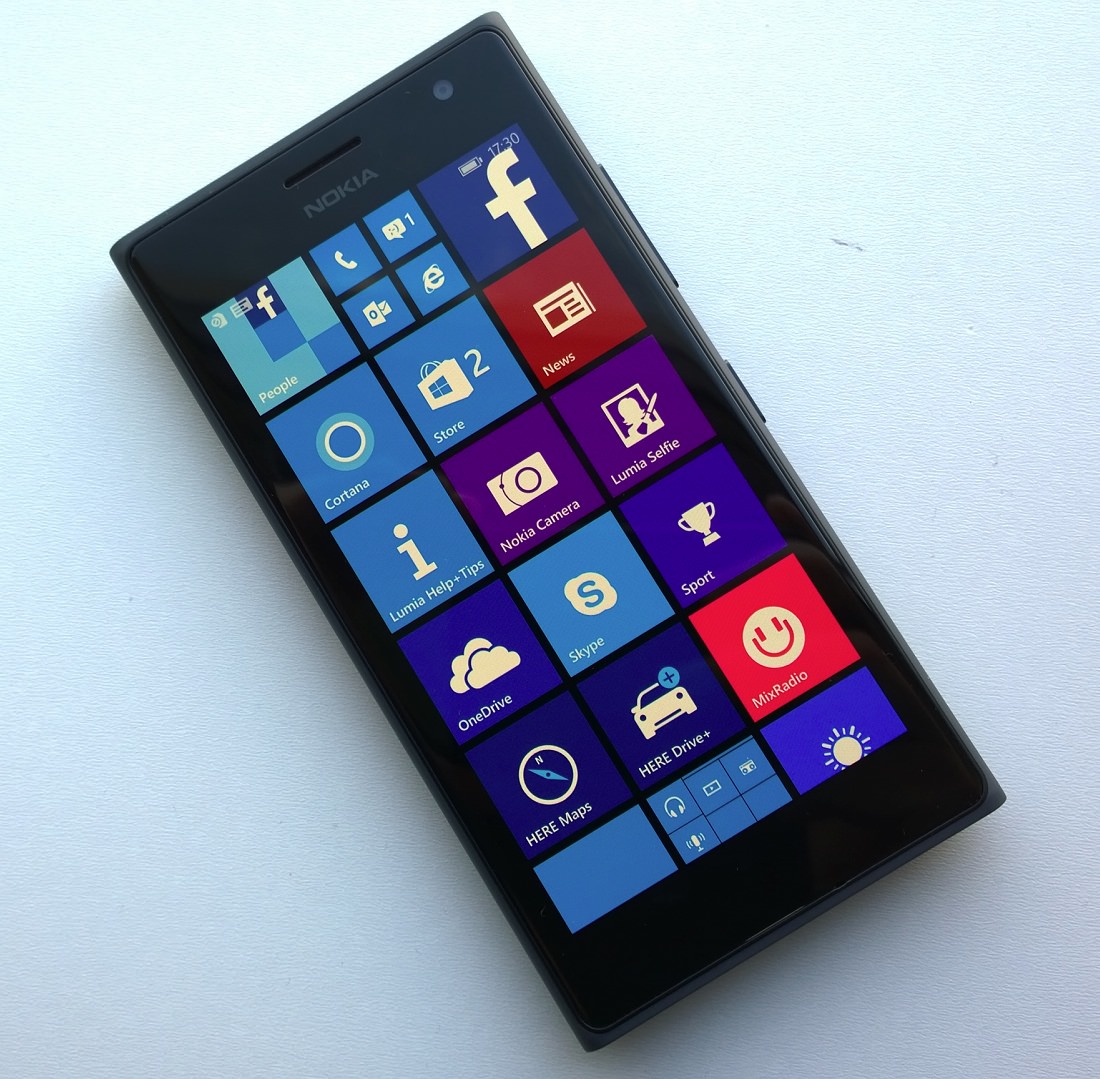 At first glance the Lumia 735 (and yes, everything here also applies to its dual-SIM sister, the 730) feels uncannily like a Nokia Lumia 800 or N9, from 2011 - it's styled unashamedly in the 'Fabula' design language and, in fact, it comes as something of a shock to realise that the back comes off, rather than being a sealed design like the two devices just mentioned. [Rafe confessed on the podcast that, at IFA 2014, he was assessing it as an unexpandable unibody when a Nokia staffer pointed out that the back came off and Rafe's jaw dropped!]
Why is this important? In order to gain access to SIM and microSD slots without ungainly slots and trays, and to be able to replace the battery if needed. Nokia/Microsoft (and from here on I'll just write 'Nokia' since that's what's on the phone and on the box) is in fact so worried that people will try and force the back off with a screwdriver that it includes a sticker on the 735's back, as seen here: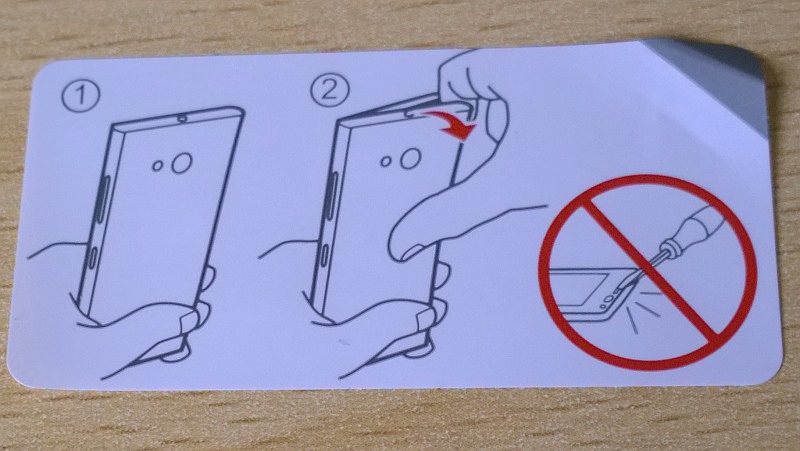 The trick to getting the entire back shell off is to brace the phone and use (strong) finger nails around the top of the screen, exactly as shown - it works well once you get the hang of it and, when back in place, the 735 feels - and looks - completely unibody, you really wouldn't have a clue that this wasn't a sealed design. The best of both worlds? Nokia just nailed it. Really. Go into a shop and try one!
For your £200 (or so, though this should drop well below in time) SIM-free or pay-as-you-go price in the UK, you get a 4.7" AMOLED, 720p display that is clear and pretty sharp, and with genuine CBD polarisers, ensuring that it's also clear when out in sunlight. It's a 'pentile' display, which may annoy those with razor sharp eyes, but at this price point I don't think anyone's going to mind too much.
One thing you do miss - immediately - is Nokia Glance, the system where Windows Phone works with special display memory in a phone screen to enable a low power presentation of critical information, like time, date and notification icons. To have an AMOLED screen and not have Glance is very strange - on the similarly puzzling Lumia 930, I put the omission down partly to Nokia being unable to source a 1080p AMOLED panel with the right memory onboard, but surely there can be no such excuse on the 720p-screened Lumia 730, so it's purely a business decision, based on bill of materials and profit margins. Which is sad, since Glance makes so much difference. In my opinion.
Completing the somewhat minimalist nature of the form factor (with curves that feel great in the hand) are only three physical buttons, for volume up and down, and power/screen, plus microUSB on the bottom (centred) and headphones on the top (ditto). Our review device was black and thus ubiquitous, but you can also buy the 735 in the new 'trendy' orange and green!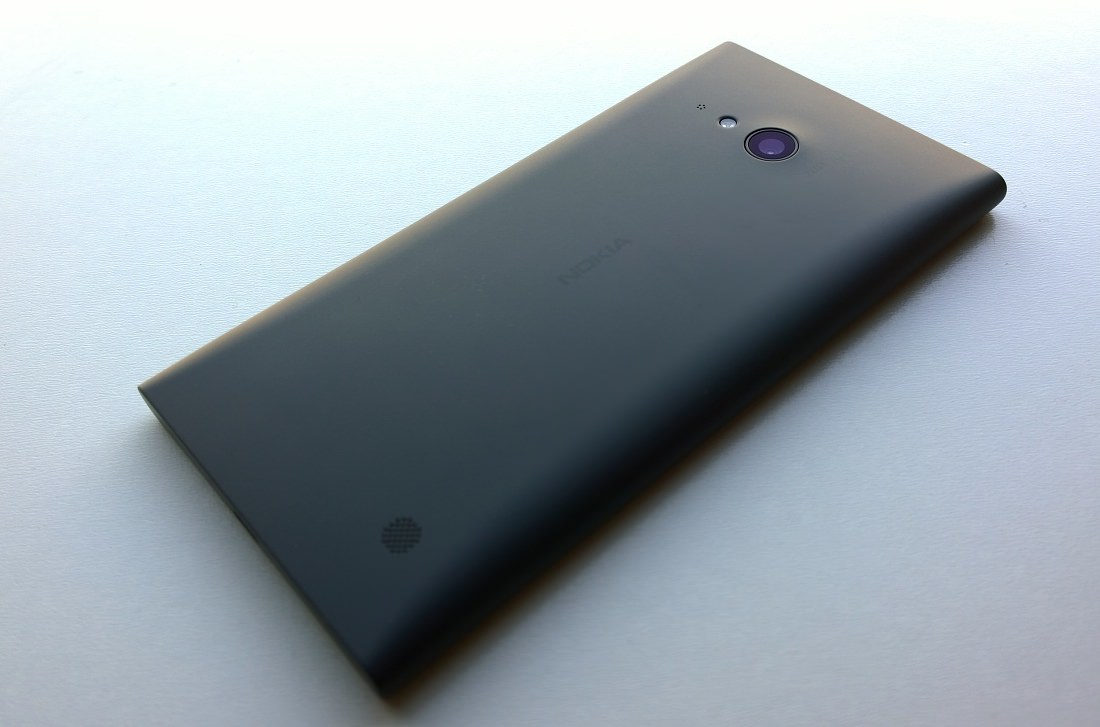 Impressive, given how thin the 735 is (9mm) is that the replaceable back already has Qi charging coils fitted. In fact, it's curious how this is pitched as a 'coming soon' option on the Microsoft USA web site, so maybe the presence of Qi is market-dependent. With Europe being Qi-mad, it makes sense to send our retail units out with the coils fitted, and I had no problems charging wirelessly from a variety of docks.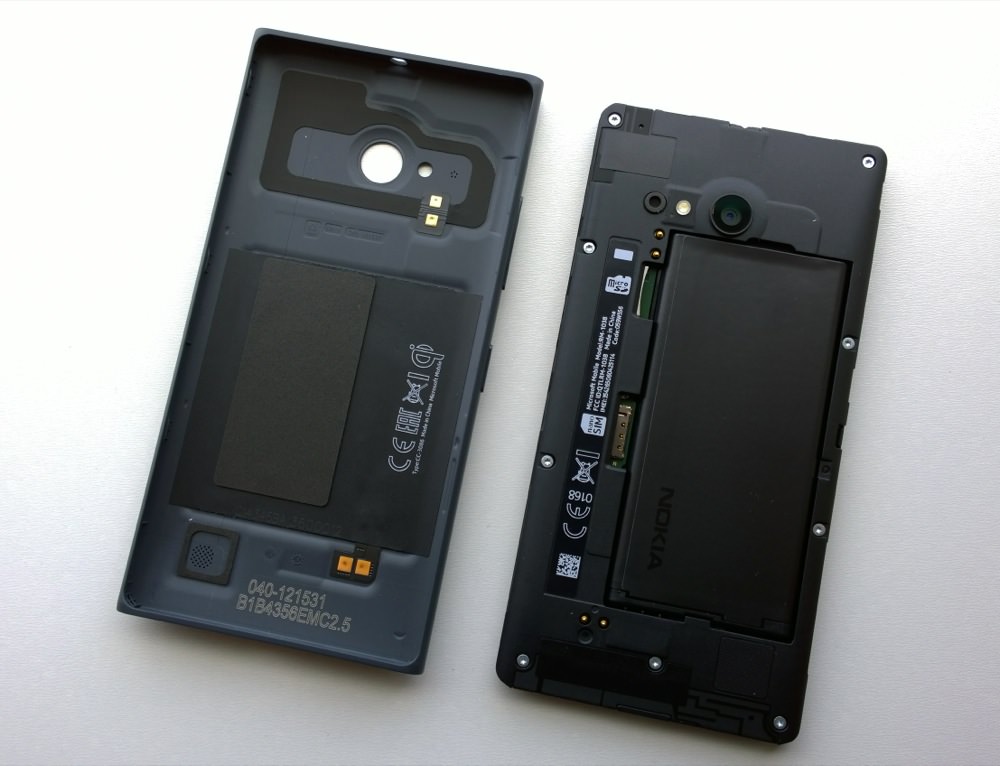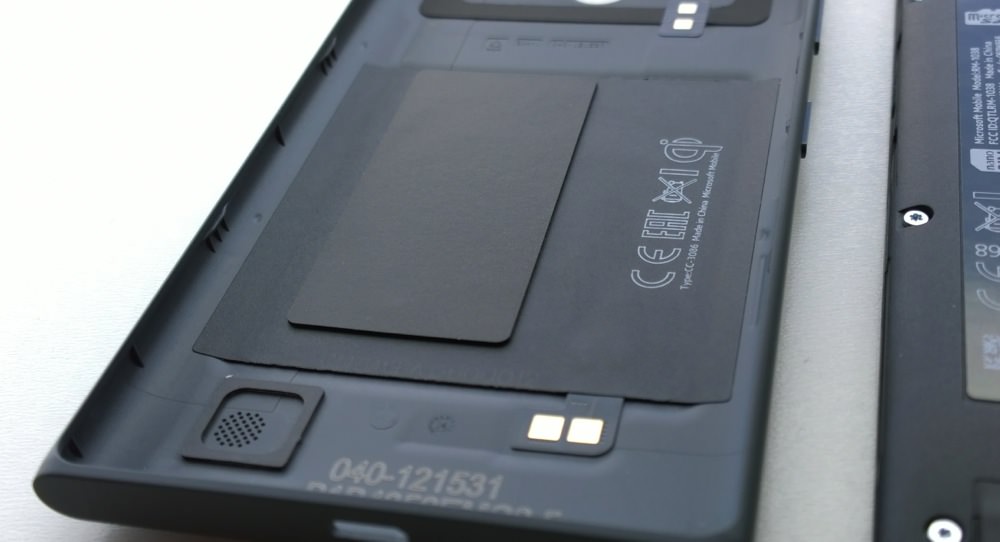 The box contents are sparse in the extreme, with just a mains-to-USB adapter and USB-to-microUSB cable. No headphones, but then most people are more than used to 'bringing their own' now, and I guess it saves another $5 or so on the bill of materials for the manufacturer.
Inside, the specs are very modest, just a 1.2GHz Snapdragon 400 processor, but the saving grace is a full 1GB of RAM, which is absolutely fine for Windows Phone and the RAM quotient means that all titles, all games are 'in play'.
The internal storage is 8GB and I know why - with Windows Phone 8.1 Update 1 and Lumia Denim, the OS itself uses up the best part of 3GB. Add in a number of largish module updates to the built-in applications during the set-up process and you're up to a full 4GB, so a 8GB chip is compulsory and gives the user around another 4GB of 'wiggle room'. Plus there's the microSD facility for sideloading big applications and all media, of course. As you'll have spotted from the photos above, you have to power down and remove the battery to have access to either the nano-SIM or microSD card slots.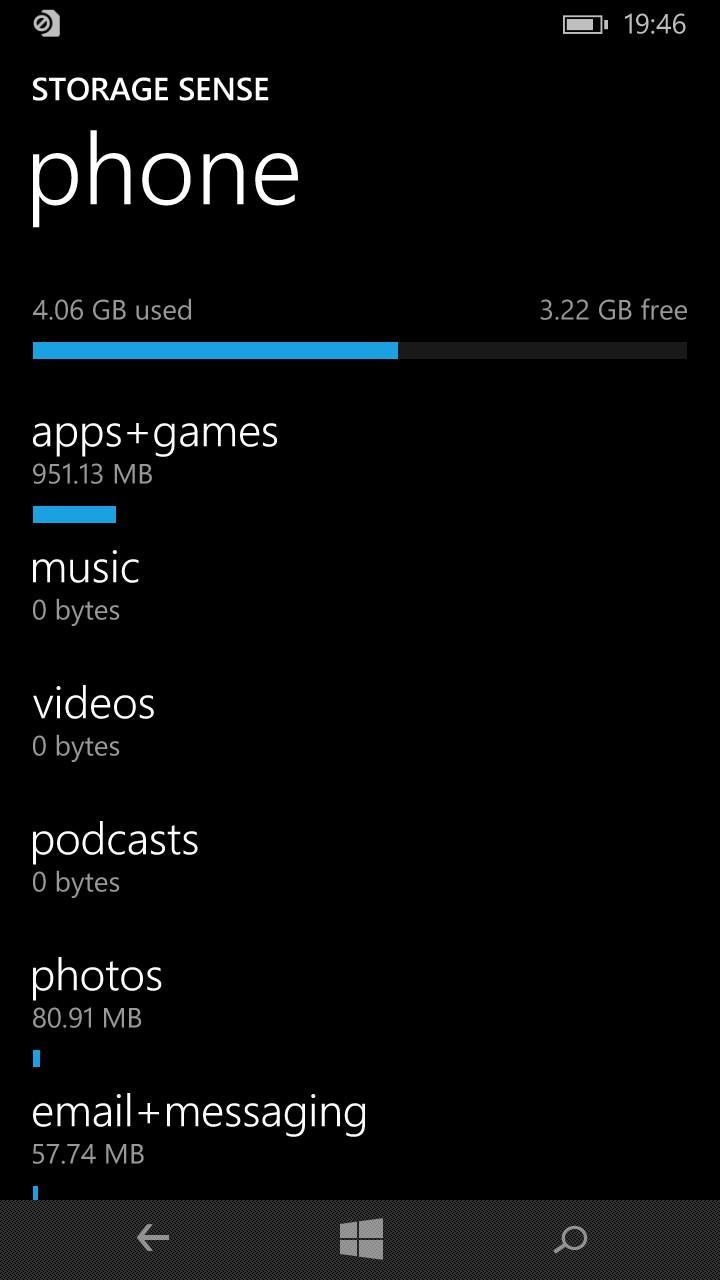 Overall, in terms of performance, the 735/730 are fine. Nokia referred to the more expensive 830 as an 'affordable flagship', but going for the 735 will get you most of the way to the same level, at a much reduced price.
A 2220mAh battery keeps the 735 going for a good day and a half and is replaceable for that time a year or two down the road when it has seen better days, or when you're on a weekend away and need to swap in a spare.
And then there are the cameras - yes, plural, for Nokia is choosing to emphasise the front facing camera here as well as the primary/back unit. Here are the specs:
| | | | |
| --- | --- | --- | --- |
| | Sensor size | Aperture | Resolution |
| Front facing camera | 1/4" | f/2.4 | 3.7MP (16:9 shot from 5MP 4:3 sensor) |
| Rear facing camera | 1/3.4" | f/1.9 | 5MP (6.7MP full sensor*) |
* from which 5MP 16:9 or 4:3 shots are plucked, according to need
To translate the specs in the table above, the rear/primary camera is up with most of the rest of the £400 smartphone camera set, while the front camera is enormous, by front camera standards. Its sensor is around 70% the size of the rear one's, and it has an aperture and resolution to match. Plus wide angle optics, so you can see why Nokia has been making such a fuss about 'seflies' with this device.
Results from both cameras are surprisingly good, Nokia's engineers are now so good at image processing and have done wonders with relatively modest hardware. Here are some samples from both cameras, click to download the full JPGs as needed. The rear camera samples are from the Nokia camera application, which works just as on other Lumias, the front camera samples are taken using the "Lumia Selfie" application (also available to all other Lumias, of course):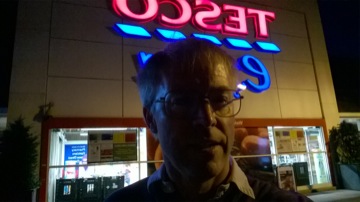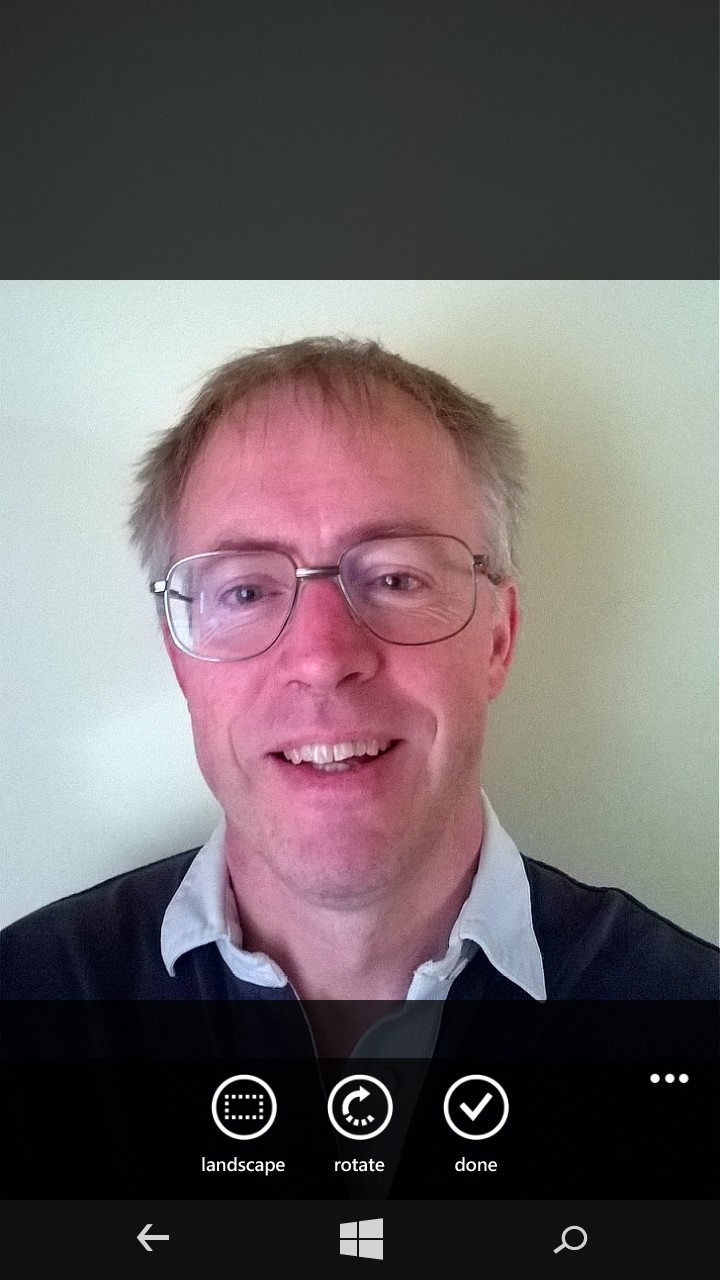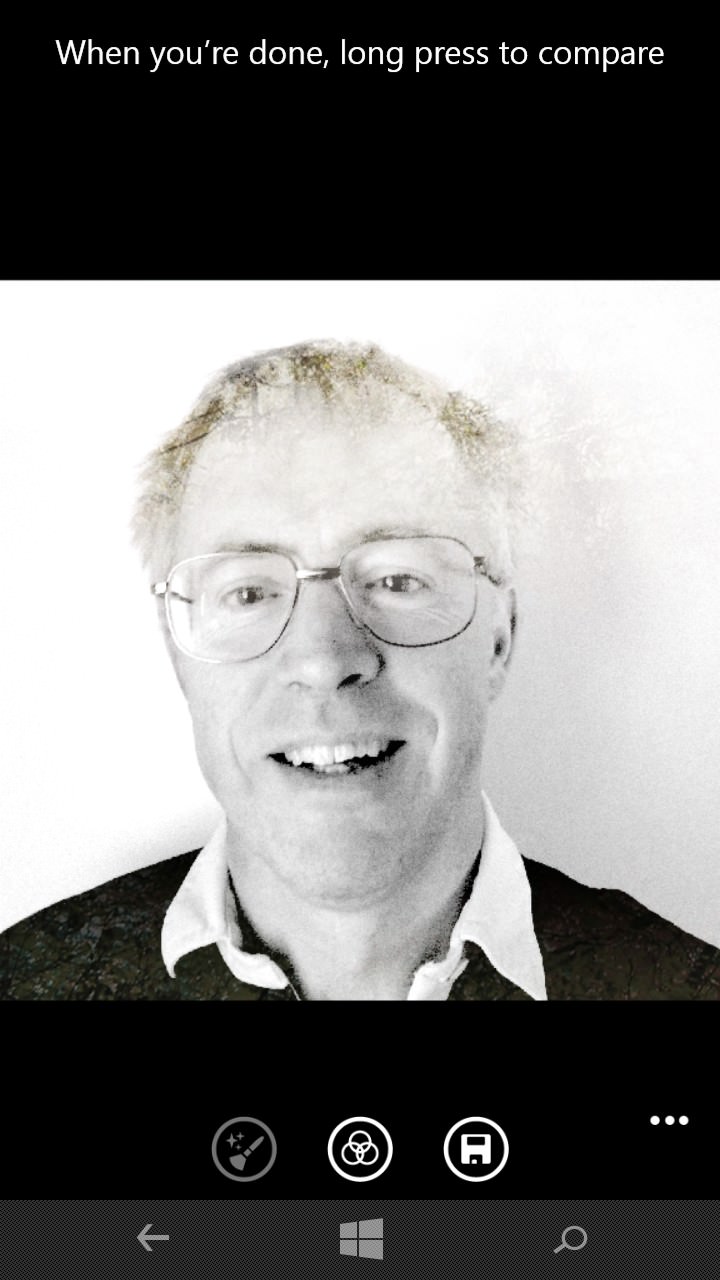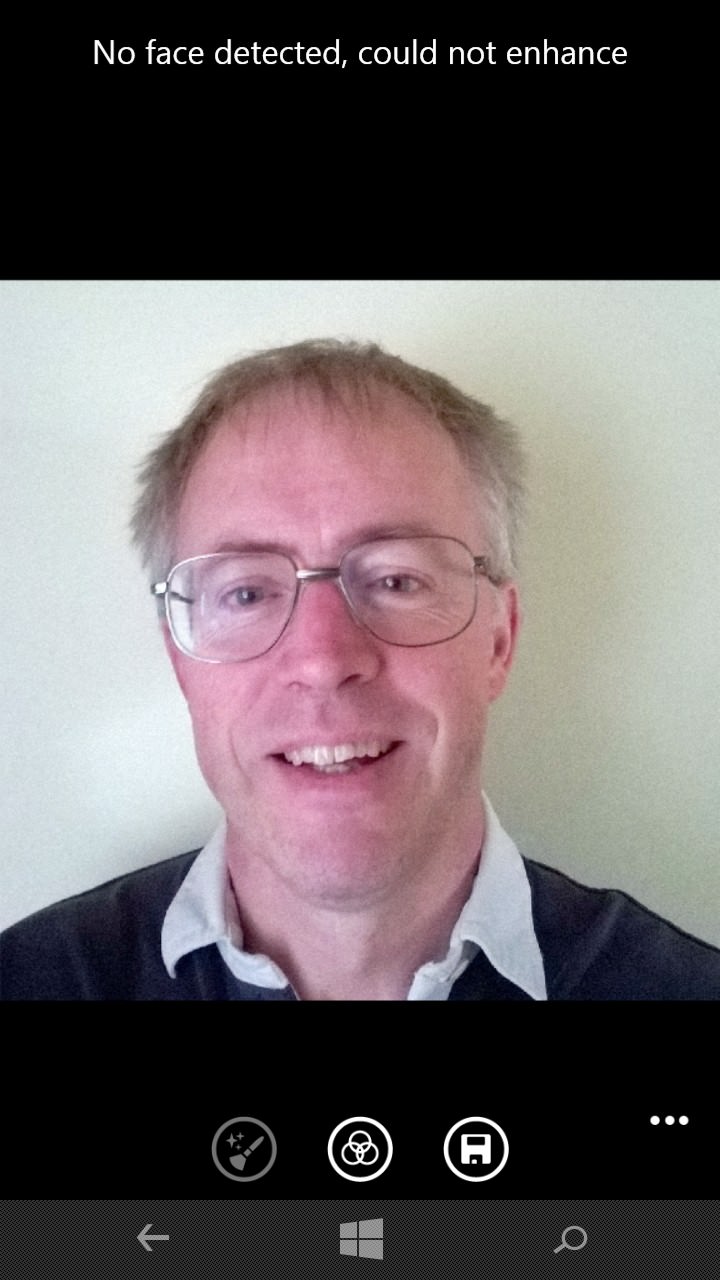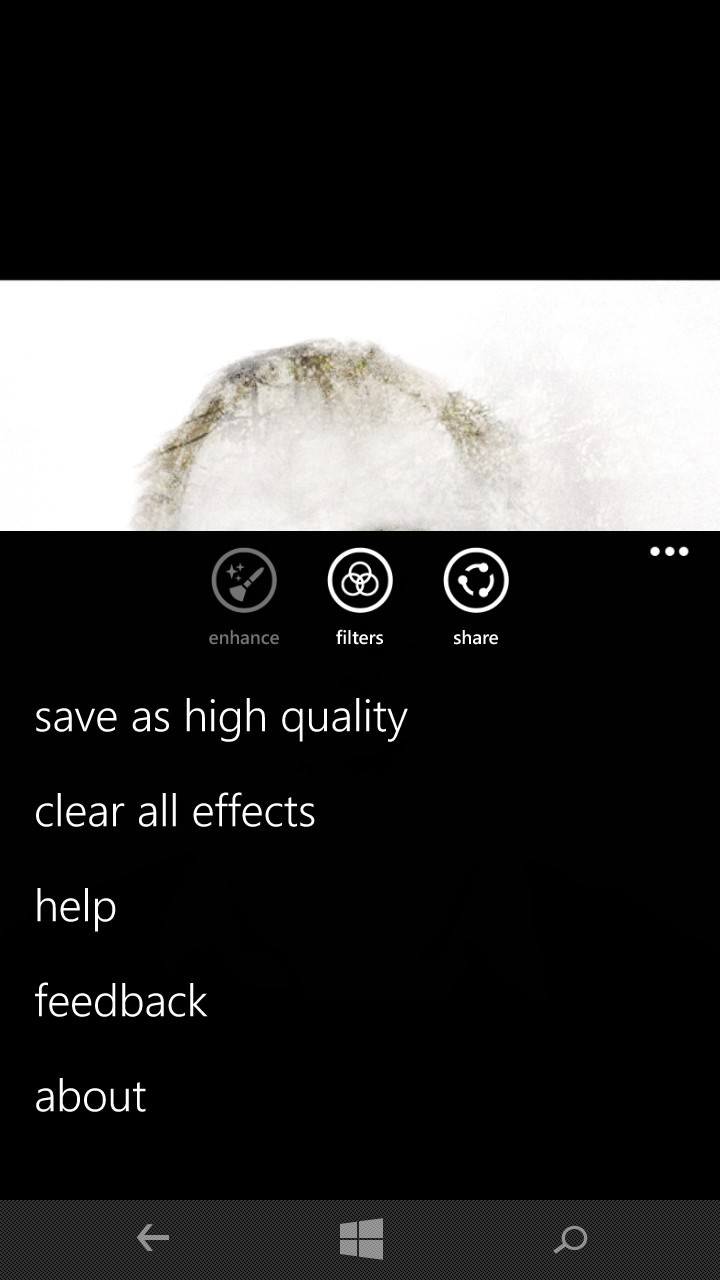 Video capture is at 1080p, with the default at the troublesome framerate of 30fps, but it's trivial to bump downwards. Quality is very decent, though there's no OIS of course, at this price. As far as I can tell (short of heading for a Motorhead gig to test) there's no 'Rich Recording' electronics here - there's certainly only mono audio (captured though a tiny set of mike holes next to the camera, i.e. facing the subject), but again, for the price point it'll be fine for the target market - even non-HAAC microphones from Nokia are pretty tolerant of noise levels.
Audio output is also acceptable, albeit from a single, smallish mono speaker - there's little fidelity, but plenty of volume. Most of the time - there's a minor issue wherein the speaker grille is utterly flush with the bottom of the Lumia 735 and so, even though the body is curving slightly at this point, holding the phone with your finger over the spot or placing the phone on some soft surfaces can result in the sound being heavily muted. Just something to watch out for. (Samsung often solves this with the low-tech method of putting in a small plastic hoop over the grille, to ensure that nothing can ever be properly flush, etc.)
Interface, applications
Windows Phone 8.1 Update 1 is already a very well known quantity to AAWP readers, thanks to the Developer Previews, and Lumia Denim adds little to a device of the 735's class (much of it is either aimed at the likes of the 830, or inapplicable to the Glance-less 735/730, or is generic and already available in one form or other).
However, this was my first experience with a device with virtual Windows Phone controls ('navigation bar', in Microsoft parlance) that could actually be dismissed, i.e. at will. The cosmetics are fine on the 735's AMOLED screen and it's easy to be fooled that they're physical controls, as on previous generations of Lumia.
Getting rid of them when not needed (and yes, the process is 100% manual, i.e. they don't come and go, Android-style, depending on the application) is done in one of two ways. Essentially, you decide in Settings whether to turn on 'flick to hide' - with this on, swiping up from the bottom of the screen hides the controls, with this setting off, a little 'hide' arrow appears at the left edge of the bar, tapping this hides the controls. In either case, swiping up brings back the controls/bar when needed.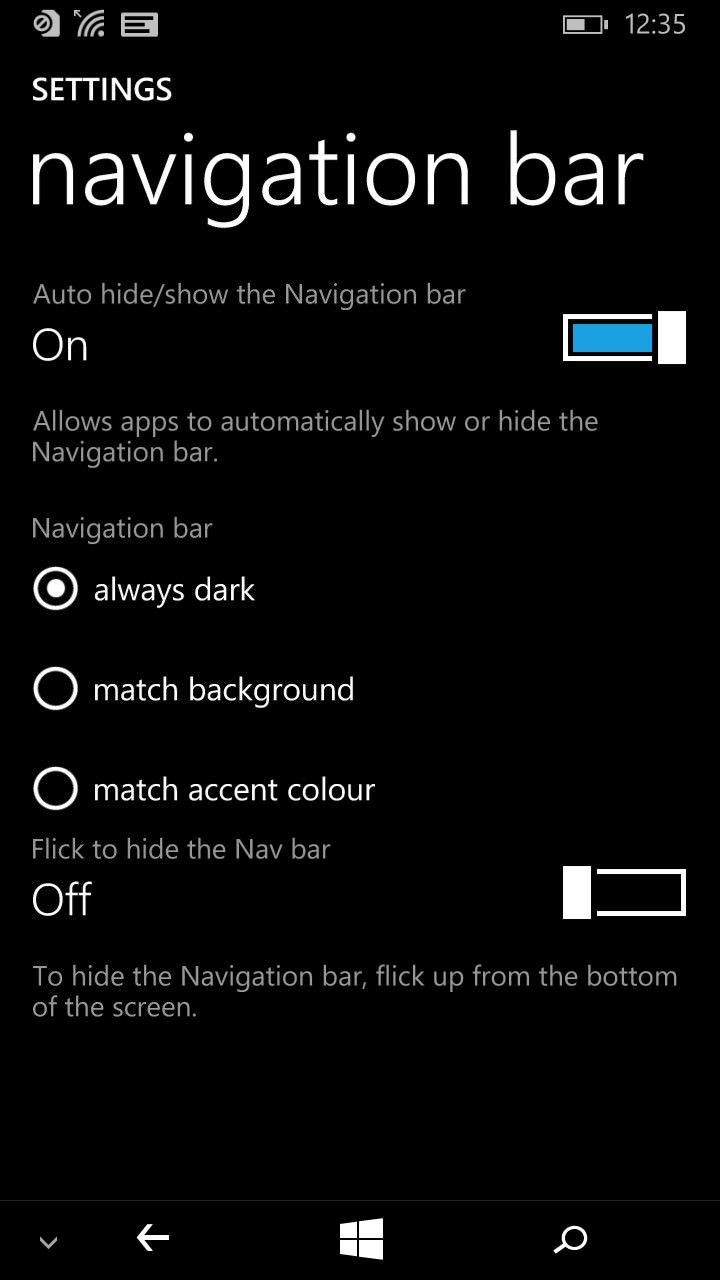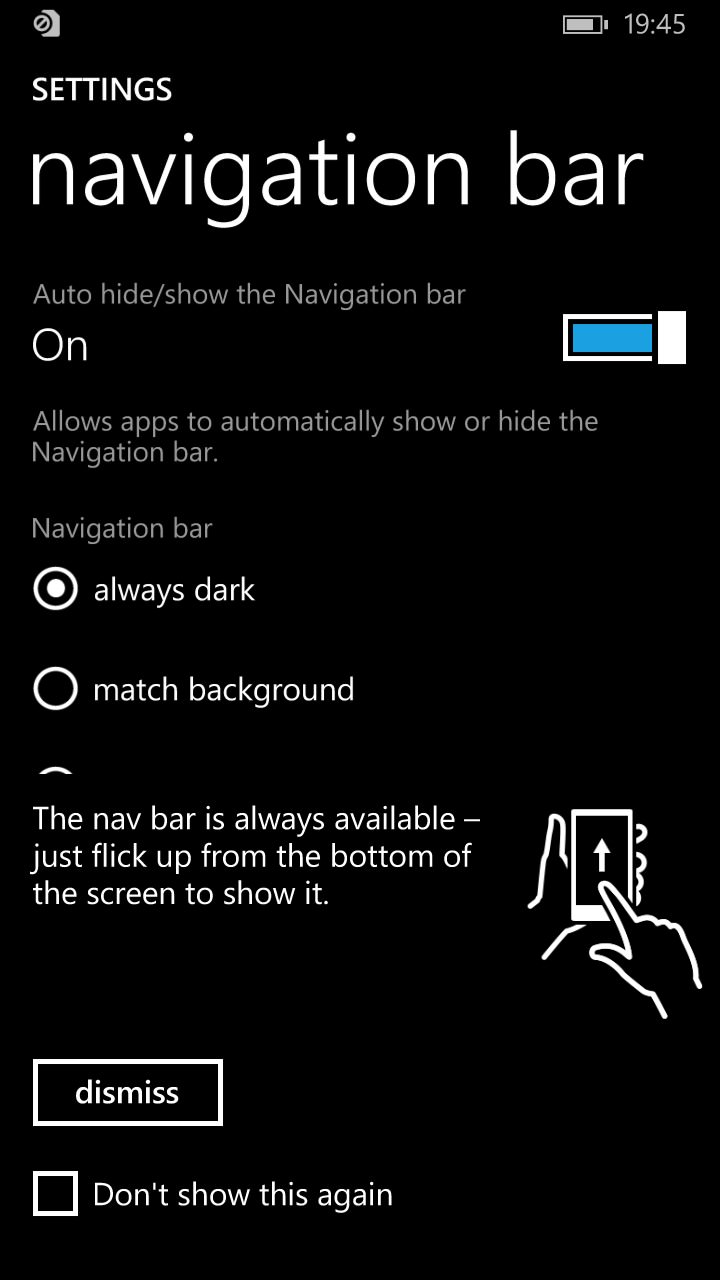 Having a swipe up as the gesture to make the bar disappear downwards seems a bit counter-intuitive, but in fairness, a swipe/flick downwards would get mixed up far too often with swiping general content on the display, so I can see why Microsoft went the way it did here. One oddity is that, having hidden the controls, they reappear on their own the next time you start an application - I'd accept this as a design choice, except that it doesn't happen with every app, so there's clearly some flux here. Maybe it'll settle down and become more consistent as more applications get updated and tweaked for Windows Phone 8.1 Update 1?
Cortana is front and centre, of course, at least in supported countries - one wonder what would happen if you tapped on this after importing the 735 into a market that wasn't supported yet... The Microsoft voice assistant is coming on beautifully and, in my tests, recognises speech better now than Google Now and Siri, and judging from recent server-side improvements, development isn't slowing up anytime soon. Watch this space for a dedicated feature on Cortana.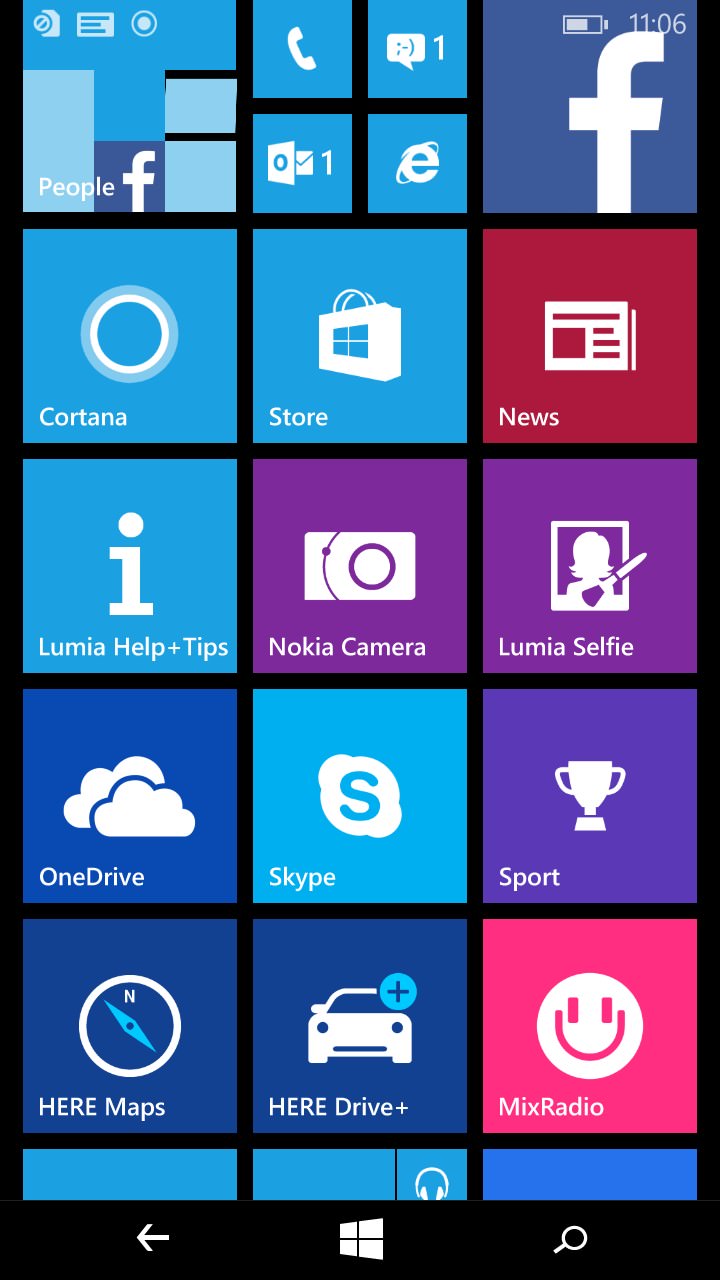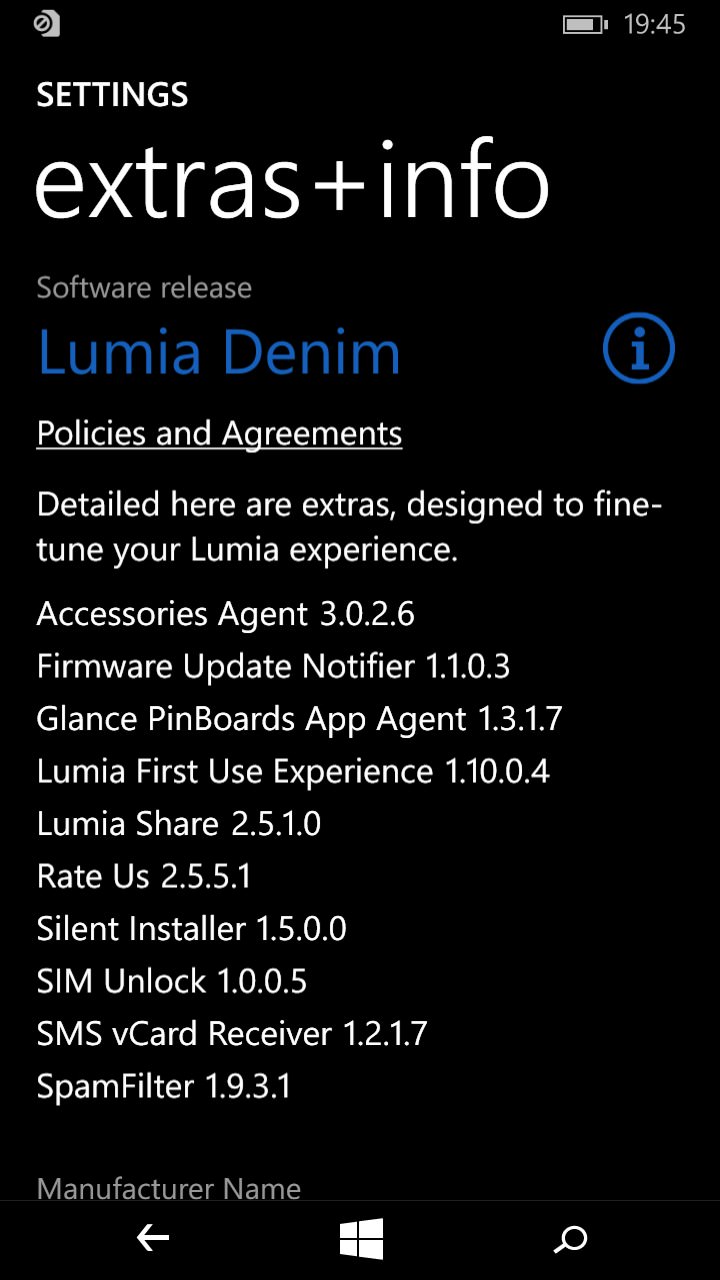 Also prominent is News, recently released from its Bing branding, along with the similarly handled Sport, Weather and Money. Microsoft is rightly making the most of its 'MSN' apps and content, shared across the wider web, desktop, tablet and phone. As with other Windows Phones now, with OneDrive, Skype and HERE Maps/Drive, there's arguably more built-in for buyers than in iOS or most Android packages.
Music and Videos (and Podcasts) are pre-set up as a Start screen folder, giving new Lumia (Denim) owners an idea that this is possible. Perhaps a bit of a token effort, but probably well balanced, since most Windows Phone users probably don't need folders very often since there's so much flexiblity already in the live tile system. Emphasising this, the 735/730 come set up with a 'three wide' tile layout, bringing an awful lot of apps and services to the buyer's attention, though the grid is a little unimaginative and the vast majority of tiles are the regulation 'single wide' size - I'd have liked to have seen a default layout that fired peoples' imagination more.
Other apps of note include Domino's Pizza(!), presumably there are different commercial tie-ins for each market and language, the Gameloft Game Hub (a shop window for the games house), plus Lumia Beamer and Lumia Creative Studio (and no, Nokia/Microsoft still hasn't finished the 'Colour pop' function!)
It's worth noting a slight change of UI font size, for menu functions and the application list. And no, these aren't (curiously) affected by the settings chosen in 'ease of access' in Windows Phone - maybe there are some UI hooks that have yet to be connected up? With the various physical screen sizes changing between devices, we're used to seeing some text size differences anyway, but comparing my 768p, 4.5" screened Windows Phones (e.g. 1020, 920) to the 720p 4.7" devices like the 735, the latter use smaller typography throughout - and, as I say, this can't be changed (yet). It's not eye-strainingly small and it does mean that more 'fits' on screen at each stage (i.e. more menu functions, more application names), but my 50 year old eyes definitely prefer the larger version on the older devices - most new 735 users will have better eyes and I'm sure this won't be a problem though!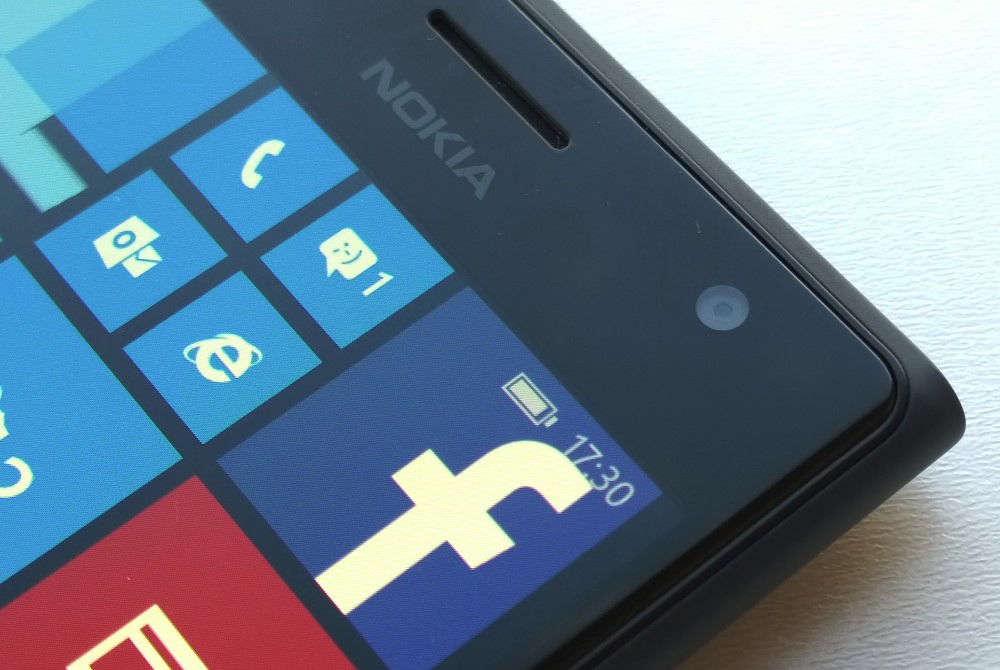 Verdict
As a Windows Phone veteran, the Lumia 735 does seem to miss the one huge trick - the absence of Nokia Glance, normally perfectly tailored for AMOLED screens. I know build price is a bigger factor at this end of the market, but saving 1% of the cost but with an arguable 10% hit to day to day functionality seems a puzzling equation. Nokia/Microsoft's answer will be that buyers of the device won't even know that Glance functionality is possible - they won't have seen it before on feature phones or cheap Android devices, for example, so they won't miss what they've never had. But, from a technical point of view, it's disappointing that 'display memory' and Glance never made the design cut on this device.
Talking of cost, even while writing this review, the price of the Lumia 735 seems to have been coming down. Or at least in terms of awareness. Carphone Warehouse, in the UK, just made the device available for under £150 on pay-as-you-go, which is just incredible value, considering the hardware quality all round. Perfectly formed, perfectly capable for the majority of High Street buyers, and with the 'selfie' marketing tag to hang its pitch on, if the Lumia 735 doesn't do very well indeed then I'll eat my hat.
Reviewed by Steve Litchfield at